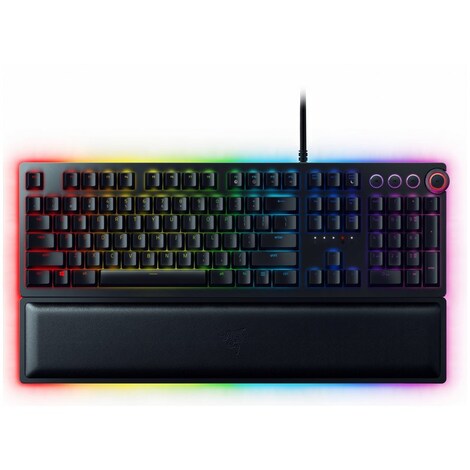 1/1
Razer Huntsman Elite Keyboard (Qwerty US)
Razer Huntsman Elite Keyboard is a professional gaming keyboard designed for the most dedicated players to give them an edge in competitive Esport titles. The keyboard works on new Razer Opto-Mechanical switches to ensur ...
Product description
Razer Huntsman Elite Keyboard is a professional gaming keyboard designed for the most dedicated players to give them an edge in competitive Esport titles. The keyboard works on new Razer Opto-Mechanical switches to ensure incomparably faster response time while being incredibly durable – the switches are guaranteed to work for a stunning number of 100 million presses on average. As for most premium-quality accessories made with gamers in mind, the keyboard features fully customizable RGB lighting.

Advanced Razer Opto-Mechanical Switches
Razer Huntsman Elite utilizes advanced optomechanical clicky switches to provide you with the best typing experience. Switches are very light and responsive while maintaining incredible durability, and they work almost instantaneously – when the key is pressed, it creates the connection between laser transmitter and receiver. When the light connects, the signal is sent. This results in ultra-fast response time which may be crucial for people playing dynamic fast-paced games like Overwatch, Fortnite, or Apex Legends, where every millisecond may be the difference between killing or being killed by the enemy.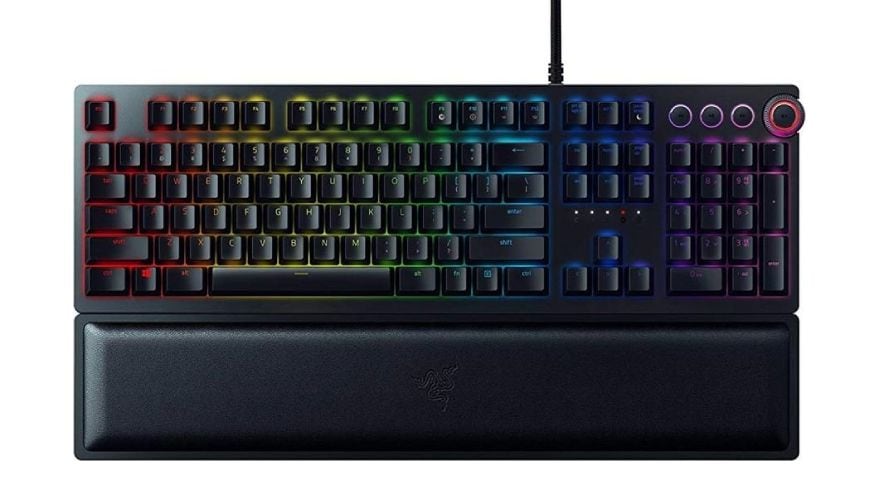 Customizable RGB Lighting
The keyboard features fully customizable RGB lighting which allows adjusting the colors and effects to your own preferences. Pick the color you like and match it with your current mood or make use of the built-in effects, like the colorful wave or the reactive and ripple effects, where the keyboard dynamically reacts to pressing of the keys. It's worth noting that not only the keys are illuminated – the keyboard also features a 4-side underglow. Use the Razer Synapse 3 software to further customize the device and craft your own unique RGB profiles with overlapping effects – make the keyboard really shine.
Supported by Razer Synapse 3
The keyboard is fully supported by the Razer Synapse 3. This is a configuration tool used to further enhance the experience. You can use the software to register your own macros and combine different lighting effects to make completely new multi-layered ones. Assign different effects to different games and allow the keyboard to automatically switch between created profiles when certain applications start running. Utilize macro functionality to perform complex actions, like typing whole sentences, with a single button press.
100 Million Keystroke Lifespan
The switches used in Razer Huntsman Elite keyboard are guaranteed to work without issues for at least 100 million presses on average. This will be especially useful for people using the keyboard to play competitively every day for extended periods of time, and even for authors writing books or novels professionally. It will be quite hard to reach the limit for a casual gamer, thus making it possible to enjoy a fully working product for much longer than most of the keyboards available on the market.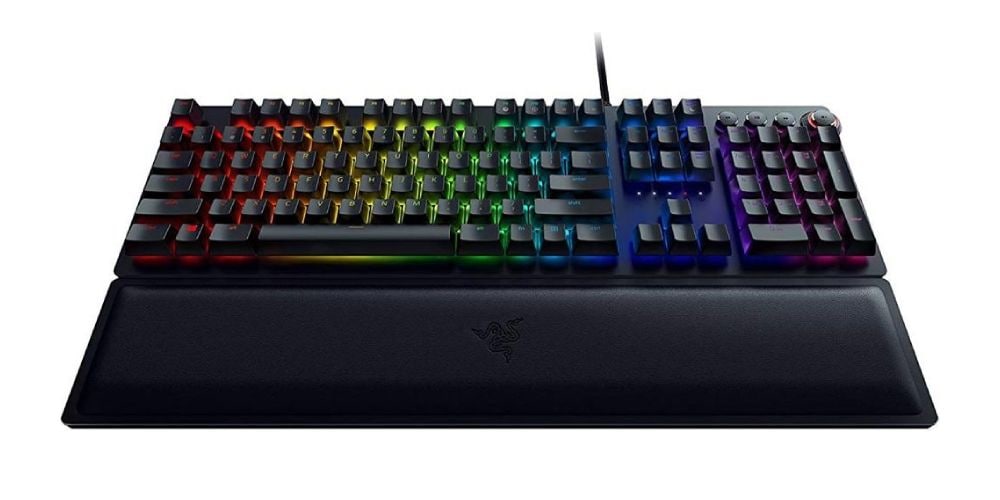 Leatherette Wrist Rest
No additional wrist rest required, as the Razer Huntsman Elite comes with its own big leatherette one, which is attached to the keyboard with use of magnets preventing slips and unwanted movement. The wrist rest allows ergonomic use and prevents wrist injuries and sprains caused by the extensive use of the keyboard, so you can fully enjoy your favorite titles without worrying about any kind of wrist pain. The wrist rest also has its own customizable RGB lighting zones. Take a comfortable seat and get ready to jump straight into the action – now nothing will stop you from achieving victory.
Multi-Functional Digital Dial
The keyboard has built-in multi-functional digital dial and media keys. Media keys can be used to conveniently switch between listened music tracks, while the digital dial may be programmed to your own liking. It can be used to control the volume level, to scroll up and down, or to zoom in and out. It can be even used to conveniently launch certain Windows apps like the calculator or the notepad.
Reception
Razer Huntsman Elite keyboard received very positive reviews and it was rated as one of the fastest keyboards available for gamers. Reviewers praised the high comfort of use, magnet-based wrist rest and ergonomic design. They also appreciated the durable switches lasting twice as long as the typical mechanical switches present in the competitive products, as well as the robust RGB lighting options and the smart design.
Key features
All-new ultra-fast Razer optomechanical switches that are able to remain functional for 100 million presses on average
Fully customizable RGB key lighting and the underglow with multiple effects to choose from
Multi-functional customizable digital dial that can be programmed to perform different actions
Attachable magnetic wrist rest reduces to a minimum the occurrence of wrist injuries caused by the extensive use of the keyboard
The keyboard is fully supported by the Razer Synapse 3 configuration tool
Razer Huntsman Elite specification
| | |
| --- | --- |
| Type | Gaming Keyboard |
| Key Type | Opto-Mechanical |
| Model | Cloud II |
| Connection | Wired |
| Cable length | 2,1 m |
| Item Weight | 1707 g/3.76 pounds |
| Length | 448 mm/9.22 inches |
| Width | 234 mm/17.64 inches |
| Height | 36 mm/1.42 inches |
| Interface | RGB |
| Accessories included | Magnetic Wrist Rest |
| Keyboard layout | American (US) |
| Color | Black |
Item type: Brand new
Warranty: 24 months
Warehouse: EU countries + free shipping
Layout: US