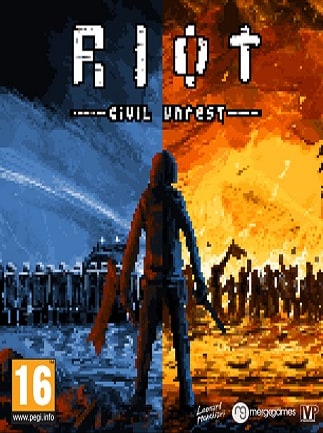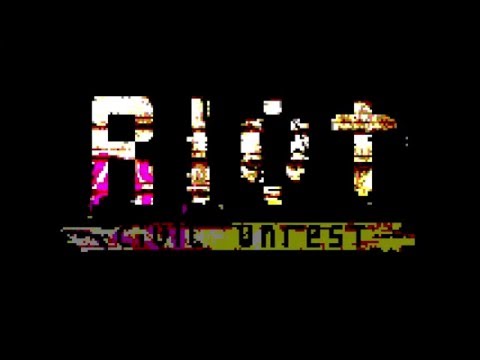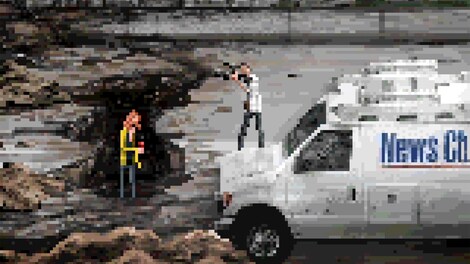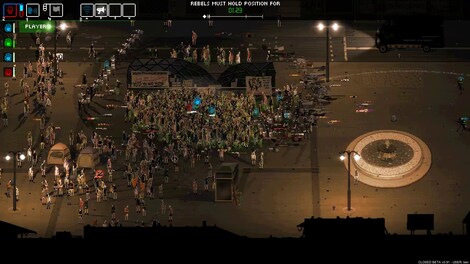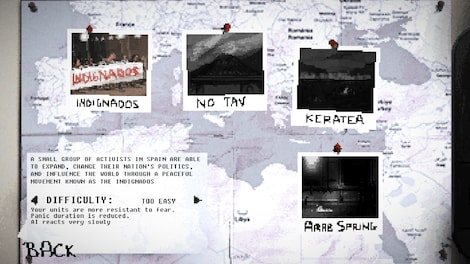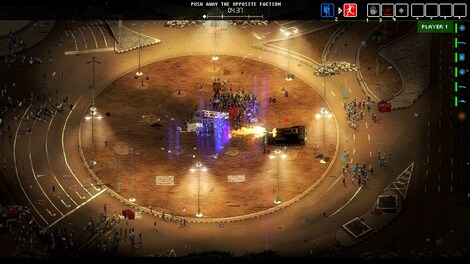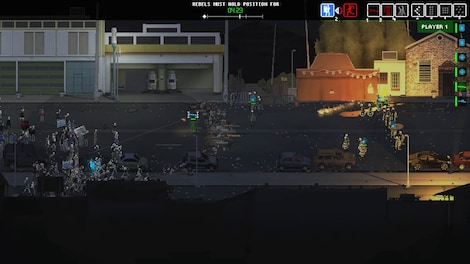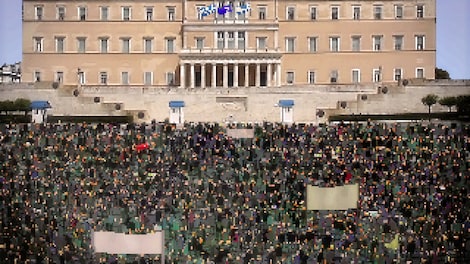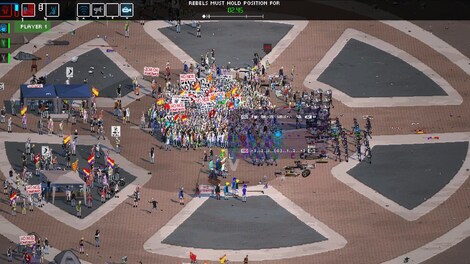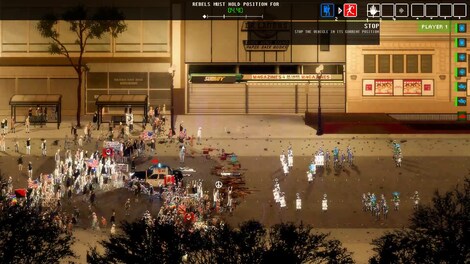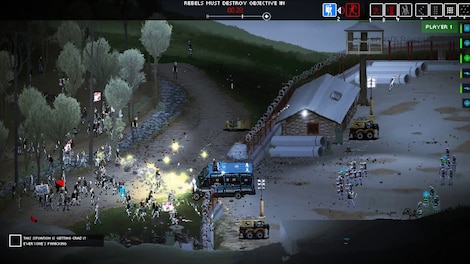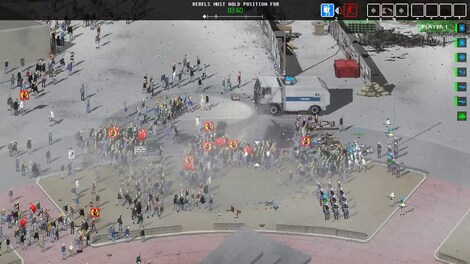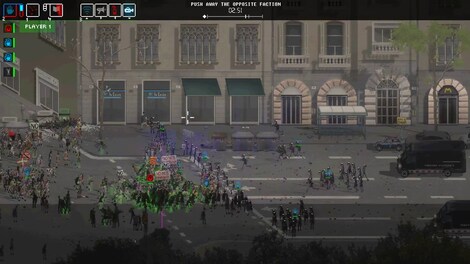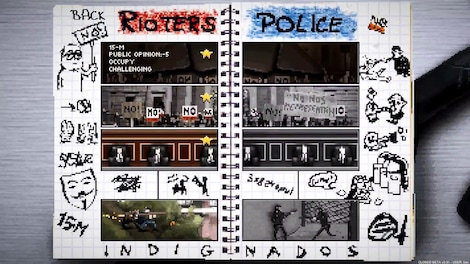 1/15
GLOBAL version for:

PC
RIOT - Civil Unrest Steam Key PC GLOBAL
Manifest yourself in violence, public disturbancesIn RIOT - Civil Unrest, you either control an angry mob of rioters or you control the police that tries to subdue them. Throw yourself in the middle of dangerous riots an ...
Product description
Manifest yourself in violence, public disturbances
In RIOT - Civil Unrest, you either control an angry mob of rioters or you control the police that tries to subdue them. Throw yourself in the middle of dangerous riots and complete numerous thrilling missions. Each quest is loosely based on real world riots. Feel the anger of locals fighting with all they got against the corruption that lies beneath the construction of a 23 billion euro high-speed train project. Unlock further levels and visit many different places through long hours of your gameplay. Your goal is to keep the riot intact.
Amazing art-styled graphics design
Pixelated art form style of the game looks absolutely knockdown. Stunning landscapes occur through many different maps and places. Adorable cutscenes show the most important events and add the adrenaline to upcoming fights. Devastate, use brute force, protest and at the same time, enjoy the clever performance of beautifully crafted visuals.
Variety of combat items to choose from
Equip your mob with bricks, bottles or molotovs. To make your protest more visible and epic, provide rioters with rockets, paper bombs, fireworks or firecrackers. Or, maybe pack some extra rocks in a backpack? Wave protest flags to improve morale. If your morale starts to go down, your men will run away. The police have very similar mechanics. Choose among different police squads like tactical, assault or ballistic units. To stop furious rioters, throw smoke grenades, use water cannons, CS gas or even sniper rifles. Bring bulldozers to shatter rioters and reveal police's brute force.
Put your groups into different formations
Your mission as the policeman is to keep rioters away from a protected area. If you choose rioters, you have to do the opposite and destroy stuff or drive the police out of the guarded area.Regardless of your decision about which side you will support, remember to stay focused and control all of your actions. It is very important because you can accidentally hit the wrong side with some dangerous weapon and that will decline you from a victory. Protect all tenants and keep the police as far as possible. As in a typical riot fashion, sometimes you can be confused about what is currently happening. In such situation, just make sure to stop the police from moving in.
Adapt suitable strategy to diverse maps and scenarios
Disperse the protesters all over the map or gather them into one, vast accumulation.It is up to you, how the gameplay rolls. Choose basic, defenseless gear or a complex and crazy one. The expected protest participation depends on what gear you select. The more crazy the gear, the less rioters will probably show up. Call for additional help via social network if you want to gather even more participants and overwhelm the police. Use a megaphone to regroup rebels, boost the attention and provide some discipline. RIOT - Civil Unrest features different modes that include 4 maps and 16 campaigns. The game will carry you through Greece, Spain, Italy, and Egypt. Addictive scenarios provide many hours of gameplay which you can enjoy solo vs AI or in multiplayer mode with your friend.
Key features
Real-time strategy game relating to riot events that really happened through the whole world
Two factions to choose from: the policemen and the rioters
A variety of weapons, armor, and objects that help in rebellion
Many different modes, maps and campaigns
Adjustable gameplay via the special editor
The richness of alternative strategies including brutal fights or diplomatic solutions
Beautiful, artistic graphics and soundtrack
4 levels of each campaign
Regulatable difficulty level
RIOT - Civil Unrest is based on interviews with real rebels
RIOT - Civil Unrest (PC) for Steam platform is a digital download product – no box included. The price applies to a digital version of the product.

System requirements
System requirements
Below are the minimum and recommended system specifications for RIOT - Civil Unrest Steam Key PC GLOBAL. Due to potential programming changes, the minimum system requirements for RIOT - Civil Unrest Steam Key PC GLOBAL may change over time.
Minimal requirements
Processor

3GHz Processor or better

Graphics

HD Graphics 4000 or better

Memory

4 GB RAM

Disk space

3 GB available space

System

Windows 7 or highe
Recommended requirements
Processor

3.4GHz Processor

Graphics

2GB Dedicated VRAM

Memory

4 GB RAM

Disk space

3 GB available space

System

Windows 10
Languages
Languages
English, French, Italian, German, Spanish