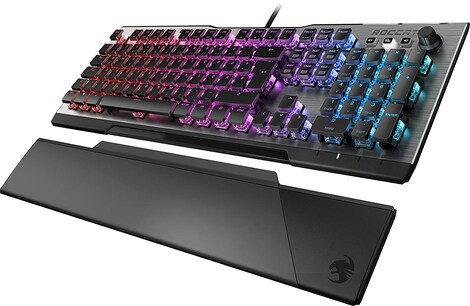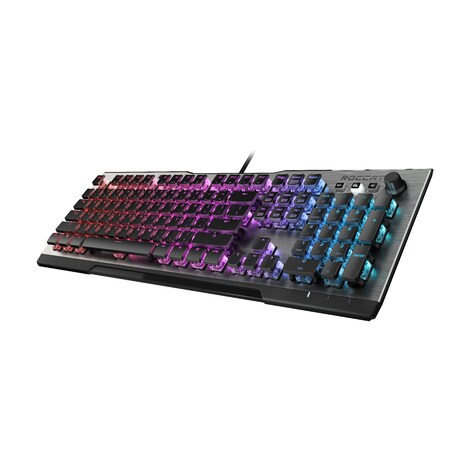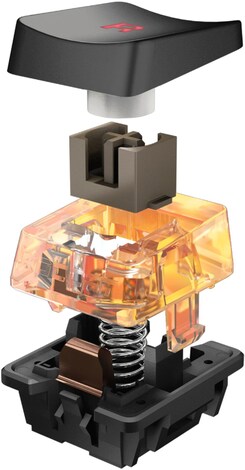 1/3
Roccat Vulcan 120 AIMO
Roccat presents yet another excellent product for users who demand quality, comfortability and presentation from their devices. Vulcan 120 takes the usual features of any other keyboard available on the market and turns ...
Product description
Roccat presents yet another excellent product for users who demand quality, comfortability and presentation from their devices. Vulcan 120 takes the usual features of any other keyboard available on the market and turns them up to eleven. Thanks brand's new switch technology, illuminated keys, and additional features, like palm rest, Roccat's hardware meets the high standards of other quality keyboards. The 120 AIMO received critical acclaim from the industry reviewers, who praised the RGB feature and the technology behind the keyboard's switches.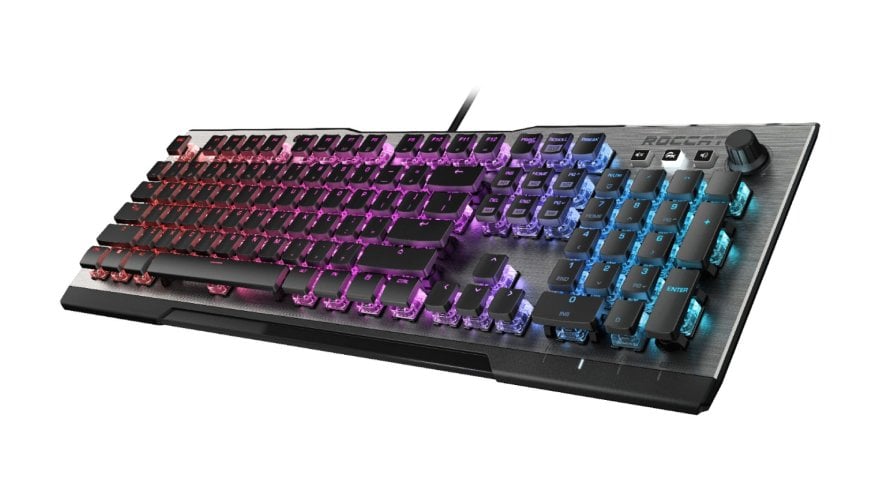 Brand-new switch technology
Enter Titan Switch – Roccat's patented technological solution, which creates the perfect balance between precision and a comfortable feel. What makes this solution any different than the ones implemented in other keyboards to serve the same purpose? The craft that went into designing Vulcan 120s switches left nothing to chance. The 1.8mm actuation point in the 120 AIMO gives the user a tactile yet crisp and responsive feeling. Reduced bounce, structural housing, and lighter caps make Roccat's device the leading example of quality keyboard design.
Build with quality materials
Roccat brand prides itself with using only the highest quality of materials for their hardware. V120 is no different.  It features an anodized aluminum plate, to reinforce its structure. The plate protects the keyboard from usual wear and tear, allowing the user to enjoy it longer and service-free. The super-light keycaps are designed in a way that allows the user to keep their device nice and clean. Combined with the Titan Switch's dust-resistance feature, this keyboard will work perfectly with users who value easy maintenance.
Illumination under your palms
RGB lighting has become a standard of keyboard functions. Roccat's Vulcan 120 also features a colorful key illumination, using the AIMO Living Light. AIMO is a learning RGB system, which compliments the users' keystrokes with displays of color. Over time AIMO will evolve, surprising with new motives, imaginative color combinations and more. Thanks to the AIMO system implemented in Vulcan 120, the player will never cease to be amazed by how the colors dance and blend under their fingers, turning the boring keyboard into the artist's canvas.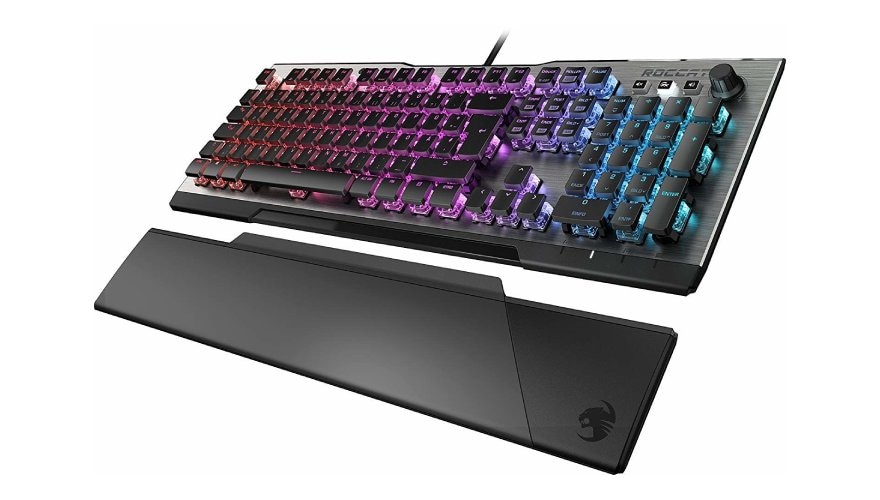 Rest for weary hands
Using keyboard for an extended period of time can be tiresome. Roccat reaches out to the weary palms of the users and offers them a device fitted with a palm rest. Vulcan 120's rest is detachable, so the user can choose when and where to use it, also making the transportation less troublesome. The design and quality of the 120's palm rest match that of the entire keyboard. It's elegant, comfortable and made with the highest quality materials to meet the expectations of the most demanding players.
Specification
Roccat Vulcan 120 AIMO is an RGB keyboard, featuring the Titan Switch and AIMO Living Light technologies. Its dimensions are 320x462x235 mm and it weighs 1150 grams. The main features include the aforementioned Titan Switch system, with 1.8mm silent and tactile actuation point and 3.6mm switch travel distance; and RGB illumination of keys, with 16.8 billion color palettes. Other features include: remappable keys, ROCCAT Swarm Software suite and EasyShift[+] technology, 32-bit processor, based on ARM Cortex-M0, integrated macro and settings memory (512kb), and 1000Hz polling rate. The device is compatible with the Windows 7, 8, and 10 operating systems, and comes with a 1.8m USB cable and detachable palm rest.
Reception
Vulcan 120 received positive reception from the critics. Reviewers praised the technological solutions implemented in the devices, especially the Titan Switch and AIMO RGB illumination. The keyboard was also praised for its design, which was described as colorful and eye-catching. Vulcan 120's design was noticed at the 2019 IF Design Awards, where it won in the Product discipline.
Key features
The keyboard of a modern player, featuring all the elements of a top-notch gaming hardware
Titan Switch technology makes the keystrokes feel great and maintains their precision
AIMO Living Light system turns the keys into paintbrushes and lets player use the keyboard as their illumination canvas
Detachable palm rest provides additional comfort for long gaming hours
Built with best quality materials, Roccat Vulcan 120 is made to last and easy to maintain
Roccat Vulcan 120 AIMO specification
| | |
| --- | --- |
| Type | Gaming Keyboard |
| Model | Vulcan 120 AIMO |
| Connectivity | Wired |
| Technology | ROCCAT® Easy-Shift[+]™ |
| Highlighting | RGB with 16.8m colors |
| Cable length | 1.8m |
| Weight | 1150 g |
| Dimension | 320 x 4620 x 2350 mm |
| System requirements | USB 2.0 Port, Internet connection for driver installation |
| Memory | 512kb integrated macro & settings memory |
| Additional | Removable ergonomic palm rest |
Item type: Brand new
Warranty: 12 months
Warehouse: EU countries + free shipping
Layout: US
Important: In case of returning the product, the cost of shipping the product is on the buyer's side.
EAN: 4250288171121
Earn every time someone buys this product using your reflink.