Rocket League Steam Key GLOBAL
Available from marketplace sellers
There are %d people looking at this product.
Poznámka:Rocket League (PC) pro STEAM je digitální produkt – bez dodávky v krabici. Cena platí pro digitální verzi produktu.
Upozorňujeme,že pokud zakoupíte tento produkt jako DÁREK, nebudete jej moci přidat do svého inventáře.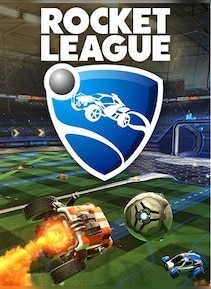 Dostupné jazyky:

Region:

GLOBAL

Platforma:
Buy product from these sellers:
How does G2A Goldmine work?
Tell your friends about G2A's Goldmine – build a team and boost your earnings!

2

Watch your profit grow!

Just sit back and relax as your work brings profit now! Use the tips and tools we made for you to maximize the earning potential.

A job well done deserves a proper credit. And still, you have not been working hard to achieve it right? Choose your preferred payment option and receive the paycheck!
Product Description

Rocket League
(PC) je rozhodně hrou pro vás, pokud vás bavila hra Supersonic Acrobatic Rocket Powered Battle Cars. Zahrajte si fotbal s auty a ovládněte ligu. Usedněte za volant futuristického vozu vybaveného pomocnými motory a dávejte góly nebo využijte výhod pokročilého systému fyziky a zabraňte protihráči skórovat. Realistická interakce s míčem a dalšími vozy, intuitivní ovládání a fotbalová hra vám nabídne nezapomenutelný zážitek.







Úchvatná hra

Využijte tlačítko skoku, přídavné turbo motory a elegantně zakřivené stěny a prohánějte míč ve všech třech dimenzích, jak jen chcete. Naučte se skákat, spouštět turbo a vzlétnout a vypálit přitom míč
do branky z dvaceti metrů nad zemí nebo zadržet útok týmu protihráčů. Jezděte po stěnách, veďte míč po stropě a staňte se náhlou smrtí týmu protihráčů.

Rychlé vyhledání soupeře, rychlé zápasy

Zápasy ve hře Rocket Legue trvají jen několik minut, takže jsou ideální jako krátké rozptýlení, než se vrátíte k jiným povinnostem. Systém vyhledávání soupeřů je rychlý, minimalizuje čas strávený čekáním na možnost si zahrát s ostatními nebo proti nim. Pro netrpělivé je k dispozici několik úrovní AI, dost dobrých, abyste si dali rychlý zápas.

Aby nedošlo k omylu: i když jsou zápasy rychlé, jsou ostré, sotva pevně uchopíte ovladač, abyste odehráli míč o vteřinu dříve, než to udělá soupeř.

Mnoho způsobů, jak hrát

Hra Rocket League nabízí několik herních módů a jejich variací. Od uvedení hry vydává společnost Psyonics nové herní módy a variace. Se Snow Day, hokejem inspirovaným módem s fyzičkou odpovídající nastavení, a basketbalovým Hoops není fotbal jedinou hrou, kterou si Rocket Legue užívá s využitím své kreativity.

K dispozici je také Rumble Mode, který doplňuje potrhlá, téměř komiksová oživení, od pružinových boxerek, přes hroty až k tornádům, která zamíchají hrou pro ty, kdo hledají nové výzvy.

Existují také způsoby, jak měnit pravidla běžných zápasů díky "přepínačům", které mění herní faktory, jako jsou gravitace nebo vlastnosti míče.

Vyzkoušejte si své schopnosti ve čtyřech různě velkých týmech: 1 vs 1, 2 vs 2, 3 vs 3 nebo 4 vs 4 a uvidíte, který je pro vás ten nejlepší.

Pokud nevyznáváte hru podle pravidel, můžete vždy ignorovat míč a zaměřit se na srážení vozů protihráčů, jejich ničení a vynutit si jejich další objevení. Jen toho nezneužívejte!

Řada možností přizpůsobení

Rocket League je hra pro vás, pokud jste vždy chtěli řídit náklaďák v sombreru nebo helmě z
1. světové války. Při hře odemykejte nová příslušenství. Kromě spousty karoserií a pneumatik, typů a barev laků nebo potisků si můžete vybrat střešní nástavbu, novou anténu nebo výfuk. Vše se odemyká získáváním zkušeností. Nebojte se o rovnováhu, vaše stylizace nikdy neovlivní výkon vašeho vozu. Takže nasaďte sombrero, nalijte bublifuk do výfuku a vrhněte se na míč!

Hra v několika různých arénách

Od světle zeleného, téměř tradičního fotbalového hřiště, až po post-apokalyptickou mpísečnou arénu ohraničenou spálenou pustinou nabízí hra Rocket League pět různých arén a několik povětrnostních / světelných podmínek. Byla to tmavá a bouřlivá noc, ideální pro hru! Poslouchejte lapání po dechu nebo úžasné výdechy publika, když skórujete, nebo hrdinně bráníte vlastní branku.

Hra zaměřená na dovednost

Vaše dovednost je skutečným měřítkem vaší zdatnosti ve hře Rocket League. Naučit se dokonale ovládat váš vůz je nelehká, ale také velmi zábavná zkušenost plná náhodných momentů bravurnosti, když dokonale zaskórujete nebo dvojitým skokem a saltem vzad odpálíte míč od své branky. Srovnání vašich dovedností s ostatními hráči prostřednictvím žebříčku online her. Mnohem dříve, než se dopracujete k akrobatickým kouskům z upoutávek a herních videí ze hry Rocket League, kdy manévrujete ve zlomku vteřiny, odhadnete, kam míč poletí a zajistíte vítězství svého týmu. Každý gól je příběh, jelikož hra opakuje každý úspěšný zásah hráče,
aby si mohl vychutnat svou slávu.

Hra Rocket League je příjemným osvěžením světa sportovních her, přináší zcela nové mechaniky k dosažení známých cílů. Kupte si svou kopii a připojte se k řadám po stěnách šplhajících, vysoko létajících raketových vozů, které jen chtějí hrát fotbal.




Key features

High-flying gameplay

Use jump button, turbo boosts and gracefully curved walls to chase the ball in all three dimensions as you please. Learn to jump and engage turbo to fly off and somersault a ball into the goalposts from twenty meters up in the air or intercept the opposing team's offensive. Ride up the walls and guide the ball across the ceiling to become the opposing team's death from above.

Quick match-ups, quick matches

Rocket League (PC) matches last for just a couple minutes, making it perfect for a brief session before going back to other things. Match-up system works fast, minimizing the time spent waiting for a chance to play with and against others. For the impatient there are several tiers of AI skill, good enough to enjoy a quick match.Make no mistake: the matches, though quick, are intense, as you tightly grab your controller to nudge the ball just right before the opponent does.

Many ways to play

Rocket League offers several game modes, and variations within them. Since release Psyonics kept coming up with new game modes and variations. Between Snow Day, a hockey-inspired mode with physics matching the setup, and a basketball-themed Hoops, football isn't the only game that Rocket League enjoys twisting in its own creative image.There is also the Rumble Mode, adding wacky, almost cartoonish pickups, from spring-loaded boxing gloves to spikes and tornadoes to shake up the gameplay for those, who seek new challenges.There are also ways to shift around the rules of regular matches thanks to "mutators" which change game factors like gravity or ball properties.Test yourself in four team sizes: 1v1, 2v2, 3v3, or 4v4 and find out which one suits you best.If playing fair isn't your cup of tea, you can always ignore the ball and focus on slamming into opposing car destroying them and forcing their respawn. Just don't abuse the option!

A lot of customization

Rocket League is the game to play if you always wanted to drive a truck with a sombrero or WW1 helmet. Unlock new accessories as you play. Pick a roof-mounted gadget, a new antenna and a new exhaust trail in addition to plenty of car bodies and tires, types and colors of paint, and decals. All unlockable as you gain experience. Don't fear balance issues, your style will never work to the detriment of your car's performance. So pick up this sombrero, load bubbles into the exhaust pipe and go play ball!

Play on several different arenas

From a bright and green, almost traditional, football playing field to a post-apocalyptic sandy arena bordered by a scorched wasteland, Rocket League offers five arenas and several weather\light conditions. It was a dark and stormy night to play! Listen to the audience gasp and sigh in awe as you score goal after goal or heroically defend your own goalposts.

Skill-focused gameplay

Your skill is the true measure of your proficiency with Rocket League. Learning to perfectly control your car is a difficult experience, but also very enjoyable and full of random moments of brilliance as you perform the perfect somersault goal or double jump and backflip the ball away from your goalposts. Match-up with players of your skill using a ranking system for online play. Before long you will perform the kind of acrobatics you saw only in Rocket League's trailers and gameplay videos, making split-second maneuvers, anticipating where the ball will be and earning victory for your team! Every goal is a story, as the game replays every successful strike for the player to bask in the glory.Rocket League is a breath of fresh air for the sport games, introducing brand new mechanics for achieving very familiar goals. Buy your copy now and join the ranks of wall-crawling, high-flying rocket-boosted cars which just want to play football so much.

Minimal requirements

Recommended requirements

Systémové požadavky:

Windows Vista SP2

Processor:

2.0 GHz Dual core

Paměť:

2 GB RAM

Grafika:

Nvidia 8800 or ATI 2900

HDD:

2 GB available space

Paměť:

4 GB RAM

Grafika:

Nvidia 260 series or ATI 5850

Age and content rating