RollerCoaster Tycoon 2: Triple Thrill Pack Steam Key GLOBAL
Available from marketplace sellers
There are %d people looking at this product.
ATI/AMD compatibility notice: RollerCoaster Tycoon 2 requires graphic card drivers version 13.4 or older.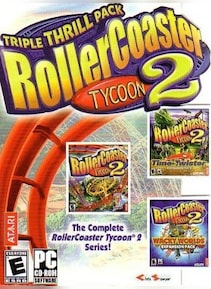 Ngôn ngữ:

Khu vực:

GLOBAL

Platform:
Buy product from these sellers:
G2A Goldmine hoạt động như thế nào?
1

Thông báo cho những người khác

Kể cho bạn bè về Goldmine G2A - xây dựng đội ngũ và tăng thu nhập của bạn!

2

Xem lợi nhuận của bạn tăng lên!

Ngồi xuống và thư giãn xem công việc của bạn mang lại lợi nhuận ngay bây giờ! Sử dụng những lời khuyên và các công cụ chúng tôi để tối đa hóa tiềm năng thu nhập.

Một công việc tốt đòi hỏi thù lao xứng đáng. Bạn không phải làm gì nhiều nhưng vẫn đạt được nó,đúng không? Hãy chọn phương thức thanh toán bạn ưa thích và lãnh lương!
Mô tả sản phẩm

Stretch your imagination further to build bigger parks and higher coasters! Break ground and start from scratch, open the gates to a remarkable Six Flags park, or just create the most gut-wrenching roller coaster imaginable - now you can play your way! Choose and complete different scenarios accordingly to the experience and content you like. Satisfy the visitors by building various attractions and facilities.Wild new rides, exciting new themes, and improved easy-to-use building tools make creating the ultimate amusement park more fun than ever!

Các tính năng chính



Test your Tycoon skills with 25 amazing Six Flags® coasters and 5 Six Flags® parks based on real-life places


Create incredible roller coasters using all-new Roller Coaster Designer!


Thrill your park guests with over 150 different rides and attractions


Customize your park with new and unique themes, including Giant Garden, Wild West, Pirates, and more!



Yêu cầu

Yêu cầu hệ thống:

Windows XP / VIsta

Bộ xử lý:

1.8 GHz

Bộ nhớ:

512 MB RAM

HDD:

2 GB

Khác

Steam

Steam - Game can be activated on Steam, enables you to play on official Steam servers and your game will be kept updated with the latest patches via the Steam platform.

Key Type

This product is available as a CD key carried out via digital means - no shipping fees apply.