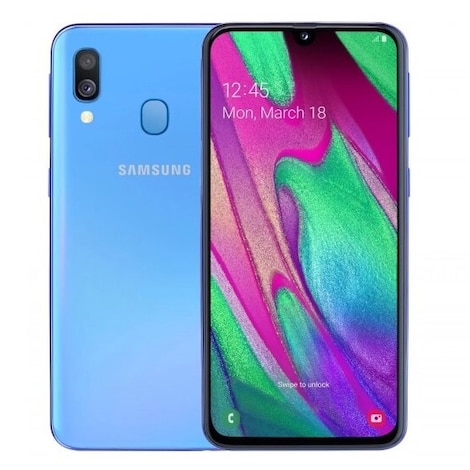 1/1
Samsung Galaxy A40 4/64GB Dual Sim Niebieski
Samsung Galaxy A40 4/64GB Dual Sim Ekran: 5.9" Samsung Exynos 7904 (8 rdzeni, do 1.80 GHz) Pamięć wewnętrzna: 64GB Pamięć RAM: 4GB System: Android 9.0 Pie Aparat: 25.0 Mpix - przód, 16.0 + 5.0 Mpix - tył B ...
You must be logged in to add products to your wishlist.
Specifications
Specifications
Connectivity:

4G

Contract:

Without Contract

Lock Status:

Factory Unlocked

Operating System:

Android
Product description
Samsung Galaxy A40 4/64GB Dual Sim

Ekran: 5.9"

Samsung Exynos 7904 (8 rdzeni, do 1.80 GHz)

Pamięć wewnętrzna: 64GB

Pamięć RAM: 4GB

System: Android 9.0 Pie

Aparat: 25.0 Mpix - przód, 16.0 + 5.0 Mpix - tył

Bateria: Litowo-jonowa 3100 mAh
Moc możliwości Samsunga Galaxy A40
Samsung Galaxy A40 to smartfon, który zadziwi Cię swoimi możliwościami. Jego smukła i starannie wyprofilowana obudowa będzie doskonale leżeć w Twojej dłoni. Robienie zdjęć albo korzystanie z multimediów z tym modelem to prawdziwa przyjemność. Korzystaj z możliwości, jakie dają zaawansowane aparaty oraz zoptymalizowane podzespoły. Kolejną z jego wielkich zalet jest rewelacyjny wyświetlacz Infinity sAMOLED.
Idealny do filmów i gier
Wyświetlacz w Samsungu Galaxy A40 z pewnością Cię zachwyci swoimi barwami. Oglądaj ulubione seriale i filmy, przeglądaj zdjęcia i nagrania z weekendowego wypadu, włączaj gry i aplikacje. Na wyświetlaczu Infinity sAMOLED o przekątnej 5,9" i rozdzielczości Full HD+ po prostu wszystko wygląda lepiej. Niemal w całości wypełnia on przedni panel, którego ramki są zredukowane do minimum. Właśnie dlatego oglądane materiały prezentują się tak dobrze.
Zdjęcia, które zachwycają
Poznaj dwie matryce głównego aparatu Samsung Galaxy A40. Pierwsza ma rozdzielczość 16 Mpix i przysłonę f/1.9. Rejestruje ona szczegóły fotografowanych scen z dużą dokładnością. Druga ma rozdzielczość 5 Mpix i gwarantuje szeroki kąt widzenia o wartości 120˚. Selfie wykonasz przednią kamerą, która ma rozdzielczość 25 Mpix. Z Samsungiem Galaxy A40 na zdjęciach możesz zobaczyć jeszcze więcej.
Gwarancja szybkiego działania
Za płynność działania Samsunga Galaxy A40 odpowiadają ośmiordzeniowy procesor Exynos 7904 oraz 4 GB pamięci RAM. Żeby jeszcze lepiej wykorzystywać swój czas, możesz korzystać z aplikacji lub pracować w trybie podzielonego ekranu. Do dyspozycji na swoje pliki masz 64 GB pamięci wewnętrznej. Co więcej, rozbudujesz ją do aż 512 GB.
Samsung Galaxy A40 zawsze dotrzyma Ci kroku
Nie przejmuj się, że Twój smartfon nie będzie miał energii. Zagwarantują to bateria o pojemności 3100 mAh oraz staranna optymalizacja trybu pracy smartfona. Poziom naładowania akumulatora jest niski? Możesz uzupełnić go w chwilę dzięki funkcji szybkiego ładowania. Wróć do oglądania serialu lub przeglądania swoich zdjęć. Ciesz się chwilą z Samsungiem Galaxy A40.
Procesor
Samsung Exynos 7904 (8 rdzeni, do 1.80 GHz)
Układ graficzny

Mali-G71 MP2

Pamięć RAM

4 GB

Pamięć wbudowana

64 GB

Typ ekranu
Super AMOLED
Przekątna ekranu

5,9"

Rozdzielczość ekranu

2340 x 1080

Łączność

LTE

Wi-Fi

Bluetooth
NFC

System nawigacji satelitarnej
Złącza

Gniazdo kart nanoSIM - 2 szt.

Czytnik kart pamięci - 1 szt.

Wyjście słuchawkowe/głośnikowe - 1 szt.

USB Typ C - 1 szt.

Bateria

Litowo-jonowa 3100 mAh

Zainstalowany system operacyjny

Android 9.0 Pie

Aparat

16.0 + 5.0 Mpix - tył

25.0 Mpix - przód

Lampa błyskowa

Wbudowana

Rozdzielczość nagrywania wideo

1920 x 1080 (FullHD)

Grubość

7,9 mm

Szerokość

69,1 mm

Wysokość

144,3 mm

Waga

140 g

Kolor

Niebieski

Dodatkowe informacje

Akcelerometr

Żyroskop

Magnetometr

Czujnik światła

Czujnik zbliżenia

Czytnik linii papilarnych

Funkcja szybkiego ładowania Fast Charge

Dołączone akcesoria

Kabel USB

Ładowarka sieciowa

Gwarancja

24 miesiące (gwarancja producenta)