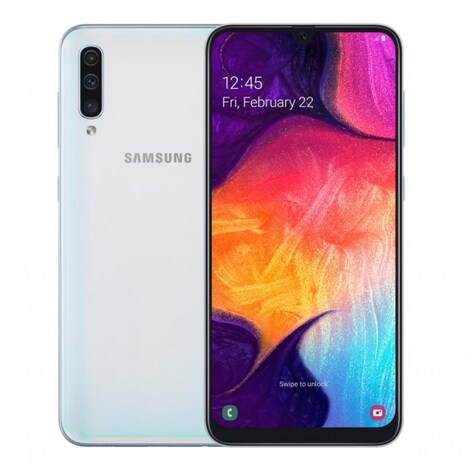 1/1
Samsung Galaxy A50 4/128GB Dual Sim Biały
Samsung Galaxy A50 4/128GB Dual Sim Ekran: 6.4" Samsung Exynos 9610 (8 rdzeni, do 2.30 GHz) Pamięć wewnętrzna: 128GB Pamięć RAM: 4GB System: Android 9.0 Pie Aparat: 25.0 Mpix - przód, 25.0 + 8.0 + 5.0 Mpix ...
You must be logged in to add products to your wishlist.
Specifications
Specifications
Connectivity:

4G

Contract:

Without Contract

Lock Status:

Factory Unlocked

Operating System:

Android

Brand:

Samsung
Product description
Samsung Galaxy A50 4/128GB Dual Sim

Ekran: 6.4"

Samsung Exynos 9610 (8 rdzeni, do 2.30 GHz)

Pamięć wewnętrzna: 128GB

Pamięć RAM: 4GB

System: Android 9.0 Pie

Aparat: 25.0 Mpix - przód, 25.0 + 8.0 + 5.0 Mpix - tył

Bateria: Litowo-jonowa 4000 mAh
Samsung Galaxy A50 z wyjątkowym wyświetlaczem
Samsung Galaxy A50 już po chwili zachwyci Cię swoim wyjątkowym wyświetlaczem. 6,4'' ekran o rozdzielczości 2340 x 1080 pikseli to panel Super AMOLED Infinty-U. Zapewnia on znakomite doznania estetyczne dzięki niesamowitemu kontrastowi i genialnemu odwzorowaniu kolorów. Z pewnością jakość wyświetlanego obrazu zadowoli nawet największych malkontentów. W końcu Samsung jest znany z doskonałych wyświetlaczy. Wypróbuj funkcję Always on display - bez odblokowywania urządzenia sprawdź powiadomienia lub aktualną godzinę.
Bądź inny niż wszyscy z Samsungiem Galaxy A50
Ekran Galaxy A50 chroni Gorilla Glass trzeciej generacji. Niesamowita obudowa z odpornego tworzywa wyróżnia tego smartfona spośród wielu podobnych urządzeń. Korzystaj z portu słuchawkowego Jack 3.5 mm i ciesz się wyraźnym, głośnym dźwiękiem. W tym aspekcie ten model śmiało konkuruje z droższymi propozycjami dostępnymi na rynku.
4 obiektywy fotograficzne
Samsung Galaxy A50 oferuje 4 obiektywy fotograficzne. Przednia kamera o rozdzielczości 12,2 Mpix pomoże Ci w zrobieniu idealnego selfie. Jeśli warunki oświetleniowe są trudne, możesz skorzystać z głównego aparatu 25MP z przesłoną f1.7. Szerokokątny obiektyw o polu widzenia 123° będzie znakomitym wyborem do uwieczniania scen z szeroką perspektywą. Sztuczna inteligencja jeszcze podniesie jakość Twoich zdjęć.
Pojemna bateria 4000mAh
Trudno znaleźć inny model w tym segmencie cenowym, który miałby tak pojemną baterię (4000mAh). Dzięki systemowej optymalizacji zużycia energii, nie będziesz sięgać po ładowarkę przez 2-3 dni. Urządzenie naładujesz w jakieś 2 godziny - wspiera je 15-watowe szybkie ładowanie.
Korzystaj ze skanera linii papilarnych
W Samsungu Galaxy A50 wprowadzono możliwość odblokowywania telefonu przy pomocy rozpoznawania twarzy z wykorzystaniem przedniej kamery lub wbudowanego w ekran czytnika linii papilarnych. To zdecydowanie bardziej wygodne rozwiązania niż kod PIN albo wzór na ekranie. Nikt nieuprawniony nie będzie miał dostępu do Twoich danych.
Galaxy Experience i szybkość działania
W smartfonie zastosowano interfejs Galaxy Experience, który współpracuje z systemem Android 9.0. Wydajny, ośmiordzeniowy procesor Exynos 9610 i 4GB pamięci RAM zapewniają szybką pracę telefonu. Skorzystaj z wielu opcji konfiguracyjnych i z możliwości personalizacji urządzenia.
Procesor
Samsung Exynos 9610 (8 rdzeni, do 2.30 GHz)
Układ graficzny

Mali-G72 MP3

Pamięć RAM

4 GB

Pamięć wbudowana

128 GB

Typ ekranu
Super AMOLED
Przekątna ekranu

6,4"

Rozdzielczość ekranu

2340 x 1080

Łączność

LTE

Wi-Fi

Bluetooth
NFC

System nawigacji satelitarnej
Złącza

Gniazdo kart nanoSIM - 2 szt.

Czytnik kart pamięci - 1 szt.

Wyjście słuchawkowe/głośnikowe - 1 szt.

USB Typ C - 1 szt.

Bateria

Litowo-jonowa 4000 mAh

Zainstalowany system operacyjny

Android 9.0 Pie

Aparat

25.0 + 8.0 + 5.0 Mpix - tył

25.0 Mpix - przód

Lampa błyskowa

Wbudowana

Rozdzielczość nagrywania wideo

1920 x 1080 (FullHD)

Grubość

7,7 mm

Szerokość

74,7 mm

Wysokość

158,5 mm

Waga

186 g

Kolor

Biały

Dodatkowe informacje

Szkło Corning Gorilla Glass 5

Akcelerometr

Żyroskop

Magnetometr

Czujnik światła

Czujnik zbliżenia

Czytnik linii papilarnych wbudowany w ekran

Funkcja szybkiego ładowania Fast Charge

Dołączone akcesoria

Kabel USB

Ładowarka sieciowa

Gwarancja

24 miesiące (gwarancja producenta)