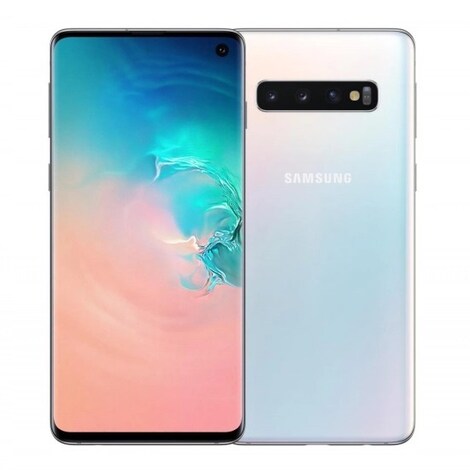 1/1
Samsung Galaxy S10 G973F 128GB Dual Sim Biały
Samsung Galaxy S10 G973F Biały Ekran: 6,1" Dynamic AMOLED Exynos 9820 (8 rdzeni, do 2.70 GHz) Pamięć wewnętrzna: 128GB Pamięć RAM: 8GB System: Android 9.0 Pie Aparat: 10.0 Mpix - przód, 12.0 + 12.0 + 16.0 M ...
You must be logged in to add products to your wishlist.
Specifications
Specifications
Camera Resolution:

12.0 - 15.9 MP

Connectivity:

4G

Contract:

Without Contract

Features:

Camera

Lock Status:

Factory Unlocked

Operating System:

Android

Processor:

Octa Core

Screen Size:

> 6

SIM Card Slot:

Dual SIM

Brand:

Samsung
Product description
Samsung Galaxy S10 G973F Biały

Ekran: 6,1" Dynamic AMOLED

Exynos 9820 (8 rdzeni, do 2.70 GHz)

Pamięć wewnętrzna: 128GB

Pamięć RAM: 8GB

System: Android 9.0 Pie

Aparat: 10.0 Mpix - przód, 12.0 + 12.0 + 16.0 Mpix - tył

Bateria: Litowo-polimerowa 3400 mAh
Całkowicie nowy wygląd
Wycinany laserowo, bezramkowy ekran z czytnikiem linii papilarnych wbudowanym w wyświetlacz wykonany w technologii AMOLED, która zapewnia pełen komfort użytkowania nawet w słoneczny dzień – poznaj nowego Samsunga z serii Galaxy S. Ekran Infinity-O jest najbardziej innowacyjnym ze wszystkich dotychczasowo stworzonych wyświetlaczy w smartfonach serii Galaxy. Oglądanie filmów i przeglądanie zdjęć jest teraz przyjemne jak nigdy wcześniej.
Inteligentny aparat i rewelacyjne zdjęcia
Aparat w najnowszym Samsungu serii Galaxy S pomoże Ci zrobić piękne zdjęcia. Smartfon sam zasugeruje odpowiednią kompozycję, a także automatycznie dostroi ustawienia do danego ujęcia.
Wykorzystaj jeden z trzech dostępnych obiektywów - teleobiektyw, obiektyw szerokokątny lub ultraszerokokątny. Dzięki nim uchwycisz dokładnie to, co widzisz.
Najnowszy aparat z matrycą o rozdzielczości 16 megapikseli i obiektywem szerokokątnym pozwoli Ci uchwycić jeszcze więcej w kadrze. Teleobiektyw daje możliwość robienia zdjęć z dwukrotnym przybliżeniem.
Fast Wireless Charging 2.0
Dzięki technologii Fast Wireless Charging 2.0 urządzenia serii Galaxy S ładują się bezprzewodowo zdecydowanie szybciej niż poprzednie smartfony tej serii. Twój smartfon powróci teraz do życia zdecydowanie szybciej!
Kinowa jakość obrazu
Ekran Dynamic AMOLED obsługuje teraz technologię HDR10+. Zobaczysz dzięki niej niesamowite kolory i kontrast – wszystko to niezależnie od tego, w jakich warunkach oświetleniowych się znajdziesz. Łącząc to z wbudowanymi głośnikami stereo wspierającymi technologię Dolby Atmos, będziesz naprawdę pod ogromnym wrażeniem i poczujesz się jak na sali kinowej.
Funkcja Intelligent Performance
Smartfony serii Galaxy S10 uczą się Twoich schematów użytkowania, wyłączając funkcje i aplikacje, których nie używasz. Telefon wie, w których godzinach w ciągu dnia używasz go intensywniej, dlatego stara się on przewidywać momenty, w których będziesz go potrzebować. Najczęściej używane aplikacje będą uruchamiać się szybciej niż pozostałe.
Procesor

Samsung Exynos 9820 (8 rdzeni, do 2.70 GHz)

Układ graficzny

Mali-G76 MP12

Pamięć RAM

8 GB

Pamięć wbudowana

128 GB

Typ ekranu

Dynamic AMOLED

Przekątna ekranu

6,1"

Rozdzielczość ekranu

3040 x 1440

Łączność

Bluetooth

Wi-Fi

LTE
NFC

System nawigacji satelitarnej
Złącza

Gniazdo kart nanoSIM - 2 szt.

Czytnik kart pamięci - 1 szt. (wspólny ze slotem karty SIM)
Gniazdo słuchawkowe - 1 szt.

USB Typu C - 1 szt.

Bateria

Litowo-polimerowa 3400 mAh

Zainstalowany system operacyjny

Android 9.0 Pie

Aparat

12.0 Mpix + 16.0 Mpix + 12.0 Mpix - tył

10.0 Mpix - przód

Lampa błyskowa

Wbudowana

Rozdzielczość nagrywania wideo

4K

Grubość

7,8 mm

Szerokość

70,4 mm

Wysokość

149,9 mm

Waga

157 g

Kolor

Biały (Prism White)

Dodatkowe informacje

Obudowa wykonana ze szkła i aluminium

Funkcja ładowania bezprzewodowego

Zwrotne ładowanie bezprzewodowe innych urządzeń

Certyfikat (IP68)

Akcelerometr

Żyroskop

Barometr

Pulsometr

Czujnik światła

Czujnik zbliżenia

Czujnik Halla

Wbudowane głośniki stereo

Czytnik linii papilarnych wbudowany w ekran

Funkcja szybkiego ładowania Fast Charge

Dołączone akcesoria

Kabel USB
Zestaw słuchawkowy

Ładowarka sieciowa

Gwarancja

24 miesiące (gwarancja producenta)