Sid Meier's Civilization VI STEAM CD-KEY ROW
Available from marketplace sellers
There are %d people looking at this product.
Warning! This product is region locked and it CANNOT be activated and played in the following countries: Asia/Pacific Region, Argentina, Australia, Bangladesh, Brunei Darussalam, Bolivia, Brazil, Bhutan, Canada, Cocos (Keeling) Islands, Chile, China, Colombia, Christmas Island, Ecuador, Falkland Islands (Malvinas), French Guiana, Guyana, Hong Kong, Indonesia, British Indian Ocean Territory, Japan, Cambodia, Democratic People's Republic of Korea, Republic of Korea, Lao People's Democratic Republic, Sri Lanka, Myanmar, Mongolia, Macau, Maldives, Mexico, Malaysia, Nepal, New Zealand, Peru, Philippines, Pakistan, Paraguay, Singapore, Suriname, Thailand, Timor-Leste, Taiwan, United States, Uruguay, Venezuela, Vietnam.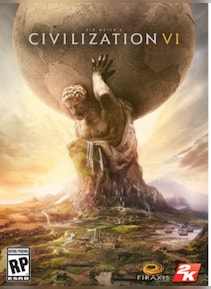 Language available:

Region:

ROW

Platform:
Earn $3.08 if somebody buys this product using your Goldmine reflink. Find out more
Buy product from these sellers:
How does G2A Goldmine work?
Tell your friends about G2A's Goldmine – build a team and boost your earnings!

2

Watch your profit grow!

Just sit back and relax as your work brings profit now! Use the tips and tools we made for you to maximize the earning potential.

A job well done deserves a proper credit. And still, you have not been working hard to achieve it right? Choose your preferred payment option and receive the paycheck!
Product Description

Civilization VI is the new installment of the long-running series of strategy games, and the first of the core series since 2010's Civilization V. Civ 6 has improved graphics and revamped art style, but most importantly it has numerous improvements to the systems of previous incarnations.
It retains the features that made the series popular: randomly generated, Earth-like maps, focus on interactions between civilizations, and giving the player a chance to become one of immortal historical leaders guiding their cultures to global domination through the centuries.

Deeper city-planning

The cities are among the key components of a good Civilization game, and skillful management of them is what decided on loss or victory. Civilization VI introduces districts: specialized zones supporting the cities. Constructing a district requires a free tile, and is subject to certain requirements. A campus supporting science projects may require a mountain nearby, for instance. Campuses encourage specialization of your cities and careful planning to make sure that the districts you want can be built.

Improved diplomacy

The diplomacy system of Civilization VI provides a more understandable and clearer gameplay than ever before. All AI-managed Leaders now have a set of two agendas defining their policies and attitudes. While one is known from the start, the other will be hidden for your own leader until further effort is put into discovering it over future contacts. Similarly the interaction of Civilization V's new feature City-States are improved in Civ VI. Now your influence over them needs to be earned by special missions, and is represented by the number of envoys your Civ has in a given city state.

Balanced Culture vs Science gameplay

Civilization VI solves an old dilemma of setting priorities in the Civilization's growth. It introduces dual trees for Technology and Civics. The latter contains certain culture-related discoveries which were previously parts of Technology trees. Drama, Philosophy, and more are now parts of Civics tree, for more accessible cultural victory. Completing certain Civics will even unlock policies which can be employed by the government.

More active science gameplay

The technology tree has been reworked to become the active research system offering research boosts if certain conditions are met. Researching masonry will be easier with a quarry built. Conversely, being removed from supporting resources will negatively impact your ability to research connected technologies.
Eureka moments, on the other hand, move Civs further towards certain technologies based on in-game actions. Defeating enemies may now be a breakthrough for weapon research.

Key features

Improved diplomacy - discover agendas of other Leaders and adjust your gameplay accordingly
Rebalanced Culture vs Science - now Cultural growth doesn't come at the expense of Science. Become the dominant force in bth aspects
Unlockable policies for your government - unlock new policy cards as you progress, providing tangible bonuses to your endeavors
Improved graphics - in addition to better technical performance, the art style became more colorful and welcoming

Civilization VI versions

Civilization VI Digital Deluxe Edition Windows
Civilization VI 25th Anniversary Edition Windows
Civilization VI Standard Edition OS X
Civilization VI Digital Deluxe Edition OS X
Civilization VI 25th Anniversary Edition OS X
Civilization VI Standard Edition Linux
Civilization VI Digital Deluxe Edition Linux
Civilization VI 25th Anniversary Edition Linux

Minimal requirements

Recommended requirements

System Requirements:

Windows 7x64 / 8.1x64 / 10x64

Processor:

Intel Core i3 2.5 Ghz / AMD Phenom II 2.6 Ghz

Memory:

4 GB RAM

Graphics:

1 GB & AMD 5570 / nVidia 450

HDD:

12 GB available space

Platform:

PC

System Requirements:

Windows 7x64 / 8.1x64 / 10x64

Processor:

Fourth Generation Intel Core i5 2.5 Ghz / AMD FX8350 4.0 Ghz

Memory:

8 GB RAM

Graphics:

2GB & AMD 7970 / nVidia 770

HDD:

12 GB available space

Platform:

PC

Age and content rating

Other

Steam

Steam - Game can be activated on Steam, enables you to play on official Steam servers and your game will be kept updated with the latest patches via the Steam platform.

Key Type

This product is available as a CD key carried out via digital means - no shipping fees apply.
Frequently bought with this item