Sid Meier's Civilization V: Complete Edition Steam Key GLOBAL
Available from marketplace sellers
%d Personen sehen sich dieses Produkt an.
Sid Meier's Civilization V: Complete Edition for Steam platform is a digital product- no box delivery.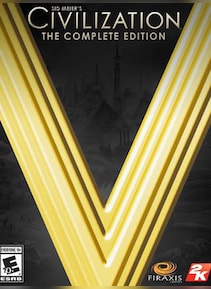 Verfügbare Sprachen:

Region:

GLOBAL

System:
Verdiene 7,17 € wenn jemand dieses Produkt mit deinem Goldmine Reflink kauft. Mehr erfahren
Kaufe das Produkt bei diesen Anbietern:
How does G2A Goldmine work?
Tell your friends about G2A's Goldmine – build a team and boost your earnings!

2

Watch your profit grow!

Just sit back and relax as your work brings profit now! Use the tips and tools we made for you to maximize the earning potential.

A job well done deserves a proper credit. And still, you have not been working hard to achieve it right? Choose your preferred payment option and receive the paycheck!
Produktbeschreibung

Das Flaggschiff unter den rundenbasierten Strategiespielen ist zurück

Werden Sie Herrscher über die Welt, indem Sie Ihre Zivilisation von der Geburt bis in das Weltraumzeitalter begleiten: Führen Sie Kriege, schließen Sie diplomatische Abkommen, erforschen Sie neue Technologien, legen Sie sich mit den größten Herrschern der Geschichte an und erschaffen Sie das mächtigste Reich, das die Welt je gesehen hat.



EINGÄNGLICHE BEDIENUNG: Steigen Sie direkt ein und spielen Sie nach Ihrem eigenen Tempo mit einer intuitiven Benutzeroberfläche, die neuen Spielern den Einstieg leicht macht.


GLAUBHAFTE WELT: Die ultrarealistische Grafik zeigt malerische Landschaften, die Sie erforschen, erobern und besiedeln können. Die Einflüsse des Art-déco-Stils in Menüs und Icons machen diesen Teil der Reihe zum am besten gestalteten Civ, das jemals entwickelt wurde.


COMMUNITY & MEHRSPIELER: Treten Sie gegen Civ-Spieler aus der ganzen Welt an oder spielen Sie lokale LAN-Partien. Modifizieren* Sie das Spiel in beispiellosem Ausmaß und installieren Sie die Mods direkt über das integrierte Community-Hub ohne das Spiel verlassen zu müssen. Civilization V stellt die Community in den Fokus.


BREITE SYSTEMKOMPATIBILITÄT: Civilization V funktioniert auf verschiedensten Systemen vom High-End-Rechner mit DX11 bis hin zu kompakten Laptops. Dank Ihres Steam-Accounts können Sie das Spiel so oft Sie wollen, auf so vielen PCs wie Sie wollen installieren und Ihr persönliches Civ V-Abenteuer überall fortführen.


BRANDNEUE FUNKTIONEN: Ein neues Hexfeld-basiertes Spielprinzip ermöglicht aufregende, neue Kampf- und Baustrategien. Stadtstaaten sind eine neue Ressource auf dem diplomatischen Schlachtfeld. Ein verbessertes Diplomatiesystem erlaubt Ihnen, mit interaktiven Herrschern zu verhandeln. Die eigenen Musikkompositionen und Orchesteraufnahmen schließlich verleihen Civ V den Feinschliff und die Qualität, die Sie von der Serie erwarten.


SOZIALE VERANTWORTUNG: 2K Games spendet insgesamt 250.000 US-Dollar an vier Wohltätigkeitsorganisationen mit dem Schwerpunkt Bildung und die Spieler entscheiden, wie das Geld aufgeteilt wird: Während des Installationsvorgang können Sie aus den vorgestellten Organisationen wählen.



Key features

Civ 5 is a perfect blend of classic and fresh gameplay elements. It feels immediately familiar to the series' veterans, but introduces new mechanics to stay ahead of its competitors.

Sid Meier's Civilization V features



Several ways to win - you can achieve victory through different means suiting your style. Whether through Conquest, Diplomacy, Science or greatest score, Civilization 5 lets you win the way you want to.


Easily accessible mods - Civ 5 integrates mod access into game menus, letting you download and install them with just a few clicks, easier than ever.


Streamlined UI shows all the vital information and decisions upfront, everything else is just a few clicks away


Capable AI - handling the lesser details of leadership for you or ruling other civilizations, Civ 5's AI can handle it all.


Fully customizable campaign - Civilization V allows you to decide on a wide variety of factors before you start. Number of nations, attitudes of other civilizations and more can be decided on to let you create your desired scenario. Sid Meier's Civilization V is a perfect sequel to a venerable series, improving and adding a number of features. Buy your copy and become a bright leader guiding your nation through millennia and towards a brighter future.



Sid Meier's Civilization V: Complete Edition includes:



Sid Meier's Civilization V


Sid Meier's Civilization V - Gods and Kings


Sid Meier's Civilization V: Brave New World DLC


Sid Meier's Civilization V: Babylon (Nebuchadnezzar II) DLC


Civilization and Scenario Pack: Denmark - The Vikings DLC


Double Civilization and Scenario Pack: Spain and Inca DLC


Civilization V: Cradle of Civilization - Mediterranean DLC


Civilization V: Cradle of Civilization - Asia DLC


Civilization V: Cradle of Civilization - Americas DLC


Civilization V: Cradle of Civilization - Mesopotamia DLC


Civilization and Scenario Pack: Polynesia DLC


Civilization V - Civilization and Scenario Pack: Korea DLC


Civilization V - Wonders of the Ancient World Scenario Pack DLC


Sid Meier's Civilization V: Scrambled Continents Map Pack DLC


Sid Meier's Civilization V: Scrambled Nations Map Pack DLC


Civilization V: Explorer's Map Pack DLC



Altersfreigabe und Inhaltsbewertung
Frequently bought with this item