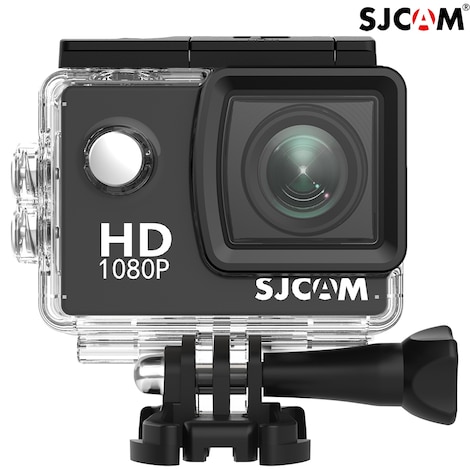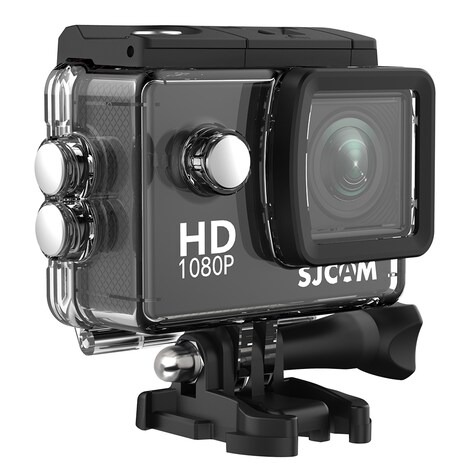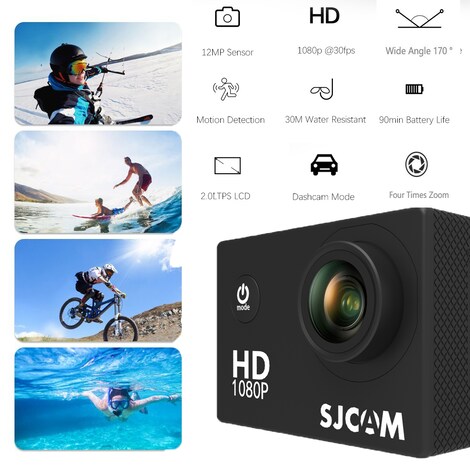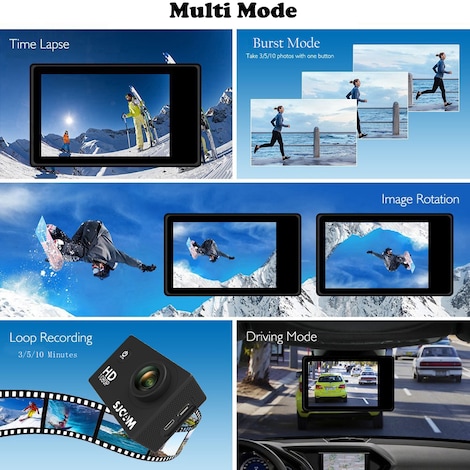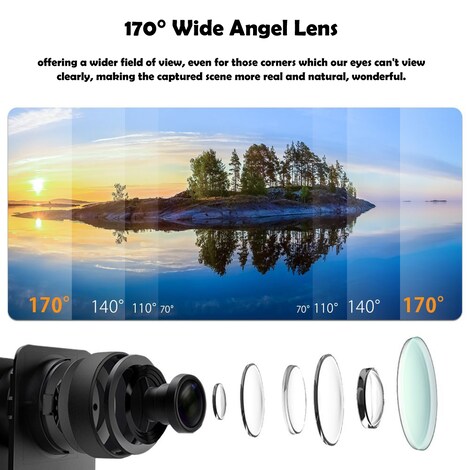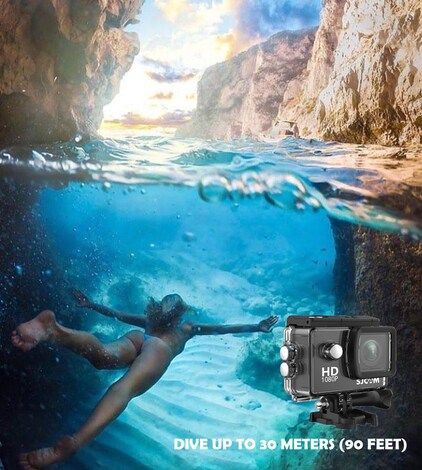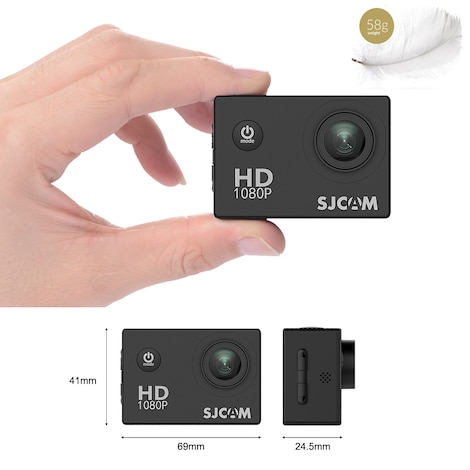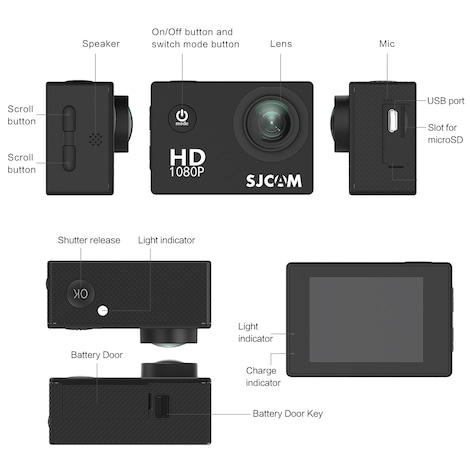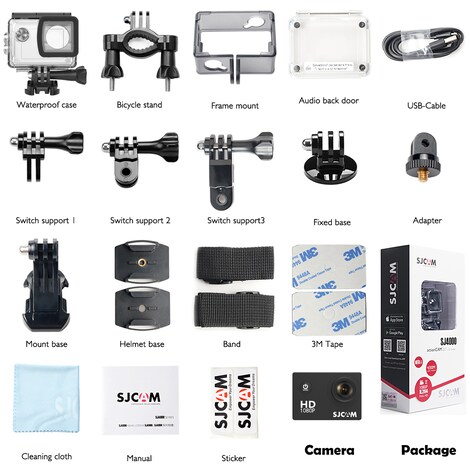 1/9
SJCAM SJ4000 12MP Action Camera Underwater Camera Sport Camcorder
Selected offer from:
Product Features:12 MP Sensor - SJCAM SJ4000 allow recording 1080P/30FPS 1920*1080 Full HD videos and 720/60FPS, 720/30FPS, WVGA/30FPS, VGA640*480 videos, shoot 12M crisp photos.2'' LCD Screen Display with 4 X ZOOM - Cle ...
Specifications
Specifications
Camcorders Type:

Helmet/Action

Storage Type:

Removable (Card/Disc/Tape)

Zoom:

4x

Screen Size:

2.0"

Camcorders Features:

LCD Screen, Time Lapse, Underwater Use

Resolution Definition:

High Definition, 1080p, 720p

Media Format:

JPEG, MOV

Electronic Brands:

SJCAM

Material:

Plastic
Product description
Product Features:
12 MP Sensor - SJCAM SJ4000 allow recording 1080P/30FPS 1920*1080 Full HD videos and 720/60FPS, 720/30FPS, WVGA/30FPS, VGA640*480 videos, shoot 12M crisp photos.

2'' LCD Screen Display with 4 X ZOOM - Clearly see your operation ,easy setting to replay the footage you are shooting just by your action camera, convenient your operation, zoom range from 1 X to 4 X.

30 M Underwater Camera - With the solid and pretty waterproof case, you can dive into water up to 98 feet / 30 meters. Perfect for water sports, such as swimming, diving, surfing and so on. You can explore the unknown underwater world.

170 Degree Wide Angel Lens - Offer a wider field of view, even for those corners which our eyes can't view clearly, making the captured scene more real and natural, wonderful.

Wide Dynamic Range (WDR) - Allows you to Capture warm and vivid Picturesque scenes with the SJ4000, you can catch more amazing moment of your surroundings easily.

Motion Detection - Make your movie clips sharp and delicate, capturing exactly what you want without post-editing.

Also A Car DVR - Feel your moving and constant recording with motion detection and loop recording function,keeping you protected on the road by recording everything you see in front of the car much like a "Black Box" for those cases when you need evidence should any mishap occur during your daily commute.

Multi Mode - This action camera features multiple functions including driving mode, image rotation, time-lapse, loop recording, slow motion, dramashot, exposure and white balance. Bringing this sports camera to more applicable conditions beyond your expectation.

Comprehensive and Powerful SJCAM Accessories Support - Besides the in-box accessories kit, we also provide lots of optional accessories(need to buy separately) including:camera bag, selfie stcik, floating grip, SD card, harness strap, tripod, lens filter, extra battery and charger, all kinds of camera mount, buckle, sucker and adpter, waterproof case, camera frame, camera cable to broaden the use of the camera.
Specifications:
Chipset:Novatek 96650
Sensor:AR0330 Sensor
Video resolution:1080/30fps 720/60fps 720/30fps WVGA/30fps VGA640*480
Photo resolution:12M/10M/8M/5M/3M/2MHD/VGA
Video format:MOV
Photo format:JPEG
Input/output: Micro USB
Car mode: YES
FPV:YES
Operation mode:loop record/motion detection/TV-out/video lapse/photo lapse/Long exposure/under water mode/burst mode/car mode
Loop Recording Mode: 3 min / 5 min / 10 min
Burst Mode:3/5/10 photos per second
Time Lapse:1 sec / 2 sec / 5 sec / 10 sec / 30 sec / 60 sec
Language:English / French / Germany / Spanish / Italian / Portuguese / Chinese / Japanese / Russian / Korean / Romanian / Polish / Czech / Slovak / Hungarian / Danish
Battery:900mah
SD card:64G max
Weight:46g
Size:59*41*29 mm
Max Bitrate:15 mbps
Package included:
1 x SJ4000 Action Cam; 1 x Waterproof Housing; 1 x Bicycle Stand; 1 x SJ4000 Frame Mount; 1 x Housing Backdoor; 1 x Micro USB Cable; 1 x Switch Mount A; 1 x Switch Mount B; 1 x Switch Mount C ;1 x Vertical Fixed Base Buckle; 1 x Universal 1/4″ Camera Tripod Adapter; 1 x Mount base; 2 x Helmet Base; 2 x Band; 2 x 3M Adhesive Tape; 1 x Cleaning Cloth; 1 x Multi-language Manual; 2 x SJCAM Stickers; 1 x 900mAh Li-ion Battery(in the camera)
More information
More information
Invoices
This seller provides invoices. To receive one, you can contact them once you place an order.
Warranty
Order Tips 1 We advise buyer to learn about your Country Customs Rules and Regulations if Customs Clearance is an issue 2 We will ship out your parcel with in 3 working days. If you want to cancel your order or change the product, please email us before we ship 3 We will provide tracking number, you can check it on internet logistic web. If there is any abnormality in your tracking information, please email us 4 Once your package is held by your Customs, please contact us or it will return or destroy. We will help your Customs Clearance. 5 Avoiding the bankcard fraud, we ask our customer paying via credit/debt card to email us to prove that you are the card owner with registered name and you are responsible for this deal(order number) 6 When your shipping address is different from billing address, we will hold your order to avoid identity theft 7 As for customer service for quality problem and operation guide, please email us or get our online customer service SJCAM RETURN INSTRUCTIONS: If you ordered your product directly from our shop, and you are not satisfied with your purchase because of quality problems within 7 days of receipt, you can return it following the below procedure. Your account will be credited upon receipt of the returned SJCAM. The camera must be complete with accessories and in new condition. To Request an RMA (Return Merchandise Authorization) number from SJCAM Support, contact us here. SJCAM will provide you with a RMA form. Package products along with a copy of the RMA form. Write the RMA number on the outside of the box and send to the address provided by us in our RMA email. RMA items must be returned 20 days for the date the RMA was issued. Buyer is responsible for shipping back to SJCAM Head Quarters; Any associated shipping fees are non-refundable. WARRANTY REPAIR & REPLACEMENT SERVICE INSTRUCTIONS: SJCAM will provide replacements for cameras that have manufacturer's defects. Buyer is responsible for shipping the SJCAM back to us. Please try contacting our Customer Support team before sending your item back. SJCAM is usually able to resolve technical support issues quickly via email. If our tech support team is unable to successfully troubleshoot your camera issue, we will issue you an RMA (Return Merchandise Authorization) number and email instructions. Returns that are not applicable for warranty may have incur a repair service charge. Charges for non-physically damaged items generally $10-15 dollars; Physically damaged may have higher repair costs. Please contact SJCAM's technical support team before returning any merchandise. SJCAM WARRANTY: SJCAM products mounts and accessories come with a one (1) year warranty from the purchase date. SJCAM's sole obligation in the event of such defects during this period is to repair or replace the item with a comparable model at SJCAM's sole discretion. Physical damage resulting from use, accident, or normal wear and tear is not covered by this or any warranty. SJCAM assumes no liability for any accident, injury, death, loss, or other claim related to or resulting from the use of SJCAM products. SJCAM is not be liable for incidental or consequential damages resulting from the use of merchandise or any of its parts. Because of possible user waterproof case resealing errors, SJCAM products are not warrantied against waterproof housing leakage or any resulting damage. Please review and follow the instructions carefully when sealing the waterproof housings. Note: There is an extra back-door accessory included with SJCAMs which is used for recording audio while SJCAM is in housing; This back-door accessory is NOT waterproof. Returns / replacements after 90 days of SJCAMs may be subject to shipping, repair or replacement costs and/or restocking fees. Without email communication, please don't return or reject your package or open any dispute in paypal or bankcard