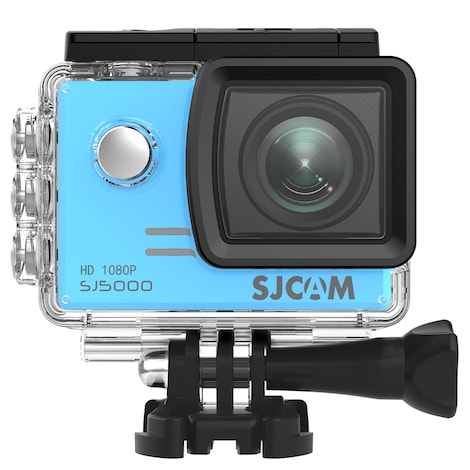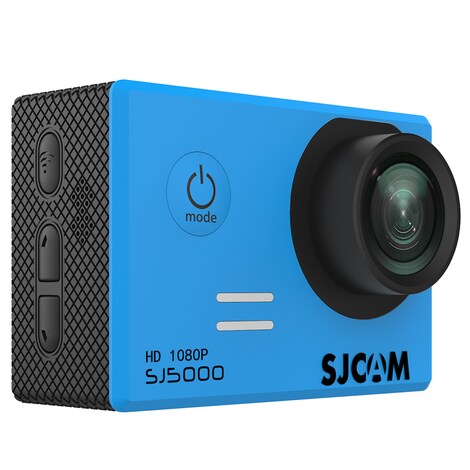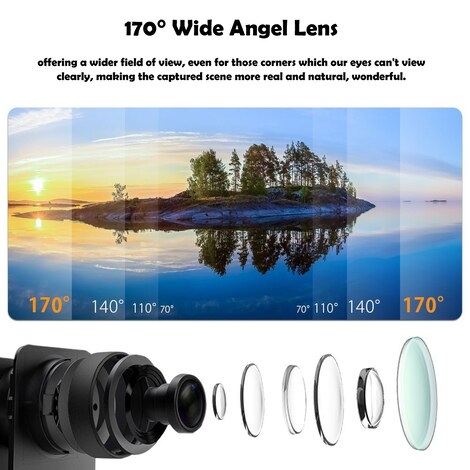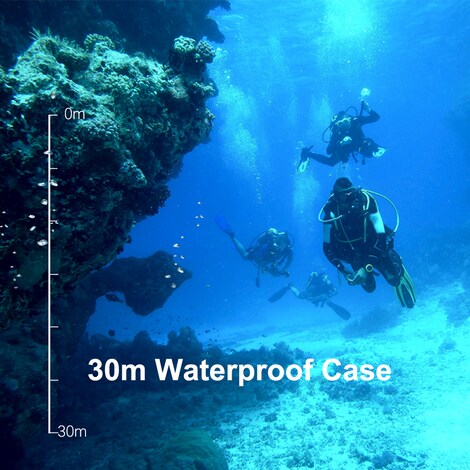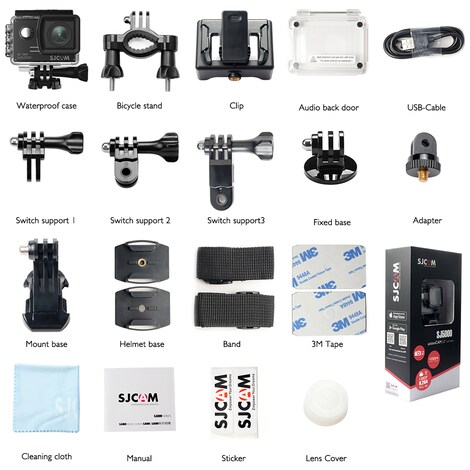 1/6
SJCAM SJ5000 Action Camera 14MP 1080p Ultra HD Waterproof Underwater Camera Camcorder Blue
Selected offer from:
SJCAM Authentic product! Product codes could be verified in SJCAM.com.Specifications • "Resolution": allows you to choose between size and frame rate of the video: • o 1080FHD1920*1080 o 720P1280*720 60fps o 720P 1280* ...
Specifications
Specifications
Camcorders Type:

Helmet/Action, Pocket

Storage Type:

Removable (Card/Disc/Tape)

Zoom:

4x

Screen Size:

2.0"

Camcorders Features:

Time Lapse, Underwater Use, Waterproof

Resolution Definition:

1080p, 720p, 480p

Color:

Blue

Material:

Metal, Plastic

Media Format:

JPEG, MOV
Product description
SJCAM Authentic product! Product codes could be verified in SJCAM.com.
Specifications
• "Resolution": allows you to choose between size and frame rate of the video:
•
o 1080FHD1920*1080
o 720P1280*720 60fps
o 720P 1280*720 30fps
o WVGA 848*480
o VGA 640*480
• "TV Out": enables or disables the AV output via micro USB.
• "Video Lapse": to make video time lapse with frame spaced by 1, 2, 5, 10, 30 or 60 seconds.
• "Photo Lapse"
• Playback
• Function "Cyclic Record": to share the video recording every 3, 5 or 10 minutes.
• Function "HDR"
• Motion Detection function: the cam starts to resume only if notice of motion in the scene.
• "Audio "to enable or disable the webcam recording even the audio portion.
• "Date Stamping": as the name suggests, if the option is ON in the movies and photos will be given the time and date of registration.
• Image Size: From this option you can set the size of photos by choosing from the following:
•
o 14MP 4320×3240
o 12MP 4032×3024
o 10MP 3648×2736
o 8MP 3264×2448
o 5MP 2592×1944
o 3MP 2048×1536
o 2 MPHD 1920×1080
o VGA 640×480
o 1,3MP 1280×960
• Exposure: The options available are: ± 2, ± 5/3, ± 4/3, ± 1, ± 2/3, ± 1/3, +0.
• White Balance: as the name suggests, you can decide for themselves the between the following options:
o Auto
o Daylight
o Cloudy
o Tungsten
o Fluorescent
• Quality :select among fine normal economy
• Sharpness :select strong normal soft
• Color B&W Sepia
• ISO: select between Auto, 100, 200, 400, 800 and 1600 ISO.
• "Language": change the language choosing among 13 alternatives English,French,
• Spanish,Polish,German,Italian,Simplified Chinese,Traditional Chinese,Russian,Japanese,Korean,Arabic,Portuguese,.
• 英语 法语 西班牙语 波兰语 德语 意大利语 简体中文 繁体中文 俄罗斯语 日语 韩语 阿拉伯语 葡萄牙语
• "Date / Time" to set the date and time in the action cam.
• "Auto Power Off": choose whether or not to turn off the cam after 3, 5 or 10 minutes.
• Beep Sound: when ON you will have acoustic feedback buttons are pressed.
• "OSD mode": if enabled, in addition to the preview you will see all the details written above.
• TV Mode : NTSC /PAL
• Light Set
• "Screensavers": set whether or not to turn off the screen after 30 seconds, 1, 3 or 5 minutes.
• "Frequency": to change the frequency from 50Hz to 60Hz.
• "Car Mode"
• "License Stamp"
• "Delete": to delete items from the micro SD.
• "Format" to format the cam.
• "Default Settings"
• "Firmware Version"
Package included:
1 x SJ5000/SJ5000 WIFI Action Cam; 1 x Waterproof Housing; 1 x Bicycle Stand
1 x Back Clip; 1 x Housing Backdoor; 1 x Micro USB Cable
1 x Switch Mount A; 1 x Switch Mount B; 1 x Switch Mount C
1 x Vertical Fixed Base; 1 x Universal 1/4" Tripod Adapter
1 x Mount base; 2 x Helmet Base; 2 x Band; 2 x 3M Adhesive Tape
1 x Cleaning Cloth; 1 x Multi-language Manual; 2 x SJCAM Stickers
1 x 900mAh Li-ion Battery(in the camera);
More information
More information
Invoices
This seller provides invoices. To receive one, you can contact them once you place an order.
Warranty
Order Tips 1 We advise buyer to learn about your Country Customs Rules and Regulations if Customs Clearance is an issue 2 We will ship out your parcel with in 3 working days. If you want to cancel your order or change the product, please email us before we ship 3 We will provide tracking number, you can check it on internet logistic web. If there is any abnormality in your tracking information, please email us 4 If package is held by your Customs, please contact us or it will return or destroy. We will help your Customs Clearance 5 To avoid the bankcard fraud, we ask our customer paying via credit/debt card to email us to prove that you are the card owner with registered name and you are responsible for this deal(order number) 6 If your shipping address is different from billing address, we will hold your order to avoid identity theft 7 About customer service for quality problem and operation guide, please email us or get our online customer service SJCAM RETURN INSTRUCTIONS: If you ordered your product directly from our shop, and you are not satisfied with your purchase because of quality problems within 7 days of receipt, you can return it following the below procedure. Your account will be credited upon receipt of the returned SJCAM. The camera must be complete with accessories and in new condition. To Request an RMA (Return Merchandise Authorization) number from SJCAM Support, contact us here. SJCAM will provide you with a RMA form. Package products along with a copy of the RMA form. Write the RMA number on the outside of the box and send to the address provided by us in our RMA email. RMA items must be returned 20 days for the date the RMA was issued. Buyer is responsible for shipping back to SJCAM Head Quarters; Any associated shipping fees are non-refundable. WARRANTY REPAIR & REPLACEMENT SERVICE INSTRUCTIONS: SJCAM will provide replacements for cameras that have manufacturer's defects. Buyer is responsible for shipping the SJCAM back to us. Please try contacting our Customer Support team before sending your item back. SJCAM is usually able to resolve technical support issues quickly via email. If our tech support team is unable to successfully troubleshoot your camera issue, we will issue you an RMA (Return Merchandise Authorization) number and email instructions. Returns that are not applicable for warranty may have incur a repair service charge. Charges for non-physically damaged items generally $10-15 dollars; Physically damaged may have higher repair costs. Please contact SJCAM's technical support team before returning any merchandise. Again, if you did not order from SJCamHD com, there will be a charge irrespective of when you purchased from your SJCAM reseller; Please contact your reseller first. SJCAM WARRANTY: SJCAM products mounts and accessories come with a one (1) year warranty from the purchase date. SJCAM's sole obligation in the event of such defects during this period is to repair or replace the item with a comparable model at SJCAM's sole discretion. Physical damage resulting from use, accident, or normal wear and tear is not covered by this or any warranty. SJCAM assumes no liability for any accident, injury, death, loss, or other claim related to or resulting from the use of SJCAM products. SJCAM is not be liable for incidental or consequential damages resulting from the use of merchandise or any of its parts. Because of possible user waterproof case resealing errors, SJCAM products are not warrantied against waterproof housing leakage or any resulting damage. Please review and follow the instructions carefully when sealing the waterproof housings. Note: There is an extra back-door accessory included with SJCAMs which is used for recording audio while SJCAM is in housing; This back-door accessory is NOT waterproof. Returns / replacements after 90 days of SJCAMs may be subject to shipping, repair or replacement costs and/or restocking fees. Without email communication, please don't return or reject your package or open any dispute in paypal or bankcard
Earn 3.68 USD every time someone buys this product using your reflink.