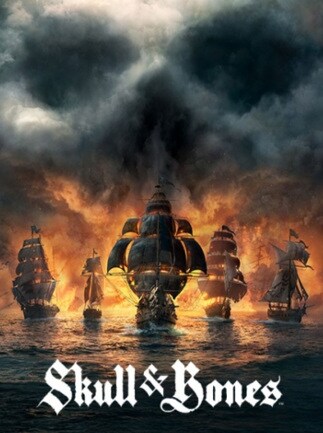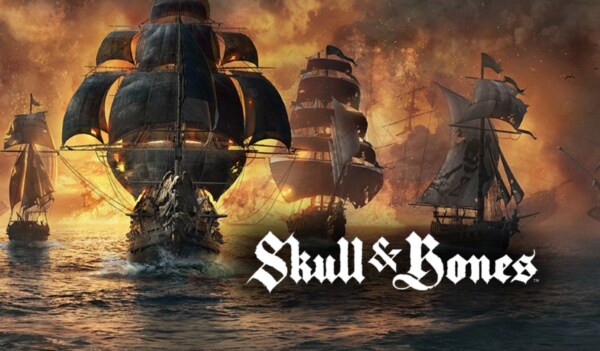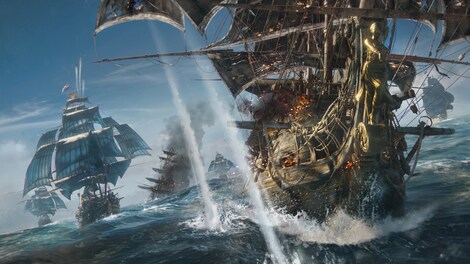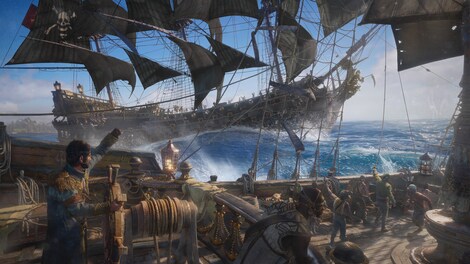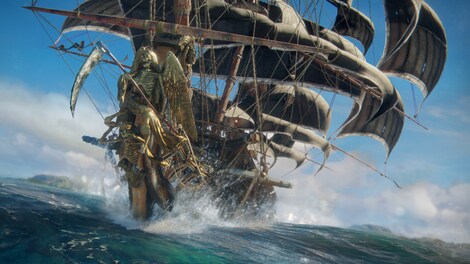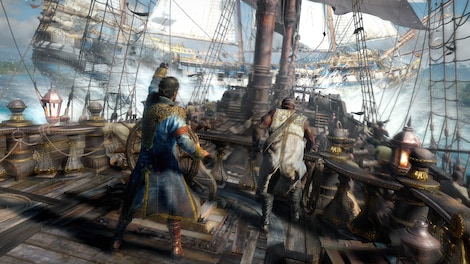 1/7
EUROPE version
Skull & Bones Steam Key EUROPE
Pre-Order
Release date: 2020
A naval warfare video game set in open world! Award-winning third-person perspective game developed by Ubisoft.Skull & Bones – Action Video GameSkull and Bones game is the upcoming offering from the Ubisoft Singapore stu ...
Product description
A naval warfare video game set in open world! Award-winning third-person perspective game developed by Ubisoft.
Skull & Bones – Action Video Game
Skull and Bones game is the upcoming offering from the Ubisoft Singapore studio set to be released in 2019. The pirate video game will provide players with fascinating opportunity to make a stunning career on the sea from a crew member to the pirate king.
By mastering tactical skills, learning sailing, naval warfare and forming alliances, the player can make the most out of his time during the Golden Era of Piracy on the Indian Ocean. The main task is to sail through the ocean, either as a loner or as part of the pirate's group, to hunt for treasures and fight other pirates' fractions.
Naval fights, innovative tricks system, customized character, choosing of weapon, crew, equipment, wind system influencing sailing and naval battles, creating tactical strategies and much more are the main elements of the gameplay.
The new game will have both single player and multiplayer modes. The gameplay was shown during E3 2017: Electronic Entertainment Expo 2017, on the Ubisoft's press conference.
Gameplay – Explore Open World Environment
Embark on your own piracy adventure! Check if you were born to be a pirate king. The storyline starts when pirates refuse the King's Pardon and decide to left the Caribbean waters to sail to the Indian Ocean, that promises some lucrative treasures. But survival alone, not to mentions succeeding, on these highly competitive waters, will be a challenge.
The player has to sail, fight naval battles, look out for hidden treasures, get more ships by building, customizing them, hire more people, manipulate pirates' fractions or form alliances, trick others, betray them, become the one that everyone fears of. You can do it on your own or form a pack of up to five players in the multiplayer mode that will fight other fractions of pirates on the Indian Ocean.
The Skull and Bones game's world is open and ever-changing. The complex system covers dynamic weather, including wind conditions, tricks, tactics, upcoming cataclysms and conflicts between various pirates crews. The game is a third-person perspective one set in open-world. It takes place during the golden age of privacy on the Indian Ocean. The main task of the player is to build up his reputation on the Ocean to become the king of Pirates.
The player starts as a plain sailor with one ship. Then they built their fleet, win battels and become more and more powerful. Hunt for commodities that are carried by other vessels, like cotton, pearls, coffee, ivory, spices, pelts. At the end of the hunting campaign, all gained loot is exchanged for silver.
Ships have various classes that differ in weapons, equipment, durance. During naval battles, not only sailing skill will matter but also proper usage of wind and current, co-operating with other ships and setting up a strategy that will pay off. Specific ships have to be used for given tasks. There is an option to board a hostile ship, as well the possibility of total destruction of other ships and repairing part of yours fleet after fights. The multiplayer mode offers co-op, as well as Loot Hunt, where two sets of pirate bands of up to five players fight against each other to get the treasure.
The player can play alone, form a group of pirates in co-op or fight other players – trick them and betray to get treasure in his hands. The game is set on various areas of Hunting Grounds, like the part near Mozambique coast or the Quirimbas Archipelago.
More regions will be added. So far, as presented in the gameplay at E3 2017, the fractions include: the British EIC, the Portuguese Empire and La Buse's Gang. Other fractions will be revealed soon, when the release date is closer.
Also, the game offers option to meet some historical characters like friends and associates of La Buse – Olivier Levasseur. Many more protagonists were inspired by the real-life, historic people.
Development
Skull & Bones is the new video game developed by Ubisoft Singapore. The game was inspired by the naval fights of the game Assassin's Creed IV: Black Flag. It is the first game where Ubisoft Singapore was a leader developer. The community can aid improving the game via the specially dedicated program "Keepers of the Code", where online aspects of Skull & Bones are subject to the discussion among players. 
Awards From The Game Industry
The gameplay of the game was shown at the Electronic Entertainment Expo 2017 – E3 2017. After the event, Skull & Bones got nominations for Game Critics Award in two categories: Best Online Multiplayer and Best Original Game. Even thought the full game is not out yet, is has already gained recognition in the community and industry.
Release Date And Requirements
The game was originally scheduled for release in Q3 or Q4 of 2018, however the release date has been postponed. At this moment the game is set to be released sometime in 2019 or even 2020. .
System requirement are not disclosed yet, however the minimum system requirement surely will cover the DirectX version 12.
Key features
Naval warfare, action and tactical game
Set during the Golden Age of Piracy on the Indian Ocean
Become the king of pirates
Sail, navigate, fight others ships
Customization options for the captain and all of his ships
Trick, betray, form alliances
Fight hostile fractions
Dynamic weather system, including wind influencing battles and tactics
Fortunes like: Hostile Takeover and Favorable Winds, more to be revealed
Characters inspired by historic people
Open world environment
Wildlife and sea creatures
Hunt for treasures
Hire crew members
Acquire new ships
Find commodities like pelts, coffee, ivory, pearls, spices, cotton and more
Convert commodities into the silver
Specific ships have different equipment, weapon and should be used for various tasks
Single player or multiplayer mode with co-op or fighting against each other modes
To be released in ~2019
Note: Skull & Bones (PC) is a preorder. After purchase, a preorder code will be reserved for you. Remember that you will receive your key no later than upon game release day.

Release date: 2020