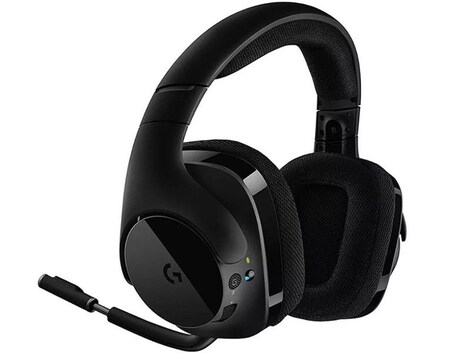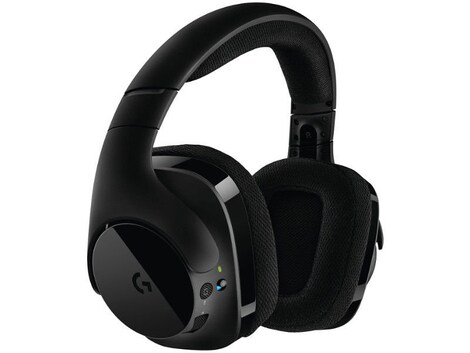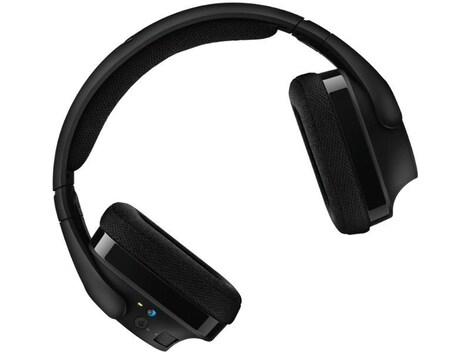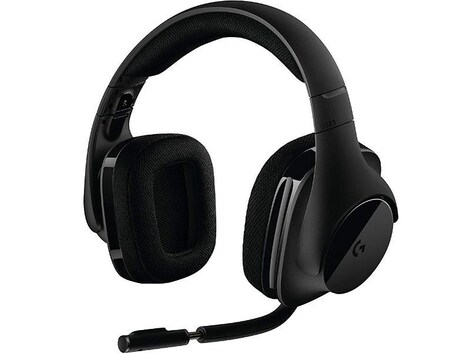 1/4
Słuchawki Bezprzewodowe Logitech G533 Wireless DTS | Refurbished
Selected offer from seller:
Klasa sama w sobie Słuchawki gamingowe Logitech G533 zabłysnęły na arenia e-sportowej niesamowitym blaskiem. Ich rewelacyjne dostosowa ...
Product description
Klasa sama w sobie
Słuchawki gamingowe Logitech G533 zabłysnęły na arenia e-sportowej niesamowitym blaskiem. Ich rewelacyjne dostosowanie się do wymogów jakie stawiają dynamiczne rozgrywki, czyni je idealnym wyborem by stawać w szranki z innymi graczami. Postaw na profesjonalizm i doświadczenie ekspertów Logitech.
Nowoczesna technologia
Dźwięk przestrzenny 7.1
Logitech G533 to słuchawki gamingowe wyposażone w zaawansowaną technologię Headphone DTS X.
Odpowiada ona za profil dźwięku w formacie 7.1. Przenosi Cię on dosłownie na pole bitwy, gdzie słyszysz wszystko lepiej i wyraźniej - 360 stopni wokół Ciebie.
System 7.1 zapewni Ci przewagę nad przeciwnikami ponieważ będziesz w stanie określić dokładną pozycję usłyszanych dźwięków. Wrażenia z rozgrywki pozostaną zaś niezastąpione czyniąc je niesamowitymi wspomnieniami.
Potężny dźwięk
Eksperci Logitech wiedzą co najlepsze, dlatego w słuchawkach G533 gwarantują Ci potężny dźwięk z niezwykle mocnym basem, bez jakichkolwiek przesterów.
Membrany Audio Pro-G są odpowiedzialne za niezastąpioną jakość dźwięku zarówno podczas rozgrywek, jak i oglądania filmów czy słuchania muzyki.
Łączność bezprzewodowa
Słuchawki gamingowe Logitech G533 to także bezprzewodowa łączność na niezwykle wysokim poziomie.
Odbiornik zapewni Ci mocny sygnał nawet do 15 metrów, jednocześnie gwarantując brak opóźnień i genialną emisję dźwięku.
Perfekcyjny mikrofon
Każdy gracz wie, że odpowiednia komunikacja to droga do sukcesu, dlatego postaw na wysokiej jakości mikrofon w słuchawkach G533.
Posiada on funkcję redukcji szumów, czyniąc Twój głos krystalicznie czystym i wyraźnym.
Dodatkowo, słuchawki gwarantują Ci także kontrolę nad poziomem głośności nagrywania, co przełoży się na rewelacyjną słyszalność.
Mikrofon w łatwy sposób umożliwia jego wyciszenie - wystarczy unieść go do góry.
Unikalne wartości
Akumulator
Słuchawki Logitech G533 mogą pochwalić się akumulatorem o genialnej żywotności, która wynosi nawet 15 godzin na jednym naładowaniu!
Dzięki temu rozwiązaniu możesz bezpiecznie korzystać ze słuchawek, bez stresu o rychłe rozładowanie.
Zaawansowana konstrukcja
Logitech G533 zostały dostosowane do rygorystycznych warunków jakie stawiają wielogodzinne rozgrywki.
Ich konstrukcja gwarantuje pełne dostosowanie do indywidualnych potrzeb użytkownika, co czyni je najlepszym wyborem jeśli chodzi o gamingowy ekwipunek.
Wygodna kontrola
Logitech G533 posiadają także niewielki panel sterowania umieszczony na słuchawce, dzięki czemu masz kontrolę nad wszystkim w łatwy i przyjemny sposób.
More information
More information
Invoices
This seller provides invoices. To receive one, you can contact them once you place an order.
Earn 2.86 USD every time someone buys this product using your reflink.