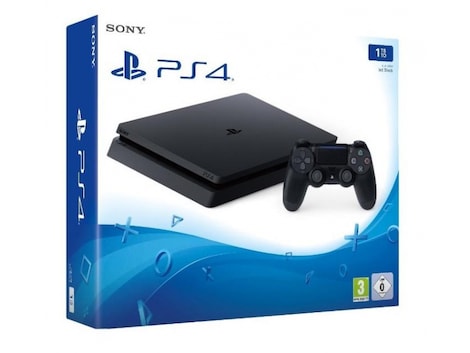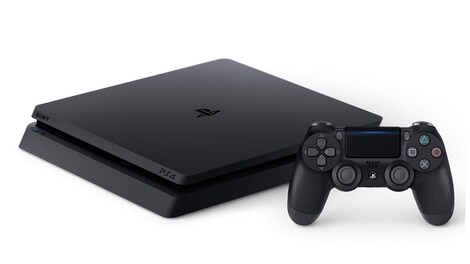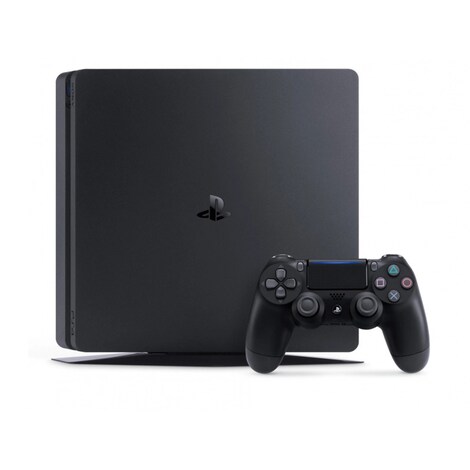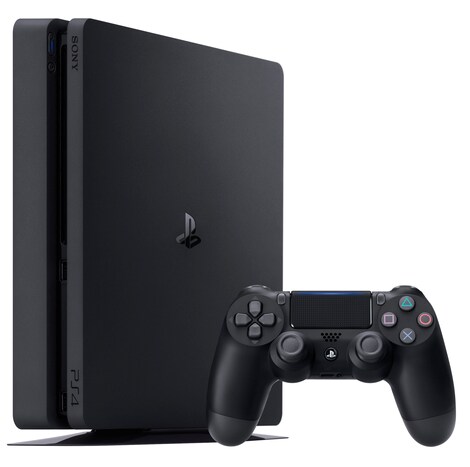 1/4
Sony Playstation 4 Slim 1TB - PS4 Console - Black
Selected offer from:
Mniejsza, smuklejsza, ale równie wydajna. A nawet nieco lepsza. Nowa konsola PlayStation 4 Slim zaskoczy Cię jeszcze nie raz. Szczególnie, że w nowej odsłonie dysponuje ulepszonym kontrolerem DualShock 4, dyskiem 1TB, a ...
Specifications
Specifications
Brand:

Sony

Platform:

Sony PlayStation 4

Type:

Home Console
Product description
Mniejsza, smuklejsza, ale równie wydajna. A nawet nieco lepsza. Nowa konsola PlayStation 4 Slim zaskoczy Cię jeszcze nie raz. Szczególnie, że w nowej odsłonie dysponuje ulepszonym kontrolerem DualShock 4, dyskiem 1TB, a na dodatek obsługuje tryb HDR.
Nowa konstrukcja deklasuje swoje poprzedniczki pod względem kultury pracy, zapotrzebowania na energię oraz designu. Pracuje niebywale cicho, wygląda niebanalnie.
Inteligentniejsza rozgrywka
Konsola PS4 Slim jest zawsze gotowa do działania. Aktualizacje systemowe oprogramowania oraz gier pobierają się w tle, a Ty nie musisz czekać na ich zakończenie.
Po prostu chwyć gamepad i rozpocznij kolejną przygodę. Co więcej, w gry zakupione w PlayStation Store możesz grać już podczas pobierania na konsolę. Nowe tytuły są dostępne jeszcze szybciej.
Dodatkowo, system konsoli PS4 Slim zapamiętuje Twój styl gry i intuicyjnie podrzuca kolejne propozycje materiałów, które mogłoby Cię zainteresować. Konsola stała się osobista.
Niezrównana kontrola
Przekonaj się, jak wygodnie gra się z nowym kontrolerem DualShock 4. Kultowy gamepad przeszedł metamorfozę, dzięki której stał się jeszcze bardziej komfortowy i ergonomiczny.
Akcesorium zyskało nowy wygląd oraz charakter podkreślony kolorowym paskiem świetlnym. Przejmij pełną kontrolę nad grą.
Przycisk SHARE
Pokaż graczom na całym świecie swoje popisowe skille. Zachwyć wszystkich oryginalnym sposobem na pokonanie bossa, przejście levele lub nietypowe wykorzystanie broni.
Wystarczy, że wciśniesz przycisk SHARE, a przesyłanie klipów i zrzutów ekranu rozpocznie się samoczynnie. W ten sam sposób możesz transmitować grę, bez potrzeby jej przerywania.
Najwspanialsze gry znajdziesz na PS4
W co zagrać dzisiaj? Wybór gier PlayStation 4 Slim jest doprawdy imponujący. W bibliotece tytułów znajdziesz nie tylko kultowe gry, ale także najnowsze wydawnictwa, które możesz pobierać bezpośrednio na dysk konsoli.
Uncharted 4: Kres Złodzieja, Deus Ex: Rozłam Ludzkości, Overwatch, No Man's Sky, czy FIFA 17 są dostępne od ręki. Kolejne gry dołączają co miesiąc, zapewniając długie godziny rozgrywki.
Najbardziej społecznościowa konsola
PlayStation 4 Slim to więcej niż konsola. To Twoja przepustka do świata swobodną rozgrywką, pełnego graczy takich jak Ty. Zamiast grać w pojedynkę zaproś znajomych na wspólną partyjkę. Świetna zabawa gwarantowana.
A jeśli TV w domu jest zajęty po prostu prześlij grę do komputera PC lub Mac, a nawet urządzenia Sony Xperia. Proste prawda?
Co więcej, Twoją rozgrywkę mogą śledzić tysiące ludzi na całym świecie, bo PS4 Slim daje Ci możliwość transmitowania gry na żywo za pośrednictwem serwisów Twitch, YouTube czy Dailymotion.
Funkcja Share Play
Zagraj z kumplem w nową grę, nawet jeśli nie zainstalował jej jeszcze na dysku. Funkcja Share Play pozwala dzielić się tytułami bez ich wcześniejszej instalacji.
Jeśli idziesz na rekord i nie chcesz, żeby Twój wynik przepadł, po prostu zadzwoń do znajomego i poproś, żeby skończył grę za Ciebie. Serio, to jest możliwe.
Tryb HDR
Podziwiaj wirtualne światy w doskonałej jakości. PlayStation 4 Slim oferuje obsługę trybu HDR, który sprawia, że kolory stają się intensywne, czerń głęboka, a światłocienie zachowują idealne proporcje.
W rezultacie obrazy wyglądają naturalnie, dając Ci jeszcze więcej radości z rozgrywki. Różnice zobaczysz już w pierwszej scenie.
Tryb HDR będzie dostępny wraz z aktualizacją oprogramowania 4.00 dla PlayStation 4 oraz w grach po aktualizacjach od producentów.

Tryb HDR przeznaczony jest jedynie dla telewizorów posiadających możliwość wyświetlania obrazu HDR.
Aktualizacje oprogramowania systemu
Nie zapomnij o regularnych aktualizacjach oprogramowanie w swoim PS4 Slim. Tym sposobem zyskasz dostęp do nowych funkcji, czyniąc grę jeszcze bardziej ekscytującą.
Odświeżony interfejs
Nowe powiadomienia, ikony i tła składają się na bardziej czytelny, lepszy interfejs użytkownika.
Foldery
Więcej sposobów na organizowanie gier i aplikacji.
Menu podręczne
PlayStation Plus
Wejdź do niezwykłego świata PlayStation Plus, gdzie co miesiąc czekają na Ciebie co najmniej dwie niesamowite gry. Tutaj możesz grać ze znajomymi w trybie wieloosobowym online, a także cieszyć się niesamowitymi rabatami i ofertami w PlayStation Store.
Wieloosobowy tryb online na PS4
Graj z przyjaciółmi i rywalami w ulubione gry, korzystając z wieloosobowego trybu online.
Gry co miesiąc
Pobieraj co miesiąc dwie gry na PS4 Slim i graj w nie tak długo, jak korzystasz z członkostwa.
Ekskluzywne zniżki
Dzięki rabatom dostępnym wyłącznie dla członków PS Plus oszczędzisz dużo pieniędzy w PlayStation Store.
Członkostwo PlayStation Plus wymaga płatnej subskrypcji. Szczegółów szukaj na stronie internetowej Sony.
Specyfikacja
Typ konsoli - PlayStation 4 Slim
Procesor - AMD Jaguar x64 (8 rdzeni, 1.6 GHz)
Układ graficzny - AMD Radeon™
Pamięć RAM - 8 GB GDDR5
Dysk - 1 TB
Łączność
Wi-Fi 802.11 b/g/n/ac
Bluetooth 4.1
LAN 10/100/1000 Mbps
Napęd optyczny - BluRay
Złącza :
HDMI - 1 szt.
USB 3.0 - 2 szt.
RJ-45 (LAN) - 1 szt.
AUX - 1 szt.
Kolor - Czarny
Dodatkowe informacje :
Możliwość pracy w pionie
Możliwość pracy w poziomie
Dołączone akcesoria :
Pad bezprzewodowy DualShock 4
Kabel zasilający
Wysokość - 39 mm
Szerokość - 265 mm
Głębokość - 288 mm
Waga - 2,1 kg
Product Type: New
Warranty: 12 months
Important: In case of a refund, the shipping cost is covered by the buyer.
EAN: 711719408574
More information
More information
Invoices
This seller provides invoices. To receive one, you can contact them once you place an order.