Syberia 3 Steam Key GLOBAL
Available from marketplace sellers
There are %d people looking at this product.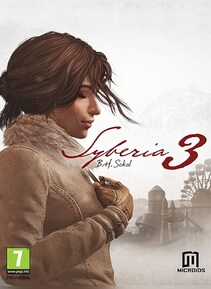 Language available:

Region:

GLOBAL

Platform:

Official Developer:
Buy product from these sellers:
How does G2A Goldmine work?
Tell your friends about G2A's Goldmine – build a team and boost your earnings!

2

Watch your profit grow!

Just sit back and relax as your work brings profit now! Use the tips and tools we made for you to maximize the earning potential.

A job well done deserves a proper credit. And still, you have not been working hard to achieve it right? Choose your preferred payment option and receive the paycheck!
Product Description

The first two Syberia games made a strong impression on the fans of adventure games everywhere. After over a decade Benoît Sokal comes back, and Syberia 3 (PC) comes back with him. That's right. The cult classic from early aughts is revived with the long-awaited sequel. The next chapter of Kate Walker's story takes her on a journey with a nomadic tribe. Are you ready to dust your snowshoes and venture into the unknown?

Surprising revival

Kate Walker finds herself as stunned as everyone else at the beginning of the game. Lost adrift after the events of Syberia 2, she winds up washed ashore and rescued by the Youkol tribe. Syberia III (PC) is as much the next chapter in Walker's story as it is a new journey, new adventure, both for her and the players. Whether you are the series' veteran or new to the party, the story will be gripping and take you to creative locales brought to life in the imagination of its creator.

Benoît Sokal at the helm

Syberia III wouldn't be a proper continuation if the mastermind behind the previous two entries, Benoît Sokal, wasn't the creator of this one too. Although gone are his masterful watercolor paintings that used to serve as the backgrounds, the distinctive art direction remains at strength and can be seen everywhere from character designs to architecture and locales. Sokal is also the game's writer, making sure it is a worthy successor to the originals. Are you ready to find out what else life has in store for Kate?

More bizarre creatures and steampunk locales

How can you beat a mammoth? Answer is: you can't, but that doesn't mean you can't try. One of the creatures central to Syberia 3 are enormous snow ostriches kept by the Youkol tribes. But weird wildlife is not the only thing awaiting Kate. Syberia III has no shortage of automatons and people, who can be weirder than any creature you could meet.

Original soundtrack by Inon Zur

Alongside the cult franchise and its famed creator, another name known to many is behind the music. Inon Zur, the talent behind the soundtracks for dozens of games is the one to score Kate Walker's new adventure. Among his creations are the OSTs for Dragon Age: Origins, Icewind Dale II, and Syberia II, to name just a few. Inon Zur's music and Benoit Sokal's visuals mesh to create atmosphere that will keep you playing for hours.

Puzzles and enigmas

True to the genre, Syberia III is a sweeping personal story and puzzles to overcome on your way. Gather tools and seemingly inconsequential items, scout your surroundings. Syberia III marks the return of classic adventure games like the original Syberias or the Myst series. Help Kate Walker fix complicated devices, open locks, use the environment to her advantage. Syberia III is not for the impatient.

Key features

Syberia 3 is sequel to cult classic adventure games, finally brought to us after over a decade of waiting. Kate Walker's story continues from where it left us after Syberia II. New creatures, new lands, new puzzles to solve. Are you ready to travel to the far reaches of Europe with Walker?

Syberia 3 features


\t
Benoît Sokal returns - the creator of both original Syberias as writer and designer, bringing back the features player fell in love with over a decade ago

\t
Inon Zur's music - one of the most prominent game score composers gives musical flair to the visual splendour

\t
Classic puzzles - help Kate Walker overcome obstacle thrown at her by the environment and disrepair of locations she visits

\t
Subtle player aid - the closer you are to solving a given puzzle, the more complex the background music becomes

\t
Snow ostriches - huge, rideable, useful. Gotta love snow ostriches



Requirements

System Requirements:

Windows 7 / 8 / 10

Processor:

AMD Athlon X4 - SSE2

Memory:

6 GB RAM

Graphics:

AMD R7 260X - Nvidia GTX 550 Ti 2go ; DirectX 9.0

HDD:

40 GB

Age and content rating

Other

Steam

Steam - Game can be activated on Steam, enables you to play on official Steam servers and your game will be kept updated with the latest patches via the Steam platform.

Key Type

This product is available as a CD key carried out via digital means - no shipping fees apply.