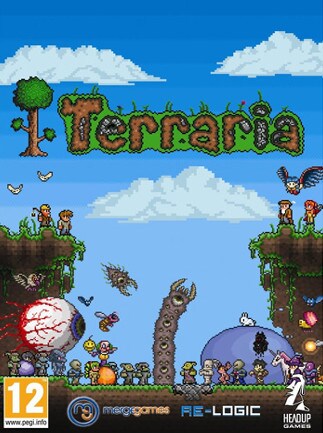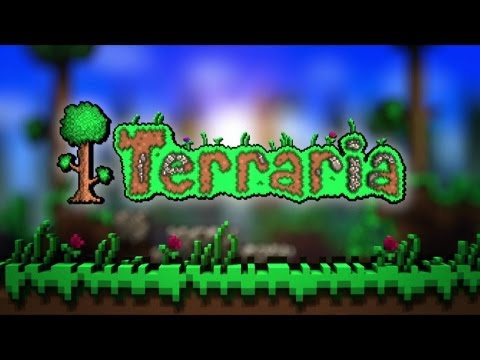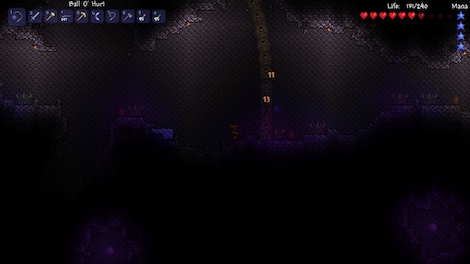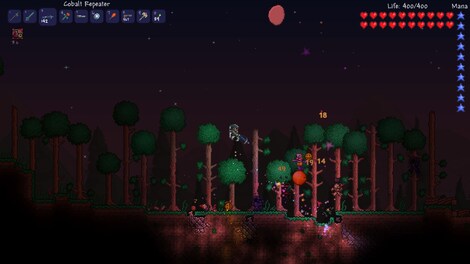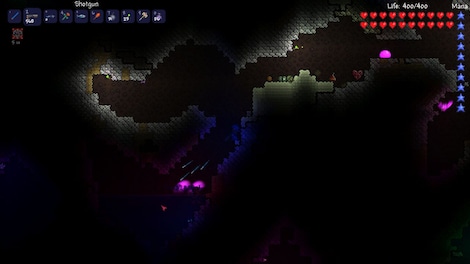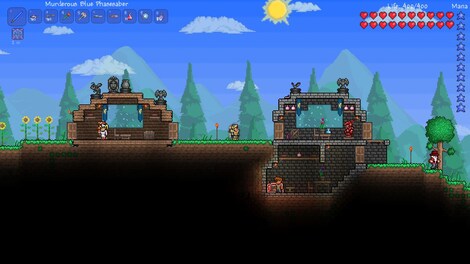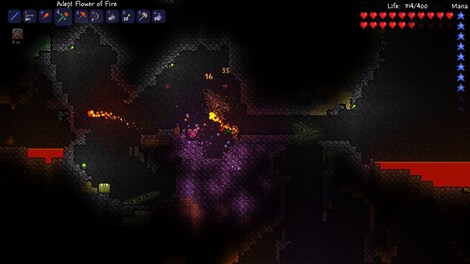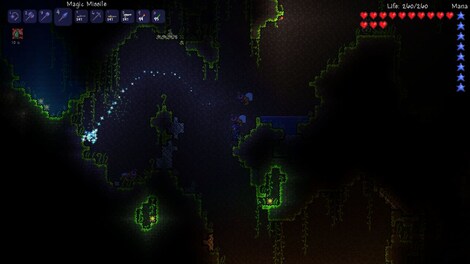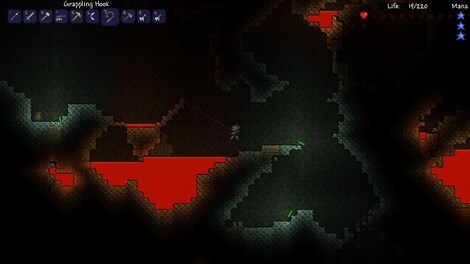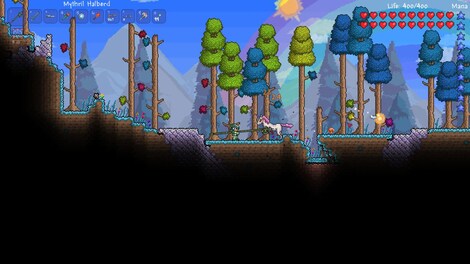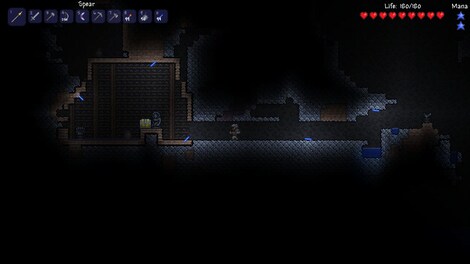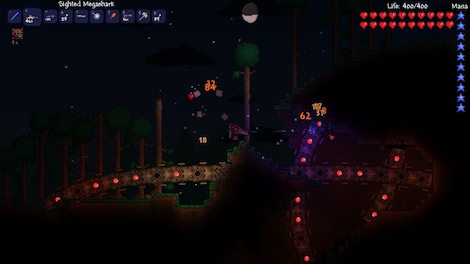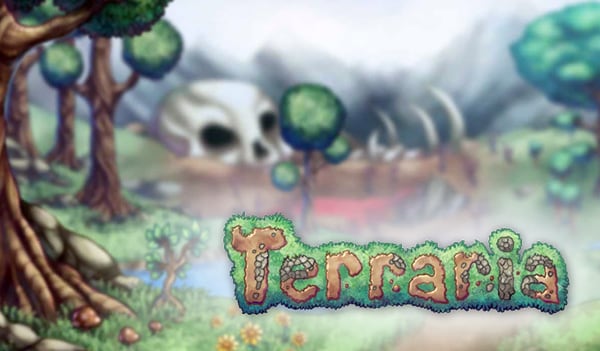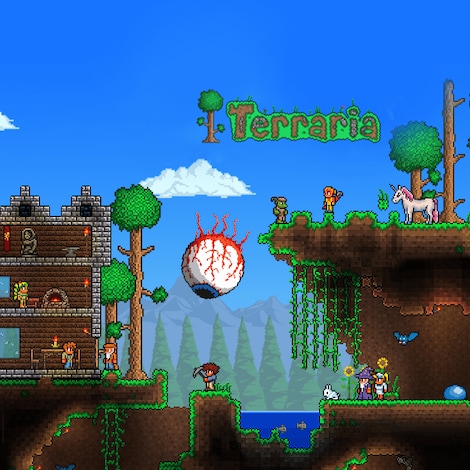 1/14
GLOBAL version
Terraria Steam Key GLOBAL
What do you get when you mix a platforming game, a sandbox, a survival sim, and a dungeon crawler? You get Re-Logic's Terraria. Smash your environment, craft your fortress, scout the vast underground and mysterious float ...
Buy it in a bundle, pay less: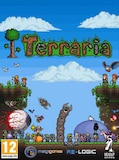 Terraria Steam Key GLOBAL
GLOBAL
Offer from: Gamingimperium
Offer from: Time4digi_com
Product description
What do you get when you mix a platforming game, a sandbox, a survival sim, and a dungeon crawler? You get Re-Logic's Terraria. Smash your environment, craft your fortress, scout the vast underground and mysterious floating islands for epic loot and rare resources. The world waits for you to explore it.
Immense world
Each world is created procedurally for you, and what worlds they are! They come in three sizes: small, medium, and large, but you could call them Huge, Massive, and Enormous, because this is what you're getting! Every world you can make Terraria create for you is unlike others, with unique resource placement, enemy positions, and dungeon arrangements, so your hunger for exploration can stay sated for a very long time.
Awesome crafting
Gather resources during the safety of daytime, and work on improving your home base and yourself in a myriad different ways. Craft a shack and work on improving it until it becomes a multi-level fortress housing all of your loyal subjects and hirelings. Forge weapons and armor for yourself, to improve your chances of survival during the night and your expeditions into unknown lands. And all of it with an accessible interface!How will you shape the world in your favor?
Dungeon crawling
The surface world is beautiful and friendly, but it's underground that you'll find the best loot and resources. The vast dungeons below are filled with deadly contraptions, aggressive monsters, and lava pools. In the underworld you'll find things you'll never see under the clear sky, provided you survive the trip. And sometimes the exploration is its own reward.
Islands in the sky
If dungeoneering does not appeal to you, then lift off and explore what exists way above the surface. The skies of Terraria (PC) are explorable just like everything else. The floating islands require you to test your engineering skills, but the spoils are worth it and the experience is rewarding.So go and explore the skies!
Monsters and fighting
The combat in Terraria is fast, dynamic, and very reminiscent of platforming game classics. Your sword can strike at many enemies ahead of you, but it won't win on its own. Smash skeletons, duck under flying critters, loot the bodies, and prepare for facing the ultimate challenge: the almighty bosses.Do you dare platform your way down below to confront denizens of the underworld?
Make your own village
Build up your home and recruit NPCs to support you in your endeavors. Build their lodgings, protect them from things that go bump in the dark, and benefit from items and aid they provide you with. Merchants, Nurses, personal Stylists, and more wait for you to build a town and give them jobs.Will you?
Key features
Enter the sprawling world of Terraria, its pixel-art graphics, rich crafting system, and vicious monsters. Build your own fortress, recruit NPCs, be the most awesome blacksmith, builder and dungeon explorer in the world!
Terraria features
Massive world - even at its smallest, the world of Terraria is massive, and it expands in all four directions, each up for exploration
Sprite visuals - relive your SNES memories with a friendly 16-bit-style graphics and a 2D world
Robust crafting - craft your everything! Terraria has hundreds of recipies across several different crafting utensils! Go and test them out!
Dungeons and floating islands - "left" and "right" are not the only direction to go. Vast underworld and islands in the sky wait to be explored
Mighty bosses - when you feel ready you can issue challenge to one of three bosses. Just don't expect them to go easy on you
Terraria (PC) for Steam platform is a digital product – no box included. The price applies to a digital version of the product.


Release date: 2011-05-16
System requirements
System requirements
Below are the minimum and recommended system specifications for Terraria Steam Key GLOBAL. Due to potential programming changes, the minimum system requirements for Terraria Steam Key GLOBAL may change over time.
Minimal requirements
Processor

1.6 GHZ Intel Pentium / AMD

Graphics

128 MB VRAM

Memory

512 MB RAM

Disk space

200 MB HD

System

Windows Xp / Vista / 7