The Evil Within 2 Steam Key GLOBAL
العرض متوفر لدى بائعين
هناك %d زائر يقوم بمشاهدة هذا المنتج حالياً.
The Evil Within 2 (PC) for Steam platform is a digital product – no box included. The price applies to a digital version of the product.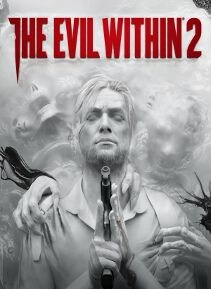 اللغات:

المنطقة:

GLOBAL

المنصة:
قم بالشراء من هذا البائع:
السعر
التصميم الخارجي
المستخدم
كيف يعمل G2A Goldmine؟
أخبر أصدقاءك عن منجم ذهب G2A - كون فريق وضاعف أرباحك!

إجلس واسترخي و شاهد ارباحك تنمو! إستخدم النصائح والأدوات التي وفرناها لك لتحقيق أرباح أكبر .

العمل الرائع يستحق المكافأة. ولكن مازلت لم تبذل الجهد الكافي في هذا العمل؟ إختر خيار الدفع المفضل لديك وأحصل على راتب!
وصف المنتج

The sequel to a horror hit of 2014 comes to test the limits of your sanity and take you on a journey among demons and being sculpted from detective Sebastian Castellanos' mind. Take a journey you haven't for three years and find out what really happened to Castellanos' daughter. The Evil Within 2 takes you on a journey to the disturbing reality of STEM once again.

The past doesn't rest

After three years since the events of the first game, Sebastian Castellanos is a wreck of a man and longer a detective. His life seems life a downward spiral of self-destruction, until he's told that his daughter, long thought dead, is alive. Castellanos and his erstwhile uneasy ally Juli Kidman set out to unveil the mysteries obscuring Lily's apparent death.Reconnect to STEM and dive into the shared mindscape, hiding many guaranteed dangers and some possible answers.Whatever you find, it might prove too much for your sanity. Will you press on despite the danger?

Crafting and survival

You can't rely fully on helpful crates and supplies. If you want to survive in the hostile mindscape-town Union you will need to gather supplies and do your own crafting. Bullets will always be scarce if you don't find a way to create more, and healing is in short supply in a land where monsters roam.Use a workbench in your safehouse to craft everything you think you may need out among the nightmares, including upgrades for your weapons, which may shift the odds ever so slightly in your favour. You need to manage your resources wisely, or the path to your daughter rescue may turn out to be insurmountable.

Open world structure

During The Evil Within 2 gameplay you'll roam large, open areas full of secrets and disturbing occurrences to discover. The places you visits hide more than you can see at a cursory glance. Investigate bizarre rifts, ghostly images and shadow cults, and have a chance at getting more resources to help you along the way. The real question is: can you accept and survive the risks of investigating things beyond your ken?

Body horror and psychological turmoil

The Evil Within II draws inspirations from many sources, including the deeply disturbing classic horror movie The Jacob's Ladder and the Silent Hill series. In playing you must be ready to disconcerting apparitions, horrifyingly disfigured enemies, and a sense of existential dread.Rooms full of mutilated bodies, enemies twisted beyond any resemblance to a human being, TEW2 holds nothing back in creating a compelling and disturbing image of a tormented mindscape.

Safehouse and progression

Not everywhere do you need to fear for your sanity and existence. You will find a safe haven, where you'll be able to breathe freely, and even work on improving your chances with the help of a Green Gel. Sebastian can work on improving his abilities divided into five categories: health, stealth, combat, recovery, and athleticism. There's also always a cup of coffee to get him back on his legs, should he feel under the weather.

الميزات الأساسية

The Evil Within 2 (PC) is a blend of psychological and survival horror, and a follow-up to the warmly welcomed game launched in 2014. Step into the role of former detective Sebastian Castellanos as he crawl from a downward spiral of alcoholism to investigate the claims of his long thought dead daughter being still alive.

The Evil Within 2 features

The next chapter - detective Sebastian Castellanos dives back into STEM in order to learn the truth about his daughter's death
Hostile mindscapes - the town called Union created within the STEM space is full of dangers and horrors waiting for you to drop your guard
Crafting - the supplies are low. Find resources in the world and craft your own ammo and healing kits in order to survive
Large areas to roam - The Evil Within 2 won't confine you to narrow corridors. You can travel around the vast areas, searching for clues and resources
Body horror - Sebastian will face many dangers and nightmares along the way, many of them twisted and mutilated beyond recognition
Frequently bought with this item