The Sims 3: Movie Stuff ORIGIN CD-KEY GLOBAL
Available from marketplace sellers
There are %d people looking at this product.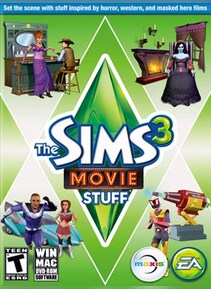 Language available:

Region:

GLOBAL

Platform:
Earn $0.32 if somebody buys this product using your Goldmine reflink. Find out more
Buy product from these sellers:
How does G2A Goldmine work?
Tell your friends about G2A's Goldmine – build a team and boost your earnings!

2

Watch your profit grow!

Just sit back and relax as your work brings profit now! Use the tips and tools we made for you to maximize the earning potential.

A job well done deserves a proper credit. And still, you have not been working hard to achieve it right? Choose your preferred payment option and receive the paycheck!
Product Description

Bring all of the glitz and glamour of Hollywood straight into your Sims' homes with The Sims 3 Movie Stuff!

Set the stage for more unique stories with distinctively themed décor, furnishings, and clothing inspired by iconic movie genres. With a wide range of items from a creepy crypt bed to a ten gallon hat, tell the tales of masked vigilantes, western cowboys (and cowgirls), and be inspired to create quirky horror stories. Deck out your Sims as silver screen legends as their town meets Tinseltown!

Key features

Comic Book Blockbusters

Fashion

— Whether you're creating a caped do-gooder or a nefarious über-villain, your Sim is going to look absolutely super in a range of tight-fitting, over-the-top costumes—including the mighty and mysterious Super Justice Llama!

Décor

— Create a lair or hideout fit for a masked hero or even their arch nemesis with sculptures, memorabilia and more inspired by the greatest comic-book hero movies. Your Sims can even feel like they're about to resume their secret identity in their new phone-booth shower!!

Western Epics

Fashion

— Time to rustle up some new duds, I reckon. With frilled chaps, smart vests, and ornate Victorian dresses, your Sims will look like they'd be right at home in some dusty Western saloon.

Décor

— Give your Sims' home a folksy frontier attitude that says, "Howdy, partner." Old-timey furniture like a wooden vanity and a homey rocking chair will add some classic Western style to your Sims' world.

Creepy Features

Fashion

—Terrify your Sims' neighbors with playfully horrific costumes. Gothic garb includes selections in macabre colors like black and crimson with features such as prominent stitching, and lots of rips and tears for that just-risen-from-the-grave look.

Décor

— Your Sims are in for some scare … with flair. You'll have a frightfully good time decking out your Sims' homes in cheeky horror décor including a nightmarish bookshelf, a spider web door, and jars of who-knows-what.

New Hairstyles, Hats, and Helmets — Top off your Sims' cinematic look with a selection of show-stopping headgear and hairdos. From a winged hero helmet to an expertly tangled gothic 'do to a ghostly bridal veil, your Sim will look ready for their close-up.

Requirements

System Requirements:

XP SP2 / Vista SP1 / Windows 7

Processor:

2.4 GHz - Pentium 4

Memory:

1.5 GB RAM

Graphics:

128 MB VRAM - NVIDIA GeForce 6 / ATI Radeon 9500

HDD:

7.1 GB HD

Platform:

PC

Age and content rating

Other

Origin

Game can be activated on Origin, enables you to play on official EA servers and your game will be kept updated with the latest patches via the Origin platform.

Key Type

This product is available as a CD key carried out via digital means - no shipping fees apply.