The Sims 4 Origin Key GLOBAL
العرض متوفر لدى بائعين
هناك %d زائر يقوم بمشاهدة هذا المنتج حالياً.
The Sims 4 (PC) for ORIGIN platform is a digital product – no box included. The price applies to a digital version of the product.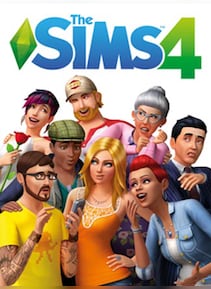 اللغات:

المنطقة:

GLOBAL

المنصة:
اكسب 2٫39 US$ إذا قام شخص بشراء هذا المنتج باستخدام reflink الرابط الخاص بك. إعرف المزيد
قم بالشراء من هذا البائع:
السعر
التصميم الخارجي
المستخدم
كيف يعمل G2A Goldmine؟
أخبر أصدقاءك عن منجم ذهب G2A - كون فريق وضاعف أرباحك!

إجلس واسترخي و شاهد ارباحك تنمو! إستخدم النصائح والأدوات التي وفرناها لك لتحقيق أرباح أكبر .

العمل الرائع يستحق المكافأة. ولكن مازلت لم تبذل الجهد الكافي في هذا العمل؟ إختر خيار الدفع المفضل لديك وأحصل على راتب!
وصف المنتج

The everyday life simulator is back for the fourth instalment! The Sims 4 is full of improvements and new solutions to make your Sims even more relatable, unique, and potentially appalling in more ways than one, if you so choose.Watch them interact like you always did: as a benevolent god that isn't above potentially lethal mischief!

Create-A-Sim

Creating the Sims in your, or any other image has never been so easy and so extensive at the same time! Gone are the days of tidy sliders making your on those cheeks for years. Click and drag the body part you want adjusted and just do it, no needless intermediaries.Adjust your creations' styles for different activities, decide how they are going to "speak", and even walk. Let them look like they own the place with confident swagger, or be as snooty in their stride as in their style. Your choice.You can make a household full of pop culture icons easier than ever.

The feels

The biggest feature of The Sims 4 (PC) are the expanded personalities of your witless creations. You thought Traits and Aspirations were cool? Good news, they are back! But now they aren't the main thing controlling your Sims, other than your hand.The Sims 4 brings emotions into the mix, and it changes everything. Your Sims' feelings are more than just nifty status icons. See how the available actions change depending on the Sim's emotional state! Find a way for an angry one to vent, see a sad one comforted. Many, many more interactions wait for you to discover them!

Built it, stretch it, shrink it

Home-creation tools follow in the footsteps of the Build A Sim. Create houses with premade components or build every wall yourself. Buy and Build the rooms of your dream house (or an asylum, if you want) with as much personal involvement as you want!Do you think a room should be bigger? Drag the edges and the rest of the house will adjust accordingly, no problem. You fear that a flood will endanger your Sims livelihood? Assuming you don't find the idea appealing, you can raise (or lower) the house's foundations at any time and nobody will bat an eye. You are a construction god!

Multitasking

Did you feel it was odd that your Sim had to put down everything to open a door with a hand that was free anyway? So did everyone else! The Sims 4 allows your tiny imitations of sentient life to perform several actions at once for the first time in forever!Watch as your Sims achieve the peaks of multitasking. They can play mobile games while using a toilet! Have group conversations like it's nothing! Open the door without letting go of their cups, backpacks, and all earthly attachments! They grow up so fast...

الميزات الأساسية

Maxis' The Sims 4 takes a closer look at the psyches of your creations than the franchise has ever done in the past. Supported by intuitive and flexible sim generator, the incredible ease of building a new house and other improvements, The Sims 4 is an excellent entry point into the famous series.

The Sims 4 features:

Flexible Sim creation - click, drag, and drop. The classics work best. Stretch, shrink, carve. No sliders: you have direct control
Easy construction - choose and snap pre-made rooms to your house and pick a style, or create them from scratch. The game doesn't make this choice for you!
Emotions - now you Sims can get moodier than ever, and you'll know why. Help them deal with negative emotions, or use positive ones to do great things with contextual emotion-based special actions
Two towns - settle your Sims in Willow Creek or Oasis Springs, each town with venues and activities and neighboring plot to take over
Walk this way - choose how your Sim moves, it's yet another way of making each creation unique

المتطلبات

متطلبات النظام:

Windows XP (SP3) / Windows Vista (SP2) / Windows 7 (SP1) / Windows 8 / Windows 8.1

المعالج:

1,8 GHz Intel Core 2 Duo / AMD Athlon 64 Dual-Core 4000+

الذاكرة:

2 GB RAM

الجرافيك :

128 MB VRAM - NVIDIA GeForce 6600 / ATI Radeon X1300 / Intel GMA X4500

HDD:

10 GB HD

العمر وتصنيف المحتوى
Frequently bought with this item