The Witcher 3: Wild Hunt - Blood and Wine Key Steam GLOBAL
Disponible auprès vendeurs sur le marketplace
Il y'a %d personnes qui regardent ce produit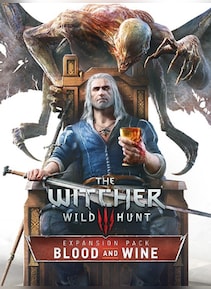 Langues disponibles:

Région :

GLOBAL

Plateforme:
Buy product from these sellers:
Comment fonctionne G2A Goldmine ?
Parlez à vos amis de G2A Goldmine - former une équipe et augmenter vos revenus !

2

Regardez vos profits évoluer !

Il vous suffit de vous s'asseoir et vous détendre car votre travail apporte des profits dès maintenant ! Utilisez les conseils et les outils que nous avons donné pour vous permettre d'optimiser vos gains.

Un travail bien fait mérite un salaire approprié. Et encore, vous n'avez pas travaillé dur pour atteindre ce cap ca n'est-ce pas ? Choisissez votre mode de paiement préféré et recevez votre chèque !
Description du produit

Blood and Wine is the final expansion for The Witcher 3: Wild Hunt -- an award-winning role-playing game set in a vast fantasy open world.

Become professional monster slayer Geralt of Rivia and explore Toussaint, a remote land untouched by war, where you will unravel the horrifying secret behind a beast terrorizing the kingdom. With all trails leading to dead ends, only a witcher can solve the mystery and survive the evil lurking in the night. Introducing an entirely new realm to traverse, new characters and monsters, Blood and Wine is a 20+ hour adventure full of dark deeds, unexpected twists, romance and deceit.

Principales caractéristiques

Explore an entirely new part of The Witcher's vast open world -- the land of wine, Toussaint



Embark on over 30 hours of new adventures and discover a land unlike anything you've seen in Wild Hunt or Hearts of Stone.


Visit new points of interest and set out on new side-quests in a realm rivalling No Man's Land or Novigrad in size.


Kick back and relax in your very own vineyard, a real home away from home.



Hunt down an elusive beast terrorizing the kingdom



Unravel the mystery of the strange killings -- investigate a series of brutal murders and decipher the pattern to predict who's going to die next.


Discover the dirty secrets of Toussaint's capital, Beauclair -- explore the city by day, ask questions by night.


Use new gear, items, and combine them with your skill to slay monsters never before seen in the series.



Embark on your final quest in a world still brimming with things to do



Visit a world of fairytales gone wrong and battle surreal creatures you know from children's tales and books.


Dye witcher armors in different colors thanks to an all-new game mechanic.


Take on knights in a grand tourney to show your true fighting skill, or set out to discover the gruesome mystery behind a spoon-collecting creature known as a wight.


Team up with powerful allies to take down the beast terrorizing the kingdom, or turn a blind eye to what's going on and play Gwent with an all-new Skellige deck.



Âge et classification du contenu

Autre

Steam

Steam - Le jeu peut être active sur Steam, et vous permet de jouer sur les serveurs officiels de Steam. Votre jeu sera mis à jour avec les derniers patchs via la plateforme Steam.

Key Type

Ce produit est disponible en tant clé de CD digitale – aucun frais de livraison ne s'applique.

DLC

This product requires the standard version of the game activated on your account.