The Witcher 3: Wild Hunt - Blood and Wine Key Steam GLOBAL
Available from marketplace sellers
There are %d people looking at this product.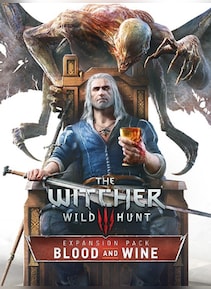 Idioma disponível:

Região:

GLOBAL

Plataforma:
Buy product from these sellers:
Como é que a G2A Goldmine funciona?
Diz aos teus amigos sobre a G2A Goldmine - Contrói uma equipa e aumenta os teus ganhos!

2

Veja o seu lucro a crescer!

Sente-se e relaxe enquanto o seu trabalho lhe dá lucro! Use as dicas e ferramentas que fizemos para maximizar o potencial de ganhos.

Um trabalho bem feito merece um crédito apropriado. E ainda, você não tem trabalhado duro para alcançá-lo certo? Escolha a sua opção de pagamento preferida e receba o salário!
Descrição do Produto

Blood and Wine is the final expansion for The Witcher 3: Wild Hunt -- an award-winning role-playing game set in a vast fantasy open world.

Become professional monster slayer Geralt of Rivia and explore Toussaint, a remote land untouched by war, where you will unravel the horrifying secret behind a beast terrorizing the kingdom. With all trails leading to dead ends, only a witcher can solve the mystery and survive the evil lurking in the night. Introducing an entirely new realm to traverse, new characters and monsters, Blood and Wine is a 20+ hour adventure full of dark deeds, unexpected twists, romance and deceit.

Características Chave

Explore an entirely new part of The Witcher's vast open world -- the land of wine, Toussaint



Embark on over 30 hours of new adventures and discover a land unlike anything you've seen in Wild Hunt or Hearts of Stone.


Visit new points of interest and set out on new side-quests in a realm rivalling No Man's Land or Novigrad in size.


Kick back and relax in your very own vineyard, a real home away from home.



Hunt down an elusive beast terrorizing the kingdom



Unravel the mystery of the strange killings -- investigate a series of brutal murders and decipher the pattern to predict who's going to die next.


Discover the dirty secrets of Toussaint's capital, Beauclair -- explore the city by day, ask questions by night.


Use new gear, items, and combine them with your skill to slay monsters never before seen in the series.



Embark on your final quest in a world still brimming with things to do



Visit a world of fairytales gone wrong and battle surreal creatures you know from children's tales and books.


Dye witcher armors in different colors thanks to an all-new game mechanic.


Take on knights in a grand tourney to show your true fighting skill, or set out to discover the gruesome mystery behind a spoon-collecting creature known as a wight.


Team up with powerful allies to take down the beast terrorizing the kingdom, or turn a blind eye to what's going on and play Gwent with an all-new Skellige deck.



Requisitos Mínimos

Requisitos Recomendados

Requisitos do Sistema:

64-bit Windows 7, 64-bit Windows 8 (8.1) or 64-bit Windows 10

Processador:

Intel CPU Core i5-2500K 3.3GHz / AMD CPU Phenom II X4 940

Memória:

6 GB RAM

Gráficos:

Nvidia GPU GeForce GTX 660 / AMD GPU Radeon HD 7870

HDD:

35 GB

Requisitos do Sistema:

64-bit Windows 7, 64-bit Windows 8 (8.1) or 64-bit Windows 10

Processador:

intel CPU Core i7 3770 3.4 GHz / AMD CPU AMD FX-8350 4 GHz

Memória:

8 GB RAM

Gráficos:

Nvidia GPU GeForce GTX 770 / AMD GPU Radeon R9 290

HDD:

35 GB

Classificação de idade e conteúdo

Outro

Steam

Steam - Game can be activated on Steam, enables you to play on official Steam servers and your game will be kept updated with the latest patches via the Steam platform.

Key Type

This product is available as a CD key carried out via digital means - no shipping fees apply.

DLC

This product requires the standard version of the game activated on your account.
Frequently bought with this item