Thief + Bank Heist Key Steam GLOBAL
Available from marketplace sellers
There are %d people looking at this product.
Warning! This product can't be activated in Japan.
Product includes extra in-game mission - The Bank Heist.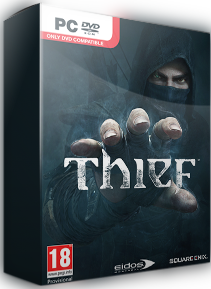 Ngôn ngữ:

Khu vực:

GLOBAL

Platform:
Nhận ngay 44.392 ₫ nếu ai đó sử dụng reflink Goldmine của bạn và mua sản phẩm này. Tìm hiểu thêm
Buy product from these sellers:
G2A Goldmine hoạt động như thế nào?
1

Thông báo cho những người khác

Kể cho bạn bè về Goldmine G2A - xây dựng đội ngũ và tăng thu nhập của bạn!

2

Xem lợi nhuận của bạn tăng lên!

Ngồi xuống và thư giãn xem công việc của bạn mang lại lợi nhuận ngay bây giờ! Sử dụng những lời khuyên và các công cụ chúng tôi để tối đa hóa tiềm năng thu nhập.

Một công việc tốt đòi hỏi thù lao xứng đáng. Bạn không phải làm gì nhiều nhưng vẫn đạt được nó,đúng không? Hãy chọn phương thức thanh toán bạn ưa thích và lãnh lương!
Mô tả sản phẩm

Garrett, the Master Thief, steps out of the shadows into the City. In this treacherous place, where the Baron's Watch spreads a rising tide of fear and oppression, his skills are the only things he can trust. Even the most cautious citizens and their best-guarded possessions are not safe from his reach.

As an uprising emerges, Garrett finds himself entangled in growing layers of conflict. Lead by Orion, the voice of the people, the tyrannized citizens will do everything they can to claim back the City from the Baron's grasp. The revolution is inevitable. If Garrett doesn't get involved, the streets will run red with blood and the City will tear itself apart.

Các tính năng chính



YOU ARE GARRETT, THE MASTER THIEF - Step into the silent shoes of Garrett, a dark and lonely thief with an unrivaled set of skills. The most challenging heists, the most inaccessible loots, the best kept secrets: nothing is out of your reach.


THE CITY: YOURS FOR THE TAKING - Explore the sick and troubled City, from its shady back alleys to the heights of its rooftops. Sneak into rich houses, Infiltrate the best-guarded mansions and lurk in every dark corner… unnoticed and unsanctioned.


CHOOSE YOUR APPROACH - Leverage Garrett's arsenal to take down guards with your blackjack, shoot one of your many arrow types or use your newly acquired focus abilities to manipulate the environment and outsmart your enemies. What kind of master thief will you be?


UNPRECEDENTED IMMERSION - Become one with the world thanks to ground-breaking visual elements and a truly tactile and visceral first-person experience. Through jaw-dropping Next-Gen technical possibilities, THIEF delivers unprecedented immersion through sights, sounds and artificial intelligence.



Yêu cầu tối thiểu

Yêu cầu đề nghị

Yêu cầu hệ thống:

Win Vista 64

Bộ xử lý:

Core 2 Duo E8200 2.66GHz / Athlon II X2 240

Bộ nhớ:

4 GB RAM

Đồ họa:

512 MB VRAM GeForce GTS 250 / Radeon HD 4830

HDD:

20 GB HD

Yêu cầu hệ thống:

Win 7 64

Bộ xử lý:

Core i7-920 Quad 2.67GHz

Bộ nhớ:

6 GB RAM

Đồ họa:

1.5 GB VARM GeForce GTX 660 / Radeon R9 270

HDD:

20 GB HD

Độ tuổi và nội dung
Frequently bought with this item