Thief + Bank Heist DLC STEAM CD-KEY GLOBAL
Available from marketplace sellers
There are %d people looking at this product.
Warning! This product can't be activated in Japan.
Product includes extra in-game mission - The Bank Heist.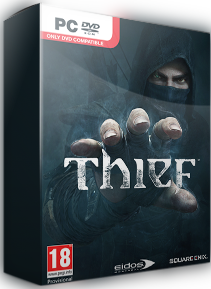 Limba disponibilă:

Regiune:

GLOBAL

Platformă:
Câștigă 1,61 € dacă cineva cumpără acest produs folosind reflinkul tău. Află mai multe
Buy product from these sellers:
Cum funcționează Goldmine?
1

Informează-i și pe alții

Spune-le prietenilor tăi despre G2A Goldmine, construiește-ți o echipă și sporește-ți câștigurile!

2

Uite cum crește profitul!

Relaxează-te, munca ta îți va aduce profit acum! Folosește-te de sfaturile și instrumentele pe care ți le-am pus la dispoziție pentru a-ți mări posibilitățile de câștig.

Un lucru bine făcut merită răsplătit. Și totuși, nu ai muncit atât de mult, nu-i așa? Alege metoda de plată preferată, iar apoi îți vei primi banii!
Descriere produs

Garrett, the Master Thief, steps out of the shadows into the City. In this treacherous place, where the Baron's Watch spreads a rising tide of fear and oppression, his skills are the only things he can trust. Even the most cautious citizens and their best-guarded possessions are not safe from his reach.

As an uprising emerges, Garrett finds himself entangled in growing layers of conflict. Lead by Orion, the voice of the people, the tyrannized citizens will do everything they can to claim back the City from the Baron's grasp. The revolution is inevitable. If Garrett doesn't get involved, the streets will run red with blood and the City will tear itself apart.

Caracteristici cheie

YOU ARE GARRETT, THE MASTER THIEF - Step into the silent shoes of Garrett, a dark and lonely thief with an unrivaled set of skills. The most challenging heists, the most inaccessible loots, the best kept secrets: nothing is out of your reach.
THE CITY: YOURS FOR THE TAKING - Explore the sick and troubled City, from its shady back alleys to the heights of its rooftops. Sneak into rich houses, Infiltrate the best-guarded mansions and lurk in every dark corner… unnoticed and unsanctioned.
CHOOSE YOUR APPROACH - Leverage Garrett's arsenal to take down guards with your blackjack, shoot one of your many arrow types or use your newly acquired focus abilities to manipulate the environment and outsmart your enemies. What kind of master thief will you be?
UNPRECEDENTED IMMERSION - Become one with the world thanks to ground-breaking visual elements and a truly tactile and visceral first-person experience. Through jaw-dropping Next-Gen technical possibilities, THIEF delivers unprecedented immersion through sights, sounds and artificial intelligence.

Cerințe minime

Cerințe recomandate

Cerințe de sistem:

Win Vista 64

Procesor:

Core 2 Duo E8200 2.66GHz / Athlon II X2 240

Memorie:

4 GB RAM

Grafică:

512 MB VRAM GeForce GTS 250 / Radeon HD 4830

HDD:

20 GB HD

Platformă:

PC

Cerințe de sistem:

Win 7 64

Procesor:

Core i7-920 Quad 2.67GHz

Memorie:

6 GB RAM

Grafică:

1.5 GB VARM GeForce GTX 660 / Radeon R9 270

HDD:

20 GB HD

Platformă:

PC

Rating conținut și vârstă

Altele

Steam

Steam - Game can be activated on Steam, enables you to play on official Steam servers and your game will be kept updated with the latest patches via the Steam platform.

Key Type

This product is available as a CD key carried out via digital means - no shipping fees apply.