Titanfall Origin Key GLOBAL
Available from marketplace sellers
There are %d people looking at this product.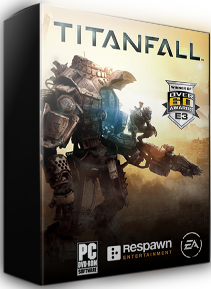 Ngôn ngữ:

Khu vực:

GLOBAL

Platform:
Nhận ngay 45.504 ₫ nếu ai đó sử dụng reflink Goldmine của bạn và mua sản phẩm này. Tìm hiểu thêm
Buy product from these sellers:
G2A Goldmine hoạt động như thế nào?
1

Thông báo cho những người khác

Kể cho bạn bè về Goldmine G2A - xây dựng đội ngũ và tăng thu nhập của bạn!

2

Xem lợi nhuận của bạn tăng lên!

Ngồi xuống và thư giãn xem công việc của bạn mang lại lợi nhuận ngay bây giờ! Sử dụng những lời khuyên và các công cụ chúng tôi để tối đa hóa tiềm năng thu nhập.

Một công việc tốt đòi hỏi thù lao xứng đáng. Bạn không phải làm gì nhiều nhưng vẫn đạt được nó,đúng không? Hãy chọn phương thức thanh toán bạn ưa thích và lãnh lương!
Mô tả sản phẩm

Crafted by one of the co-creators of Call of Duty and other key developers behind the Call of Duty franchise, Titanfall is an all-new universe juxtaposing small vs. giant, natural vs. industrial and man vs. machine.

The visionaries at Respawn have drawn inspiration from their proven experiences in first-person action and with Titanfall are focused on bringing something exciting to the next generation of multiplayer gaming.

Các tính năng chính



Fast-Paced Future Warfare – In Titanfall the advanced warfare of tomorrow gives you the freedom to fight your way as both elite assault Pilot and agile, heavily armored 24' tall Titans. Titanfall rethinks fundamental combat and movement giving players the ability to change tactics on the fly, attacking or escaping depending on the situation.


The Future of Online Multiplayer Action – The game is entirely multiplayer, in a new experience that combines fast-paced online action with the heroic set piece moments traditionally found in campaign mode. The intersection of the two is a big part of what gives Titanfall its iconic identity.


The Visionaries that Defined Gaming for a Generation are back! — Founded in 2010, Respawn Entertainment was formed by Vince Zampella and Jason West, former co-founders of Infinity Ward and two of the co-creators of the multi-billion dollar franchise Call of Duty™ They are building on their pedigree and taking a new approach to game design and creating an all new universe with Titanfall.



Yêu cầu

Yêu cầu hệ thống:

Windows Vista SP2 64-bit / Windows 7 SP1 64-bit / Windows 8 64-bit

Bộ xử lý:

AMD Athlon X2 2.8GHz / Intel Core 2 Duo 2.4GHz

Bộ nhớ:

4 GB RAM

Đồ họa:

AMD Radeon HD 4770 512MB RAM / Nvidia GeForce 8800GT 512MB RAM

HDD:

50 GB HD

Độ tuổi và nội dung

Khác

Origin

Game can be activated on Origin, enables you to play on official EA servers and your game will be kept updated with the latest patches via the Origin platform.

Key Type

This product is available as a CD key carried out via digital means - no shipping fees apply.