Tomb Raider Steam Key GLOBAL
Available from marketplace sellers
There are %d people looking at this product.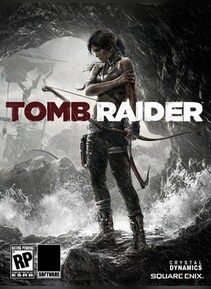 Language available:

Region:

GLOBAL

Platform:
Earn $0.52 if somebody buys this product using your Goldmine reflink. Find out more
Buy product from these sellers:
How does G2A Goldmine work?
Tell your friends about G2A's Goldmine – build a team and boost your earnings!

2

Watch your profit grow!

Just sit back and relax as your work brings profit now! Use the tips and tools we made for you to maximize the earning potential.

A job well done deserves a proper credit. And still, you have not been working hard to achieve it right? Choose your preferred payment option and receive the paycheck!
Product Description

Travel the stunningly beautiful island of Yamatai in this latest reboot of the Tomb Raider series. Play as young Lara Croft and see the events that shaped her to be the legendary video game heroine we all know. Discover the secret of the island and save yourself and your crew from the crazed inhabitants. Follow Lara on her long way through lush forests, bright mountains, snow-covered peaks, rusty shantytowns, deep caves, and ancient tombs lit by torches and bathed in their warm glow. Wherever you choose to go, the locations are full of details, ripe with history, and bolstering the sense of adventure. Thanks to an unstable weather of the island, the player will witness and play through adverse weather, from storms to blizzards and fog thick as milk as you stalk enemies within it.

Witness the birth of a legend

Help Lara Croft on her journey and see her grow from a terrified survivor of a shipwreck into the confident and fearless adventurer that shaped video games' history. Witness her character develop as the events force her further and further out of her comfort zone. Excellent voice-acting and realistic character designs of Tomb Raider make sure that Lara Croft is more of a believable person than she had ever been before.

Key features

From ancient tombs to vertical climbs, Tomb Raider (PC) offers many carefully crafted environments to make traversing the island engaging and as cinematically captivating as possible. Genre veterans from Crystal Dynamics made every part of an island a puzzle in itself. Find secret tombs, each demanding familiarity with the game's systems to reach the final chamber and reap the rewards of Lara's curiosity and determination

Character progression and crafting

Gather salvage and experience as you play and unlock new abilities. Whether you want Lara to be more of a brawler, shooter or a survivor, the skill system allows you to direct the way she evolves. In time you will learn to upgrade your equipment with gathered salvage, giving new options and granting access to new areas or solutions to puzzles.

Tomb Raider gameplay

Tomb Raider gameplay offers a cinematic experience, throwing players into masterful action sequences rivaling the best adventure movies in scope and execution. Use bow and arrows to lure and kill your enemies, engage them in close quarters with a climbing axe or sneak past them- the game keeps providing the player with fresh scenarios and new locations, where you can use the tools gathered and crafted to your advantage.

Secrets to discover

What use is an archaeologist when there are no secrets to find? Tomb Raider doesn't have to answer this question. As you play you will discover many hidden items, from journals detailing a bizarre personal histories of Yamatai, to items of past inhabitants and visitors, described to us by Lara with scientific glee. Yamatai for such a small island certainly had worldly connections waiting for you to find them and piece together an intriguing tale of a fallen and forgotten kingdom. Masterfully crafted by a seasoned team of Crystal Dynamics, Tomb Raider is an intense game of cinematic presentation and scope, full of beautiful sights of natural and man-made vistas, telling the origin story of the most influential female character in video game history.

Requirements

System Requirements:

Windows XP SP 3 / Windows Vista / 7 / 8

Processor:

AMD Athlon64 X2 2.1 Ghz 4050+ / Intel Core2 Duo 1.86 GHZ E6300

Memory:

2 GB RAM

Graphics:

512 MB VRAM - ATI Radeon HD 2600 XT / nVidia GeForce 8600

HDD:

12 GB HD

Other

Steam

Steam - Game can be activated on Steam, enables you to play on official Steam servers and your game will be kept updated with the latest patches via the Steam platform.

Key Type

This product is available as a CD key carried out via digital means - no shipping fees apply.
Frequently bought with this item