Total War: WARHAMMER - The Realm of the Wood Elves DLC STEAM CD-KEY GLOBAL
Available from marketplace sellers
There are %d people looking at this product.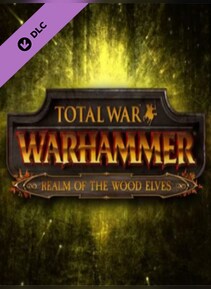 Language available:

Region:

GLOBAL

Platform:
Buy product from these sellers:
How does G2A Goldmine work?
Tell your friends about G2A's Goldmine – build a team and boost your earnings!

2

Watch your profit grow!

Just sit back and relax as your work brings profit now! Use the tips and tools we made for you to maximize the earning potential.

A job well done deserves a proper credit. And still, you have not been working hard to achieve it right? Choose your preferred payment option and receive the paycheck!
Product Description

To outsiders, the forest realm of Athel Loren is a brooding and malicious place. The creak and groan of living wood echoes from its dim interior, the canopy seems to absorb all light, and half-seen spirits dart between the twilit bowers. To enter is to place your fate in their hands.

Within dwell the Asrai, the Wood Elves. Though they hail originally from Ulthuan to the west as all Elves do, they spurn the sanctimonious arrogance of the Asur, the High Elves, and the murderous decadence of the Druchii or Dark Elves. The Asrai consider themselves to be the only true Elves left in the world, as they embrace all aspects of their nature – both light and dark – and for thousands of years, they have lived in harmony with the sentient forest.

The Asrai share the wilds of Athel Loren with its spirits and protectors: the Dryads, Branchwraiths and the ancient guardian Treemen. They adopt its steeds, hawks and Great Eagles for their warhosts, and even rare Forest Dragons may deign to join them when the need is dire. Peerless archers and riders, the Wood Elves pay fealty to the demigod Orion, who dies in flame each midwinter, only to be reborn into thunderous life in spring beneath The Oak of Ages.

Wild, lithe, and utterly ruthless in defence of their land, only a fool would goad the Wood Elves and their spirited allies to conflict. For those who witness the awesome spectacle of an Asrai host marching out of the woodlands on a Wild Hunt, it is likely the last thing they will ever see.

Key features

New Wood Elves Race in the Grand Campaign
New additional Race-specific currency: Amber
Wonder-based Campaign victory condition
Wood Elves may conquer any region on the map
Two New Playable Legendary Lords: Orion and Durthu
Two new Lord types with deep-specialisation skill trees
Three new Hero types with deep-specialisation skill trees
Comprehensive Wood Elves army roster
Adds an additional campaign map to the game with the unique 'Season of Revelations' Wood Elves story Campaign
New Unique Monsters, Heroes, Magic and Game Features

Minimal requirements

Recommended requirements

System Requirements:

Windows 7 64Bit

Processor:

Intel Core 2 Duo 3.0Ghz

Memory:

3 GB RAM

Graphics:

AMD Radeon HD 5770 1024MB / NVIDIA GTS 450 1024MB / Intel HD4000 @720P

HDD:

35 GB available space

Platform:

PC

System Requirements:

Windows 7 / 8.1 / 10 64Bit

Processor:

Intel Core i5-4570 3.20GHz

Graphics:

AMD Radeon R9 270X 2048MB / NVIDIA GeForce GTX 760 2048MB @1080P

HDD:

35 GB available space

Platform:

PC

Other

Steam

Steam - Game can be activated on Steam, enables you to play on official Steam servers and your game will be kept updated with the latest patches via the Steam platform.

Key Type

This product is available as a CD key carried out via digital means - no shipping fees apply.

DLC

This product requires the standard version of the game activated on your account.
Frequently bought with this item