Warhammer 40,000: Dawn of War III STEAM CD-KEY GLOBAL
Available from marketplace sellers
There are %d people looking at this product.
Warhammer 40k: Dawn of War 3 for Steam platform is a digital product – no box included. The price applies to a digital version of the product.
WARNING! This product is region locked and CAN'T be activated in: Japan, Republic of Korea, China, Taiwan, Hong Kong, Democratic People's Republic of Korea.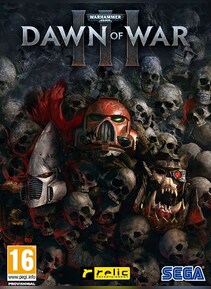 Language available:

Region:

GLOBAL

Platform:
Buy product from these sellers:
How does G2A Goldmine work?
Tell your friends about G2A's Goldmine – build a team and boost your earnings!

2

Watch your profit grow!

Just sit back and relax as your work brings profit now! Use the tips and tools we made for you to maximize the earning potential.

A job well done deserves a proper credit. And still, you have not been working hard to achieve it right? Choose your preferred payment option and receive the paycheck!
Product Description

Gabriel Angelos and the Blood Raves return in Warhammer 40k: Dawn of War 3 (PC) after a long time spent building up their numbers after several wars. Dawn of War 3 is a long-awaited trip back to the troubled Warhammer 40k universe in the only suitable way: open and brutal warfare.

Three factions

Dawn of War III tell the story of an ongoing war between the Imperial Space Marines, the Eldar of Craftworld Biel-Tan and the Orks led by Gorgutz 'Ead'unter. They fight for a priceless artifact of a half-forgotten age which could turn the tide of war. The Spear of Khaine, one of the Eldar gods is said to lay buried somewhere on the planet of Acheron. Who will ultimately get the artifact? Space Marines serving their immortal Emperor? The Eldar hoping to prevent their race from dying? Or the Orks, who want to have a nice WAAAAAAGH! and get a "pointy stikk" in the process?

The best of two worlds

Dawn of War 3 blends the best features of its predecessors to create a unique yet familiar gameplay experience. The large-scale warfare is back from Dawn of War 1, with numerous units, capturing resource points, and the importance of clever army composition. From Dawn of War 2 DoW3 gets Elite units that can change the shape (and scale) of battles. Titan-class engines of war and powerful heroes await your commands.

Singleplayer campaign

See the war for the Spear of Khaine for yourself. The Dawn of War III singleplayer campaign shows you the conflict from all three sides. The campaign changes perspective from one side the other to bring the full picture of what is really at stake. Learn the motivations of all races, participate in their struggle and learn how to use them before jumping into the multiplayer.

Doctrines

Warhammer 40.000: Dawn of War III introduced a new layer of strategy into the franchise. Choose and develop unique warfare doctrines to provide game-changing bonuses and advanced abilities to your army. Your Elite units have their own doctrines as parts of their progression, making sure you always want to have your heroes on the field. Dawn of War III is a game of planning more than it is a game of fast reactions. Make the best of the battle preparation or perish!

Excellent visuals

The visual style of Warhammer 40k Dawn of War 3 is better than it has ever been. The developers made sure that the graphics are not only beautiful and thematic, but also easy to read. Everything is graded according to its tactical importance. Discern what is going on without any problem without losing any of WH40k's distinct visual style and visual fidelity.

Key features

Warhammer 40.000: Dawn of War III is a worthy sequel to its predecessors, merging their unique features and providing its own take on Warhammer-style warfare. Control armies, change the battle with Elite units, and strategically employ Doctrines. Win in the name of Emperor, Craftworld or Gork!

Warhammer 40k Dawn of War 3 features

Old friends - Gabriel Angelos, Farseer Macha and Warlord Gorgutz return once again to wage war against those who oppose their agendas
Elite units - hero-units come back from DoW2 to support armies with their unique doctrines and powerful weapons
Blood Ravens' next deployment - after so many troubles in the past Blood Ravens are ready to face their enemies once again
Massive engines of war - Imperial Knights, Gorkanauts, and Wraithknights come to support their respective armies with devastating firepower and dominate the battlefield with their sheer size
WAAAAAAAGH! - red wunz go fasta and purpl is ded sneaky! Orks are back and ready to war-party

Minimal requirements

Recommended requirements

System Requirements:

64-bit Windows 7 with latest updates

Processor:

3GHz i3 quad logical core or equivalent

Memory:

4 GB of RAM, 1 GB of VRAM MB RAM

Graphics:

NVIDIA GeForce 460 or AMD Radeon 6950 or equivalent DirectX 11-card

HDD:

50 GB available space

Platform:

PC

System Requirements:

64-bit Windows 10 with latest updates

Processor:

3GHz i5 quad core or equivalent

Memory:

8 GB of RAM, 2 GB of VRAM MB RAM

Graphics:

NVIDIA GeForce 770 or AMD Radeon 7970 or equivalent DirectX 11 card

HDD:

50 GB available space

Platform:

PC

Age and content rating

Other

Steam

Steam - Game can be activated on Steam, enables you to play on official Steam servers and your game will be kept updated with the latest patches via the Steam platform.

Key Type

This product is available as a CD key carried out via digital means - no shipping fees apply.