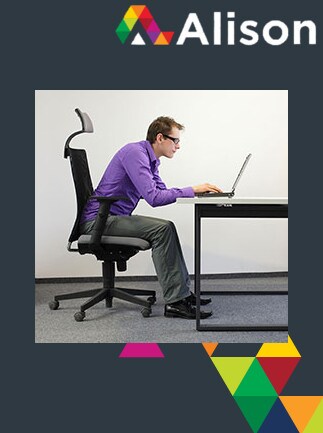 1/2
GLOBAL version
Workstation Ergonomics Alison Course GLOBAL - Digital Certificate
Nowadays majority of employees spend hours in front of the computer. They might not realize how workstation ergonomics guidelines, in short DSE, are important for their health and safety. Our free of charge, online cours ...
You must be logged in to add products to your wishlist.
Product description
Nowadays majority of employees spend hours in front of the computer. They might not realize how workstation ergonomics guidelines, in short DSE, are important for their health and safety. Our free of charge, online course introduces the participants to workstation ergonomics. It also touches the subject of Musculoskeletal Disorders that may be a result of bad posture while seated at desk. Preparing your workstation in a safe and healthy manner with accordance to workstation ergonomics guidelines will make your work more comfortable. The course will teach how to achieve the ideal ergonomic workstation in any office and what are the physical factors that must be taken into the account while doing so. Techniques for improvement of posture and configuration rules as per latest OSHA recommendations are discussed in the course. On the top of that, practical physical exercised aimed at employees who seat at desk the whole day, are displayed in the course. All this knowledge and tricks will help you get rid of back, neck pain and headaches, as well as wrist pain. Your posture at desk will improve and you will feel more energetic and be less prone to injuries and muscle diseases. As a result, also your productivity will increase and satisfaction from your work will improve.
What Will I Learn?
The course focuses on workstation ergonomics rules and techniques of good posture. You will learn how to feel less pain while working in front of the computer, how to achieve good posture that will result in your better comfort and vitality. You will discover easy, proven to work techniques on improving your posture quickly with so-called S.E.L.S system of posture improvement. You will discover ways to correctly configure a workstation in order to achieve safe and healthy workstation that is in accordance with ergonomics as recommended by OSHA. The course provides you also with stretches and exercises that can help you improve your posture and maintain the correct one permanently. After the course you will be sure that workstation ergonomics is important cause that affects vastly your health, attitude and productivity. You will discover that bad posture might be causing serious diseases, like Musculoskeletal Disorders or even depression, and broadcasting negative body language that may affect your opinion at the office. The course comes with various workstation ergonomics diagrams and checklist to assist you in implementing the guidelines in your office. After completion of the course, you will be armed with knowledge and set of tips that may completely change your posture at the desk and help you have pain-free, energetic, productive work days.
Who is the target audience?
The course is aimed at anybody willing to improve their posture and create an ideal ergonomic workstation. It is especially recommended for busy office employees and those who spent at least two hours per day in front of the computer. Students who study in front of the computer and professionals heavily relying on it in their work, like IT specialists, copywriters, marketing specialists are especially advised to take part in the course. Anybody who suffers from back, neck or wrist pain or neck stiffness, as well as headaches, and supposes the bad posture is to blame, can find this course of great interest.
Requirements
You don't require to have any knowledge or experience in workstation genomics issues. Also, no specific equipment, neither materials are needed to launch and participate in the course. You have to be willing to change your habits when it comes to posture and adjust your workstation according to the course's guidelines. You have to be open to new techniques and methods of improving the posture while seated.
The following product allows you to obtain a Digital Certificate / Digital Diploma confirming completion of the related e-learning course which serves as a formal proof of your newly gained skills. You will receive it after passing the course assessment with a score of at least 80%.
Step-by-step guide on how to activate this product->  
Alison Activation Guide