World of Warcraft Battle Chest Blizzard EUROPE 30 Days
Available from marketplace sellers
There are %d people looking at this product.
Warning! This product CAN be used ONLY on account without World of Warcraft game activated on it. (You may have enabled TRIAL version). Only one copy of Battlechest may be activated on each Battlenet account, please make sure that you haven't activated any on your account before buying this product.
This is NOT a prepaid product - it CANNOT be used to extend game time.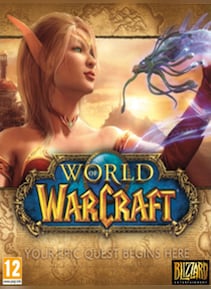 Ngôn ngữ:

Khu vực:

EUROPE

Platform:
Buy product from these sellers:
G2A Goldmine hoạt động như thế nào?
1

Thông báo cho những người khác

Kể cho bạn bè về Goldmine G2A - xây dựng đội ngũ và tăng thu nhập của bạn!

2

Xem lợi nhuận của bạn tăng lên!

Ngồi xuống và thư giãn xem công việc của bạn mang lại lợi nhuận ngay bây giờ! Sử dụng những lời khuyên và các công cụ chúng tôi để tối đa hóa tiềm năng thu nhập.

Một công việc tốt đòi hỏi thù lao xứng đáng. Bạn không phải làm gì nhiều nhưng vẫn đạt được nó,đúng không? Hãy chọn phương thức thanh toán bạn ưa thích và lãnh lương!
Mô tả sản phẩm

You Were Meant for this World

You were meant for more. You were meant for epic adventure. Maybe even greatness. To charge your enemies without fear. To live boldly and run with comrades you never knew you had. To experience the impossible. Descend into World of Warcraft and join millions of mighty heroes in an online world of myth, magic and limitless adventure. An infinity of experiences await. Join us.





Create Your Hero - Build your own unique hero from one of thirteen player races and ten different classes. Then rise to epic heights of power as you challenge the deadliest evils and claim the greatest rewards in the land.


Form Powerful Alliances - Play solo or enlist your friends to join forces with you as you negotiate the vast, battle-scarred landscape of a world at war.


Embark on Epic Quests - Engage in thousands of custom quests – with more being added all the time. Confront Illidan the Betrayer, shatter the Lich King's undead armies and much, much more.


Explore the Ever - Changing World of Azeroth - World of Warcraft is constantly updated with new adventures to undertake, lands to explore, and monsters to vanquish. For a change of pace, join the party at a seasonal event like Brewfest or Hallow's End!


Engage in Player-vs-Player Combat - Take part in the war between the Alliance and the Horde, the two factions who battle for control of Azeroth. From Arenas and Battlegrounds to large-scale PvP zones and open world combat, there's always glory to be won.


Battle to Level 90 - Ascend to new heights of power as you explore the verdant reaches of the Jade Forest, war with the terrible Yaungol on Kun-Lai Summit, unlock the secrets of the Mogu'shan Vaults, and much, much more.



Các tính năng chính

World of Warcraft Battlechest includes:



World of Warcraft Classic,


World of Warcraft the Burning Crusade expansion,


World of Warcraft Wrath of the Lich King expansion,


World of Warcraft Cataclysm expansion,


World of Warcraft Mist of Pandaria,


World of Warcraft Warlords of Draenor,


30 days free time,



Độ tuổi và nội dung
Frequently bought with this item