World of Warcraft: Legion CD-KEY EU
Available from marketplace sellers
There are %d people looking at this product.
Note:World of Warcraft Battlechest (base game) activated on battle.net account is necessary to use WOW Legion Expansion code.
WOW Legion is a digital product - no box delivery. The price applies to a digital version of the product.
This product (WOW Legion) is region locked and can be activated and played only on European World of Warcraft accounts.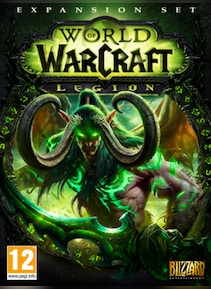 Ngôn ngữ:

Khu vực:

Châu Âu

Platform:
Nhận ngay 119.280 ₫ nếu ai đó sử dụng reflink Goldmine của bạn và mua sản phẩm này. Tìm hiểu thêm
Buy product from these sellers:
G2A Goldmine hoạt động như thế nào?
1

Thông báo cho những người khác

Kể cho bạn bè về Goldmine G2A - xây dựng đội ngũ và tăng thu nhập của bạn!

2

Xem lợi nhuận của bạn tăng lên!

Ngồi xuống và thư giãn xem công việc của bạn mang lại lợi nhuận ngay bây giờ! Sử dụng những lời khuyên và các công cụ chúng tôi để tối đa hóa tiềm năng thu nhập.

Một công việc tốt đòi hỏi thù lao xứng đáng. Bạn không phải làm gì nhiều nhưng vẫn đạt được nó,đúng không? Hãy chọn phương thức thanh toán bạn ưa thích và lãnh lương!
Mô tả sản phẩm

Destruction rains down upon Azeroth. Demons of the Burning Legion surge into our realm, heralding the return of the dark titan Sargeras, Ravager of Worlds. As doom comes for the Alliance and the Horde, Azeroth's heroes must seek salvation among the ruins of the Broken Isles, doomed center of ancient night elf civilization and birthplace of myths dating back to the world's creation. There, they'll harness legendary and forbidden powers to hunt unspeakable nightmares and unstoppable fel armies—and save their world from falling under an endless burning shadow.

World of Warcraft: Legion is the sinister sixth expansion to Blizzard Entertainment's acclaimed massively multiplayer online role-playing game. In the face of hopeless odds, Azeroth's champions must summon the strength to wield fabled Artifacts, powerful weapons of lore that hold the potential to bring down the Legion. They'll also strike an infernal pact with the Demon Hunters of the Illidari, an ancient elven order of fel-tainted assassins . . . and accursed followers of the infamous Illidan the Betrayer.

Các tính năng chính

Stalk Your Prey as a Demon Hunter: Turn the tainted power of the Legion against them as an all-new hero class—the vengeful Demon Hunter. As a damage dealer or tank, pursue and evade your targets with preternatural agility; draw upon your demonic fury to fuel devastating attacks; and strike fear into your foes by metamorphosing into hellish new forms.
Wield Legendary Artifacts: Build a battle-forged bond with your own Artifact—a legendary class-specific weapon that transforms and grows in power as you battle the Legion. Customize your Artifact with personalized traits, tempering—or twisting—it into a form that suits your character.
Explore the Ancient Roots of Azeroth: Seek your world's salvation among the forbidden ruins of the Broken Isles—mythic seat of night elf civilization, gateway to the Emerald Nightmare, and hiding place of the titan relics used to shape Azeroth.
Unify Your Order: Find refuge from the felstorm at your Order Hall, a site of great power linked closely to your character's class and cause. Whether you follow the code of the paladin or the dark ways of the warlock, unite fellow members of your order to carry out class-specific missions and defend against annihilation.
Boost to Level 100: Prepare to face the invading armies of the Legion with a level-100 character boost, and experience this night-shrouded new chapter of World of Warcraft alongside your friends.
Earn PvP Powers in the New Honor System: Dominate the enemy faction in Battlegrounds and Arenas to progress through the all-new Honor system. Unlock PvP-specific spells and abilities that open up a range of new tactical possibilities, and earn prestigious titles and rewards.
And More: Take on a wide array of Dungeons, Raids, Battlegrounds, Challenge Modes, and more on the way to the new level cap of 110—no matter what kind of adventures you seek, endless possibilities await.

Yêu cầu tối thiểu

Yêu cầu đề nghị

Yêu cầu hệ thống:

Windows XP / Windows Vista / Windows 7 / Windows 8/ Vista / 7

Bộ xử lý:

Intel Core 2 Duo E8500 3.16 GHz / AMD Phenom II X3 720 2.8 GHz

Bộ nhớ:

2 GB RAM

Đồ họa:

GeForce GT 440 / Radeon HD 5670

HDD:

35 GB

Platform:

PC

Yêu cầu hệ thống:

Windows 10 64Bit

Bộ xử lý:

Intel Core i5-3330 3.0 GHz / AMD FX-6300 3.5 GHz

Bộ nhớ:

4 GB RAM

Đồ họa:

GeForce GTX 750 Ti / Radeon R7 260X

HDD:

35 GB

Platform:

PC

Độ tuổi và nội dung

Khác

Blizzard

Game can be activated on Blizzard platform, enables you to play on Blizzard servers.

Key Type

This product is available as a CD key carried out via digital means - no shipping fees apply.
Frequently bought with this item