Xbox Live GOLD Subscription Card XBOX LIVE GLOBAL 12 Months
Pazar satıcıları tarafından mevcuttur
%d kişi bu ürünü inceliyor
Xbox Live 12 Month GOLD Subscription Card for the Xbox Live platform is a digital product - no box included.
Warning! The full list of countries where the Live service is supported can be found HERE however the code cannot be activated in Romania, Hungary and Cyprus.
Note! Xbox Live Card will extend your Xbox Live Gold subscription for 12 months. You may not be able to use this code if your subscription has 30 or less days left. We advise to wait until your subscription expires and then use the code.
Xbox Live Memberships have to be redeemed by PC, in order to activate code visit http://www.xbox.com/redeemcode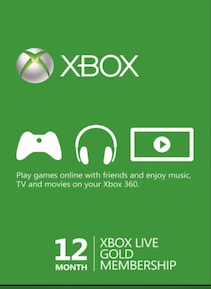 Bu dil seçenekleri mevcuttur:

Bölge:

GLOBAL

Platform:
Buy product from these sellers:
KULLANICI
DIŞ TARAF
FİYAT
G2A Goldmine nasıl çalışıyor
1

Diğerlerini haberdar edin

G2A'in Goldmine'ını arkadaşlarınıza da anlatın - bir takım oluşturun ve kazancınızı güçlendirin!

2

Kârınızın büyüdüğünü görün!

Çalışmalarınız size kârınızı sunarken siz arkanıza yaslanın ve rahatlayın! Kazanç potansiyelinizi en üst seviyeye çıkartmak için size sunduğumuz ipuçları ve araçlardan faydalanmayı unutmayın.

İyi yapılmış iş düzgün bir tebrik gerektirir. Üstelik bu başarı için çok fazla bir şey yapmanıza da gerek kalmadı değil mi? Tercih ettiğiniz ödeme yöntemini seçin ve paranızı alın!
Ürün Açıklaması

Maximize your experience with the Xbox Live service for your Xbox 360 and Xbox One. Xbox Live Gold opens up all the perks and services you need to push Xbox gaming to its limits.Xbox Live Gold allows you to go online and connect to your friends, share your gameplay on Twitch with no problem at all. Xbox Live Gold 12-month subscription grants you full access to all the features on offer.

Gain access to all a growing catalog of games available at your leisure for the duration of your subscription. Productions exclusively free for Xbox Live Gold subscribers, and great deals wait for you grab them for yourself.

Key özellikleri

Xbox Live 12 Months Gold subscription offers you:

Multiplayer gaming - connect with your friends and play your favorite games together
Online chat - talk to you friends on a voicechat, even across platforms
New games for free - subscribers regularly get access to carefully selected games free of charge, to augment their libraries
Great deals - Xbox live Gold subscribers get great discounts on the hottest titles
Frequently bought with this item