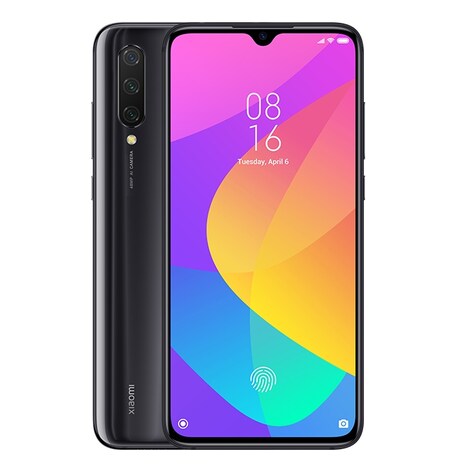 1/1
Xiaomi Mi 9 Lite 6/64GB Dual Sim Szary
XIAOMI Mi 9 Lite 6/64gb Ekran: 6.39" Qualcomm Snapdragon 710 (8 rdzeni, do 2.2 GHz) Pamięć wewnętrzna: 64GB Pamięć RAM: 6GB System: Android ...
You must be logged in to add products to your wishlist.
Specifications
Specifications
Connectivity:

4G

Contract:

Without Contract

Features:

Camera

Lock Status:

Factory Unlocked

Brand:

Xiaomi
Product description
XIAOMI Mi 9 Lite 6/64gb

Ekran: 6.39"

Qualcomm Snapdragon 710 (8 rdzeni, do 2.2 GHz)

Pamięć wewnętrzna: 64GB

Pamięć RAM: 6GB

System: Android 9.0 Pie

Aparat: 32.0 Mpix - przód, 48.0 + 8.0 + 2.0 Mpix - tył

Bateria: Litowo-jonowa 4030 mAh
Bardzo dobre podzespoły w dobrej cenie
Xiaomi Mi 9 Lite ma 6.39-calowy ekran. Wykorzystano w nim panel AMOLED o rozdzielczości Full HD+. Przedni panel pokrywa szkło Corning Gorilla Glass 5. generacji. Sercem urządzenia jest ośmiordzeniowy procesor Qualcomm Snapdragon 710 o taktowaniu 2,2 GHz. Xiaomi Mi 9 Lite to gwarancja płynnego działania gier i aplikacji, nawet przy wysokich ustawieniach graficznych. To naprawdę porządnie wyposażony smartfon w niewygórowanej cenie. Przekonaj się o tym sam.
Niesamowity aparat Xiaomi Mi 9 Lite
Potrójny aparat składa się z 48 Mpix głównej matrycy, 8 Mpix sensora z szerokokątnym obiektywem a także 2 Mpix modułu do wykrywania głębi obrazu. Na przodzie znajduje się aparat o rozdzielczości 32 Mpix z przysłoną f/2.0. Z jego pomocą każde selfie wyjdzie idealnie. Lubisz tworzyć filmy za pomocą smartfona? Świetnie się składa. Xiaomi Mi 9 Lite ma funkcję nagrywania wideo w 4K przy 30 klatkach na sekundę oraz filmów z super zwolnionym tempem (720p przy 960 klatkach na sekundę). Twórz filmy, które będą niesamowitą pamiątką i którymi zachwycisz swoich najbliższych.
Atrakcyjny wygląd, żywe barwy
W tym telefonie zakochasz się od pierwszego wejrzenia. To za sprawą szklanej obudowy oraz świetnym rozwiązaniom kolorystycznym. Wielki wyświetlacz AMOLED doskonale odtwarza jasny i wyraźny obraz z niesamowitymi barwami. Czujnik światła po wykryciu mocnych promieni słonecznych podbije podświetlenie do wyższego poziomu, dzięki czemu zawsze wszystko bez problemu odczytasz. Co więcej, smartfon będzie idealnie leżał w Twojej dłoni.
Co jeszcze oferuje Xiaomi Mi 9 Lite?
W urządzeniu znajdziesz moduły Bluetooth 5.0 i NFC, Dual SIM, żyroskop oraz port USB-C. Za zasilanie odpowiedzialny jest akumulator o pojemności 4030 mAh. Producenci tego modelu zadbali także o możliwość szybkiego ładowania. Urządzenie ma wymiary 156,8×74,5×8,67 mm i waży 179 gramów. Xiaomi Mi 9 Lite to z pewnością smartfon, z którego będziesz zadowolony.
Procesor
Qualcomm Snapdragon 710 (8 rdzeni, do 2.2 GHz)
Układ graficzny

Adreno 616

Pamięć RAM

6 GB

Pamięć wbudowana

64 GB

Typ ekranu

AMOLED

Przekątna ekranu

6,39"

Rozdzielczość ekranu

2340 x 1080

Łączność

Bluetooth

Wi-Fi

LTE
NFC

System nawigacji satelitarnej
Złącza

Gniazdo kart nanoSIM - 2 szt. (wspólny z czytnikiem kart pamięci)
Czytnik kart pamięci - 1 szt.
Gniazdo słuchawkowe - 1 szt.

USB Typ C - 1 szt.

Bateria

Litowo-jonowa 4030 mAh

Zainstalowany system operacyjny

Android 9.0 Pie

Aparat

48.0 Mpix + 8.0 Mpix + 2.0 Mpix - tył

32.0 Mpix - przód

Lampa błyskowa

Wbudowana

Rozdzielczość nagrywania wideo
4K
Grubość

8,67 mm

Szerokość

74,5 mm

Wysokość

156,8 mm

Waga

179 g

Kolor

Szary

Dodatkowe informacje

Szkło Corning Gorilla Glass 5

Żyroskop

Czujnik zbliżenia

Czytnik linii papilarnych

Dołączone akcesoria

Kabel USB

Ładowarka sieciowa

Gwarancja

12 miesięcy (gwarancja producenta)