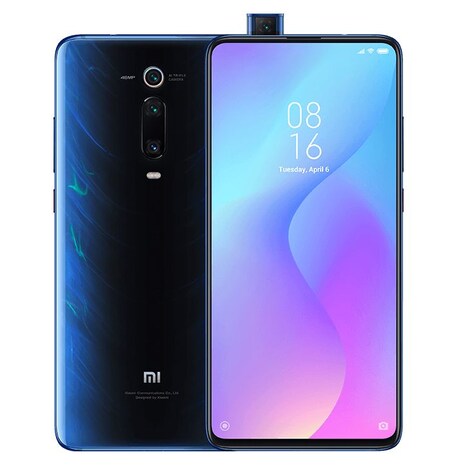 1/1
Xiaomi Mi 9T Pro 6/128GB Dual Sim Niebieski
XIAOMI Mi 9t Pro 6/128gb Ekran: 6.39" Qualcomm Snapdragon 855 (8 rdzeni, do 2.80 GHz) Pamięć wewnętrzna: 128GB Pamięć RAM: 6GB System: Andro ...
You must be logged in to add products to your wishlist.
Specifications
Specifications
Connectivity:

4G

Contract:

Without Contract

Features:

Camera

Lock Status:

Factory Unlocked

Brand:

Xiaomi
Product description
XIAOMI Mi 9t Pro 6/128gb

Ekran: 6.39"

Qualcomm Snapdragon 855 (8 rdzeni, do 2.80 GHz)

Pamięć wewnętrzna: 128GB

Pamięć RAM: 6GB

System: Android 9.0 Pie

Aparat: 20.0 Mpix - przód, 48.0 + 13.0 + 8.0 Mpix - tył

Bateria: Litowo-polimerowa 4000 mAh
Wyświetlacz Horizon AMOLED
Wyświetlacz AMOLED o przekątnej 6,39 cala przekracza wszelkie granice, zapewniając niesamowite wrażenia wizualne przy każdym odblokowaniu telefonu. Imponujący stosunek powierzchni ekranu do wielkości obudowy wynoszący aż 91,9% sprawi, że zachwycisz się tak niewiarygodnym wyglądem urządzenia. Szeroki zakres dynamiki HDR i 100% pokrycie gamy kolorów DCI-P3 pozwalają w pełni wykorzystać możliwości mobilnej rozrywki.
Qualcomm Snapdragon 855
Poczuj moc niesamowitej wydajności Xiaomi Mi 9T Pro. Zainstalowany w nim procesor Qualcomm Snapdragon 855 jest oparty na technologii procesowej 7 nm, dzięki czemu jest niesamowicie szybkim procesorem o niewiarygodnej wydajności energetycznej. Od dziś będziesz mógł działać jeszcze szybciej, a telefon ładować zdecydowanie rzadziej.
Ogromna pojemność baterii
Wykorzystywana w Xiaomi Mi 9T Pro bateria ma pojemność aż 4000 mAh! Smartfon obsługuje szybkie ładowanie aż do 27 W. Xiaomi Mi 9T Pro obsługuje protokół szybkiego ładowania Quick Charge 4. Nawet przy tak dużej pojemności baterii możliwe jest naładowanie smartfona do poziomu 50% w niespełna 30 minut.
Potrójny tylny aparat 48 MP
Wspaniałe połączenie 48-megapikselowego aparatu Sony IMX586 o ultrawysokiej rozdzielczości, ultra-szerokokątnego aparatu 13MP o kącie 124,8 stopni i trzeciego teleobiektywu 8MP zapewnia krystalicznie czysty obraz bez względu na warunki oświetleniowe. Możesz bez wysiłku przybliżać od 0,6x do 2x, aby uchwycić obiekt znajdujący się daleko od Ciebie.
Dedykowany tryb nocny
Nocne ujęcia są wyraźne i dobrze oświetlone dzięki dużemu sensorowi o rozmiarze 1/2 cala. Na jakość nocnych zdjęć wpływa także technologia Super Pixel łącząca 4 mniejsze piksele w 1 duży. Całość uzupełniają algorytmy sztucznej inteligencji AI, które automatycznie dopasowują ustawienia aparatu do panujących w danej chwili warunków otoczenia.
Procesor
Qualcomm Snapdragon 855 (8 rdzeni, do 2.80 GHz)
Układ graficzny

Adreno 640

Pamięć RAM

6 GB

Pamięć wbudowana

128 GB

Typ ekranu

AMOLED

Przekątna ekranu

6,39"

Rozdzielczość ekranu

2340 x 1080

Łączność

Bluetooth

Wi-Fi

LTE
NFC

System nawigacji satelitarnej
Złącza

Gniazdo kart nanoSIM - 2 szt.

USB Typ C - 1 szt.

Bateria

Litowo-polimerowa 4000 mAh

Zainstalowany system operacyjny

Android 9.0 Pie

Aparat

8.0 Mpix + 48.0 Mpix + 13.0 Mpix - tył

20.0 Mpix - przód

Lampa błyskowa

Wbudowana

Rozdzielczość nagrywania wideo

4K

Grubość

8,8 mm

Szerokość

74,3 mm

Wysokość

156,7 mm

Waga

191 g

Kolor

Niebieski

Dodatkowe informacje

Akcelerometr

Żyroskop

Czujnik światła

Czujnik zbliżenia

Czujnik podczerwieni

Czujnik ultradźwiękowy

Czytnik linii papilarnych wbudowany w ekran

Skaner twarzy

Dołączone akcesoria

Kabel USB

Ładowarka sieciowa

Gwarancja

12 miesięcy (gwarancja producenta)