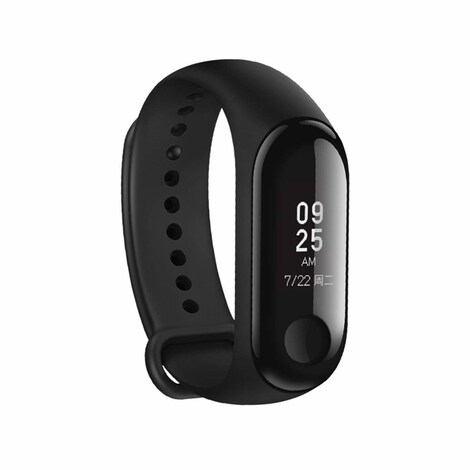 1/5
Xiaomi Mi Band 3 Smart Bracelet POLAND
Xiaomi Mi Band 3 Smart Bracelet to jedna z najlepszych budżetowych opasek treningowych. Opaska pomoże Ci śledzić Twoje sportowe postępy i zrobi to za stosunkowo niewielkie pieniądze. Niezależnie od tego, czy najwięcej cz ...
You must be logged in to add products to your wishlist.
Specifications
Specifications
All Brands:

Xiaomi

Material:

Plastic, Thermoplastic Elastomer, Aluminium Alloy

Weight(g):

20 g

Battery Type:

Li-ion Polymer

Power Capacity:

110mAh

Voltage:

5.0V

Screen Size:

0.78 inches

Resolution:

128 x 80

Sensors:

3-axis, PPG
Product description
Product description
Xiaomi Mi Band 3 Smart Bracelet to jedna z najlepszych budżetowych opasek treningowych. Opaska pomoże Ci śledzić Twoje sportowe postępy i zrobi to za stosunkowo niewielkie pieniądze. Niezależnie od tego, czy najwięcej czasu poświęcasz na bieganie, pływanie, czy jazdę rowerem, opaskę rejestrującą Twoją aktywność fizyczną możesz nosić zawsze ze sobą.
Opaska posiada wiele funkcji sportowych, mających pomóc Ci w lepszej organizacji Twojej aktywności. Znajdziesz tu więc pulsometr, krokomierz, możliwość śledzenia snu, ustawianie własnych celów do osiągnięcia każdego dnia, a nawet prognozę pogody.
Opaska Xiaomi Mi Band 3 - wymiary
Wiele przydatnych funkcji
Opaska monitorująca Xiaomi Mi Band 3 została wyposażona w szereg funkcji, których celem jest poprawa jakości Twoich ćwiczeń i dostarczenie przydatnych informacji, które mogą posłużyć do zwiększenia efektywności Twojego planu treningowego. Możesz więc na bieżąco sprawdzać swoje tętno, by dopasować intensywność treningu do swoich założeń. Możesz sprawdzić przebyty dystans i szacunkową liczbę spalonych kalorii. Wbudowany moduł prognozy pogody ostrzeże Cię przed niesprzyjającymi warunkami, a tryb "nie przeszkadzać" pozwoli skupić się na treningu poprzez ignorowanie powiadomień.
zegarek xiaomi - opaska sportowa mi band 3
Popraw jakość swojego snu
Zdrowy tryb życia to nie tylko aktywność fizyczna. Sen jest równie istotny, co działania podejmowane za dnia. Sen pozwala organizmowi się zregenerować i przygotowuje ciało na kolejny trening. Ponadto zmniejsza ryzyko wystąpienia chorób serca, zapobiega depresji i wzmacnia układ odpornościowy. Dzięki inteligentnej opasce Xiaomi Mi Band 3 będziesz w stanie monitorować aktywność swojego organizmu w czasie snu, a także dostaniesz powiadomienie podpowiadające, że najwyższa pora się położyć.
Niewielka waga
Opaska waży zaledwie 20 gramów, przez co nie stanowi żadnego ograniczenia w podejmowanych aktywnościach, a jej noszenie nie idzie w parze z żadnymi niepożądanymi zjawiskami, które mogłyby negatywnie wpłynąć na trening. Opaska jest tak lekka i wygodna, że szybko zapomnisz, że w ogóle masz ją na nadgarstku, więc nie będzie Cię rozpraszać. Skup się na treningu.
Wodoodporna konstrukcja
Opaska fit Xiaomi Mi Band 3 jest wodoodporna. Zła pogoda nie przeszkodzi Ci w treningu – z opaski możesz bez obaw korzystać także w deszczowy dzień, ale na tym wodoodporność urządzenia się nie kończy. Standard wodoodporności opaski określono jako 5ATM, co pozwala na całkowite zanurzenie w wodzie do głębokości 50 metrów na czas do 10 minut. Pływaj, surfuj, nurkuj – opaska będzie Ci towarzyszyć w każdej sytuacji.
Aplikacja Mi Fit
Mimo, iż opaska nie wymaga telefonu do poprawnego działania, można skorzystać z aplikacji Mi Fit w celu synchronizacji osiąganych postępów ze smartfonem. Analizuj zebrane dane by zrozumieć jak możesz poprawić efektywność swojego obecnego programu treningowego. Poświęcaj mniej czasu na nieefektywne ćwiczenia i skup się na tych, które przynoszą Ci najwięcej korzyści.
opaska monitorująca z krokomierzem - mi band 3
Odbiór i recenzje
Opaska sportowa Xiaomi Mi Band 3 otrzymała pozytywne recenzje. Doceniono przede wszystkim stosunek jakości do ceny opaski. Ponadto zwrócono uwagę na przejrzysty i intuicyjny interfejs oraz smukły, wodoodporny design. Uwadze nie uszła również funkcja monitorowania snu, która w urządzeniach z tej półki cenowej nie jest często spotykana.
Kluczowe cechy
Zbieraj dane związane z Twoją aktywnością fizyczną i wykorzystaj je by dopasować intensywność programu treningowego do swoich możliwości.
Lekka i wygodna. Opaska waży zaledwie 20 gramów, co w połączeniu z przyjemnym w dotyku materiałem paska pozwoli Ci zupełnie zapomnieć o urządzeniu i skupić się na treningu
Monitoruj nie tylko swoją aktywność w ciągu dnia, ale i w ciągu nocy. Popraw jakość swojego snu dzięki dostarczonym statystykom
Ostrzeżenie o bezczynności poinformuje Cię, jeśli zbyt długo przebywasz w jednej pozycji. Odejdź od komputera i wyłącz telewizor – czas wyjść na spacer
Wodoodporna konstrukcja pozwoli Ci zanurzyć urządzenie na głębokość do 50 metrów – monitoruj swoją aktywność fizyczną także w wodzie
Dane techniczne
Wymiary: 17.9 x 46.9 x 12 mm, długość paska: 247 mm, regulacja paska: 155-216 mm, waga: 20 g
Bateria i moc: Bateria litowo-jonowa o pojemności 110 mAh, czas czuwania: ok. 20 dni, 5.0V/250mA
Budowa: Obudowa: plastik, zapięcie: stop aluminium, pasek: termoplastyczny elastomer, wodoodporność: 5ATM
Czujniki: 3-osiowy akcelerometr, pulsometr PPG
Wyświetlacz: Przekątna 0.78 cala, rozdzielczość: 128x80
Łączność: Bluetooth 4.2 BLE
Kompatybilność: Android 4.4 lub nowszy, iOS 9.0 lub nowszy
Funkcje: Zegarek, odblokowanie przez uniesienie nadgarstka, krokomierz, monitorowanie snu, prognoza pogody, licznik kalorii, dwu-ekranowy motyw, ustawianie widoczności opcji, pływanie i surfowanie, wyświetlanie/odrzucanie połączeń, przypomnienie o celach, tryb "nie przeszkadzać", odblokowywanie telefonu, lokalizowanie telefonu, ustawianie celów, odległość, wyświetlanie powiadomień, ostrzeżenie o rozładowanej baterii, inteligentne odblokowywanie, wyświetlanie wiadomości, ostrzeżenie o bezczynności, śledzenie znajomych, przypomnienie o nadchodzących wydarzeniach, monitorowanie pulsu, powiadomienia z aplikacji, tempo, timer, aktualizacje OTA.
Zawartość: Mi Band 3, pasek, kabel zasilający, instrukcja obsługi