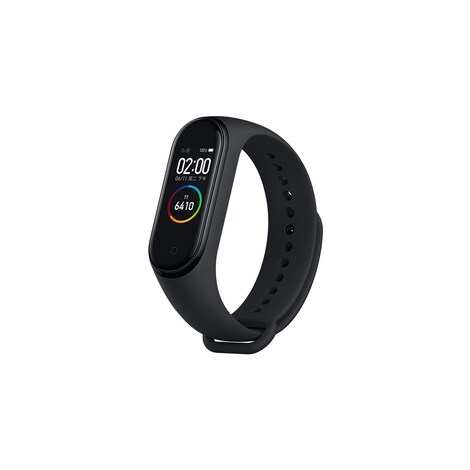 1/1
Xiaomi Mi Band 4
A smart bracelet that can be used to track your exercising progress. Take advantage of real-time heart rate monitor, pedometer, calories burned counter and more to make exercising more effective.Xiaomi Mi Band 4Xiaomi Mi ...
Product description
A smart bracelet that can be used to track your exercising progress. Take advantage of real-time heart rate monitor, pedometer, calories burned counter and more to make exercising more effective.
Xiaomi Mi Band 4
Xiaomi Mi Band 4 is an intelligent bracelet meant to give you some insight into your body – it lets you understand how it behaves during exercising by monitoring your heart rate, for example. It's invaluable data that can be used to make exercising more effective. Additionally, monitoring your progress may be the source of motivation and will encourage you to start exercising more frequently and regularly.
Although it was made with people doing a lot of physical activity in mind, Xiaomi Mi Band 4 can be just as well used by those who simply want to monitor their health in real-time, so they could take proper measures sooner in case they find any alarming signals their body is sending.
Clear AMOLED Touch Display
In Mi Band 4 you will find precise AMOLED touch display that makes it easier to navigate menus and switch between different modes in the band. The font used to present data is big and clear – there's no need to squint to read all the interesting information during a workout. The interface is intuitive and easy to use, so you will be able to start using the bracelet effectively the moment you get it.
Call Receiving and App Notifications
With the smart bracelet, you can be in touch with the world even during a workout, thanks to the possibility of receiving calls and viewing app notifications directly via the band. Now you can focus entirely on exercising. Once someone wants to contact you, you won't need to stop to take the phone out – just take a quick look at your wrist. Receive the call and speak using your earbuds or Bluetooth headphones. Isn't that convenient?
Anti-Idle Feature
The band encourages active life. It does so by notifying you when you've been idle for too long. Sometimes it's not that easy to find a moment to do some stretching, and it's easy to forget about it, especially if you are an office worker. Thankfully with the band, you will be reminded to take a break and go for a walk from time to time, ensuring staying in good shape.
Water Resistance – Up to 50 meters
Fear not the water, as the band is waterproof and can be submerged in water in up to 50 meters, meaning you can use it not only during jogging or cycling but also during swimming or doing water sports. The rain also won't stop you from a daily dose of physical activity – you will be able to monitor your heart rate 24/7 even when the weather is bad.
Xiaomi Mi Band 4 Specs
Weight: 22.1g
Water Resistance Rating:5 ATM
Display Type: AMOLED
Screen Size:0.95"
Resolution: 120 x 240 RGB
Colour Depth:24bit
Screen Brightness: Up to 400 nits (max brightness), brightness adjustable
Touchscreen type: On-cell capacitive touchscreen
Screen protection: 2.5D tempered glass with anti-fingerprint coating
Button: Single touch button (wake up, go back)
Wrist strap type:Removable wrist strap (Mi Smart Band 4 is compatible with Mi Band 3 straps)
Wristband width: 18mm
Wrist strap material: Thermoplastic polyurethane
Adjustable wrist strap length: 155-216mm
RAM: 512KB
ROM: 16MB
Sensors3-axis accelerometer + 3-axis gyroscope;
PPG heart rate sensor;
Capacitive proximity sensor
Wireless connectivity: BT5.0 BLE
Battery: LiPo, 135mAh
Charging Type: 2Pin Pogo Pin
Charging time: ≤ 2 hours
Standby time: Up to 20 days
Motor Type: Rotor
Body material: Polycarbonate
App: Mi Fit
System requirements: Android 4.4, iOS 9.0 or above
Key features
Clear AMOLED touch display with call and notification receiving features
Real-time heart rate monitor and anti-idle alarm
Water resistance – up to 50 meters
Sleep tracking that helps to improve the quality of your sleep
Up to 20 days of battery life
Item type: Brand new
Warranty: 12 months
Important: In case of returning the product, the cost of shipping the product is on the buyer's side.
EAN: 6934177708763
Earn every time someone buys this product using your reflink.