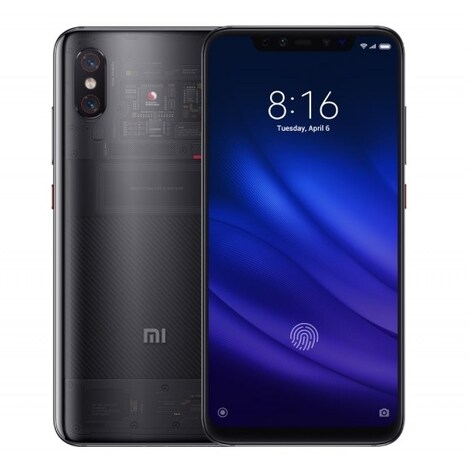 1/1
Xiaomi Mi8 Pro 8/128GB Dual Sim Transparent
XIAOMI Mi8 Pro 8/128gb Wersja Global - menu w języku polskim, obsługa pasma B20, sklep Google Play, aktualizacje OTA Ekran: 6.21" Qualcomm Snapdragon 845 (4 rdzenie, 2.8 GHz + 4 rdzenie, 1.7 GHz) Pamięć wewnę ...
You must be logged in to add products to your wishlist.
Specifications
Specifications
Connectivity:

4G

Contract:

Without Contract

Lock Status:

Factory Unlocked
Product description
XIAOMI Mi8 Pro 8/128gb

Wersja Global - menu w języku polskim, obsługa pasma B20, sklep Google Play, aktualizacje OTA

Ekran: 6.21"

Qualcomm Snapdragon 845 (4 rdzenie, 2.8 GHz + 4 rdzenie, 1.7 GHz)

Pamięć wewnętrzna: 128GB

Pamięć RAM: 8GB

System: Android 8.1 Oreo

Aparat: 20.0 Mpix - przód, 12.0 Mpix + 12.0 Mpix - tył

Bateria: Litowo-polimerowa 3000 mAh
Xiaomi Mi 8 Pro Transparent
Elegancka, smukła linia i przezroczysta obudowa Xiaomi Mi 8 Pro Transparent zachwyci Cię od pierwszego wejrzenia. Pod taflą szkła niczym w gablocie wyeksponowano wnętrze smartfonu, co nadało Mi 8 Pro unikalnego charakteru. Konstrukcje zamyka z przodu druga warstwa szkła, chroniąca ekran Super AMOLED 6,2" z wbudowanym czytnikiem linii papilarnych. Całość uzupełnia flagowy procesor Snapdragon 845 oraz perfekcyjne zdjęcia podwójnego aparatu głównego 12 Mpix z sensorem SONY i funkcją AI.
Panoramiczny wyświetlacz Super AMOLED
Panoramiczny ekran 6,2" Super AMOLED wypełnia praktycznie cały front smartfonu zajmując 86,68% jego powierzchni. W efekcie, jest łatwiejszy w obsłudze, doskonale sprawdza się podczas rozgrywki mobilnej oraz zapewnia kinowe doznania fanom seriali. Mało tego, pod matrycą umieszczono czytnik linii papilarnych, co pozwala odblokować smartfon poprzez przyłożenie palca do ekranu.
Aparat z AI oraz podwójną matrycą 12 Mpix
Xiaomi Mi 8 Pro Transparent wyróżnia się podwójnym aparatem z matrycą SONY IMX363 o rozdzielczości 12 Mpix. Wspiera ją w działaniu zaawansowany algorytm AI, automatycznie rozpoznający scenę i dopasowujący wartości ekspozycji, by uchwycić idealny kadr. Dzięki dużym pikselom 1,4µm zredukowane zostają szumy zapewniając bogactwo detali i piękne kolory, a optyczna stabilizacja obrazu umożliwia wykonanie dynamicznych ujęć bez rozmyć i poruszeń.
Aparat selfie 20 Mpix
Selfie? Z Mi 8 Pro to nic trudnego. Spójż w obiektyw frontowego aparatu 20 Mpix i zwolnij migawkę. Reszte zrobi za Ciebie technologia oraz sztuczna inteligencja. AI błyskawicznie dobierze ustawienia sceny adaptując się do warunków oświetlenia w otoczeniu. Co więcej, algorytm steruje też trybem upiększania oferując naturalny subtelny efekt podkreślenia urody.
Dwie anteny GPS w Xiaomi Mi 8 Pro
Transparentny Xiaomi Mi 8 Pro na każdym kroku zaskakuje nowoczesnymi rozwiązaniami technologicznymi. Wyposażono go na przykład w dwa niezależnie moduły GPS obsługujące pasma L1 oraz L5. W rezultacie smartfon zapewnia bezkonkurencyjną precyzję pozycjonowania nawet w gęstej miejskiej zabudowie.
Flagowy procesor Snapdragon 845
Pracujesz z wymagającymi aplikacjami, grając w najnowsze gry mobilne, a nawet oglądając filmy potrzebujesz bezkompromisowej wydajności. W Xiaomi Mi 8 Pro Transparent zapewnia ją 8-rdzeniowy procesor Snapdragon 845 wsparty przez 8 GB pamięci RAM. To znakomite połączenie pozwala na płynną pracę smartfonu, nawet z wieloma aplikacjami uruchomionymi w tle oraz na podzielonym ekranie. Dodatkowo, Mi 8 Pro posiada też pojemną baterię 3400 mAh z funkcją błyskawicznego ładowania Quick Charge.
Obsługa LTE B20/800 MHz
Modem 4G, zastosowany w smartfonie Xiaomi Mi 8 Pro, obsługuje częstotliwości LTE B1/3/4/5/7/20/38/40. Szczególnie ważne jest LTE B20 z pasmem 800 MHz, bo to dzięki niemu połączysz się z szybkim internetem daleko poza miastem, odpoczywając w plenerze, w górach albo na plaży.
Procesor
Qualcomm Snapdragon 845 (4 rdzenie, 2.8 GHz + 4 rdzenie, 1.7 GHz)
Układ graficzny

Adreno 630

Pamięć RAM

8 GB

Pamięć wbudowana

128 GB

Typ ekranu

IPS

Przekątna ekranu

6,21"

Rozdzielczość ekranu

2248 x 1080

Łączność

Bluetooth

Wi-Fi

LTE
NFC

System nawigacji satelitarnej
Złącza

Gniazdo kart nanoSIM - 2 szt.

USB Typ C - 1 szt.

Bateria

Litowo-polimerowa 3000 mAh

Zainstalowany system operacyjny

Android 8.1 Oreo

Aparat

12.0 Mpix + 12.0 Mpix - tył

20.0 Mpix - przód

Lampa błyskowa

Wbudowana

Rozdzielczość nagrywania wideo

4K

Grubość

7,6 mm

Szerokość

74,8 mm

Wysokość

154,9 mm

Waga

177 g

Kolor

Transparent Titanium

Dodatkowe informacje

Szkło Corning Gorilla Glass

Obudowa wykonana ze szkła i aluminium

Akcelerometr

Żyroskop

Magnetometr

Czujnik światła

Czujnik zbliżenia

Czujnik Halla

Czytnik linii papilarnych wbudowany w ekran

Skaner twarzy

Funkcja szybkiego ładowania Quick Charge

USB OTG

Dołączone akcesoria

Kabel USB
Przejściówka z USB C do minijack

Ładowarka sieciowa

Gwarancja

12 miesięcy (gwarancja producenta)