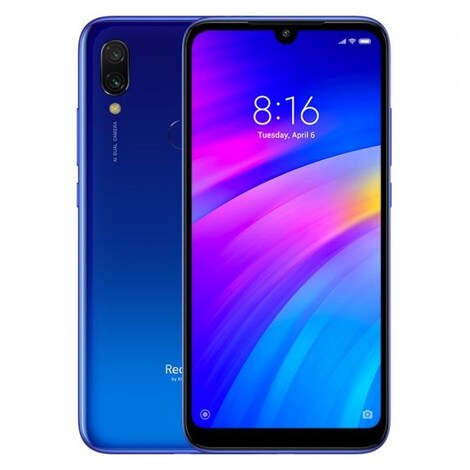 1/1
Xiaomi Redmi 7 3/32GB Dual Sim Niebieski
Xiaomi Redmi 7 3/32GB Dual Sim Ekran: 6,26" Snapdragon 632 (8 rdzeni, do 1.80 GHz) Pamięć wewnętrzna: 32GB Pamięć RAM: 3GB System: Android 9.0 Pie Aparat: 8.0 Mpix - przód, 12.0 + 2.0 Mpix - tył Bateria: L ...
You must be logged in to add products to your wishlist.
Specifications
Specifications
Connectivity:

4G

Contract:

Without Contract

Lock Status:

Factory Unlocked
Product description
Xiaomi Redmi 7 3/32GB Dual Sim

Ekran: 6,26"

Snapdragon 632 (8 rdzeni, do 1.80 GHz)

Pamięć wewnętrzna: 32GB

Pamięć RAM: 3GB

System: Android 9.0 Pie

Aparat: 8.0 Mpix - przód, 12.0 + 2.0 Mpix - tył

Bateria: Litowo-polimerowa 4000 mAh
Xiaomi Redmi 7
Smukła obudowa Redmi 7 w kolorze czarnym wykonana z tworzywa sztucznego oraz duży 6,26'' ekran z wąskimi ramkami powodują, że mamy wrażenie obcowania z urządzeniem nowoczesnym i odpornym na upływ czasu. Stylistyką nawiązuje on do flagowych urządzeń Xiaomi i zdecydowanie wyróżnia się spośród propozycji w tym segmencie cenowym.
Wyższy poziom multimediów z Xiaomi Redmi 7
Urządzenie zostało wyposażone w 6,26'' ekran IPS HD+ z nasyconymi barwami o proporcjach 19:9, który znakomicie nadaje się do konsumowania wszelkiego rodzaju multimediów. Ekran o takiej powierzchni sprawdza się świetnie i zapewnia przyjemne doznania - niezależnie, czy oglądamy filmy na YouTube, nasze ulubione seriale w serwisach streamingowych, czy gramy w gry. Front telefonu jest pokryty szkłem Gorilla Glass piątej generacji, co czyni go odpornym na zarysowania czy upadki.
Wydajny procesor i system operacyjny
Xiaomi Redmi 7 wyposażono w ośmiordzeniowy procesor Snapdragon 632 oraz 3GB pamięci operacyjnej. Taka specyfikacja umożliwia komfortową pracę z urządzeniem, szybkie przełączanie się między aplikacjami, bezproblemową obsługę wielu procesów działających w tle. Zastosowany w Redmi 7 układ graficzny Adreno 506 pozwoli cieszyć się doświadczeniem płynącym z gier dostępnych w Sklepie Play. Nowa wersja nakładki MIUI zapewnia dużą swobodę w personalizacji urządzenia, jest też estetyczna i elegancka, a najnowsza wersja systemu Android pozwala cieszyć się wsparciem twórców aplikacji jeszcze przez długi czas.
W Redmi 7 znajdziemy pojemną baterię 4000 mAh, która w połączeniu z resztą specyfikacji urządzenia zapewnia, nawet przy dość intensywnym użytkowaniu, 2 dni pracy bez konieczności korzystania z ładowarki. Urządzenie wyposażono w standardowy port słuchawkowy 3,5 mm oraz złącze micro USB, dzięki któremu podłączymy smartfon do naszego komputera oraz naładujemy akumulator.
Uwiecznij ulotne chwile z Xiaomi Redmi 7
Redmi 7 wyposażono w aparat przedni 8 MPix, dzięki któremu wykonamy dobrej jakości zdjęcia typu selfie oraz kamerę główną z tyłu urządzenia z dwoma obiektywami - z matrycą 12 MPix oraz 2 MPix. Dzięki takiej budowie aparatu wykonamy zdjęcia z efektem głębi ostrości. Telefon potrafi zaskoczyć jakością wykonywanych zdjęć i niektóre ujęcia można z powodzeniem porównywać z telefonami z wyższej półki cenowej. Wszystko to dzięki zastosowaniu sztucznej inteligencji, która optymalizuje pracę aparatów.
Rozszerzaj pamięć w swoim Redmi 7
Urządzenie posiada 32 GB wbudowanej pamięci wewnętrznej do przechowywania danych, jednak można ją rozbudować, stosując karty microSD o pojemności aż do 512 GB. Dzięki temu będziemy mogli przechowywać więcej zdjęć, filmów czy muzyki niż w niejednym flagowcu za kilka tysięcy złotych. Urządzenie posiada także możliwość obsługi dwóch kart SIM, przy jednoczesnym korzystaniu z kart microSD.
Procesor
Qualcomm Snapdragon 632 (8 rdzeni, do 1.80 GHz)
Układ graficzny

Adreno 506

Pamięć RAM

3 GB

Pamięć wbudowana

32 GB

Typ ekranu

IPS

Przekątna ekranu

6,26"

Rozdzielczość ekranu

1520 x 720

Łączność

Bluetooth

Wi-Fi

LTE

System nawigacji satelitarnej
Złącza

Gniazdo kart nanoSIM - 2 szt.

Czytnik kart pamięci - 1 szt.

Wyjście słuchawkowe/głośnikowe - 1 szt.

Micro USB - 1 szt.

Bateria

Litowo-polimerowa 4000 mAh

Zainstalowany system operacyjny

Android 9.0 Pie

Aparat

12.0 + 2.0 Mpix - tył

8.0 Mpix - przód

Lampa błyskowa

Wbudowana

Rozdzielczość nagrywania wideo

1920 x 1080

Grubość

9 mm

Szerokość

76,4 mm

Wysokość

158,7 mm

Waga

186 g

Kolor

Niebieski

Dodatkowe informacje

Czujnik światła

Czujnik zbliżenia
Czytnik linii papilarnych

Dołączone akcesoria

Kabel USB

Ładowarka sieciowa

Gwarancja

12 miesięcy (gwarancja producenta)