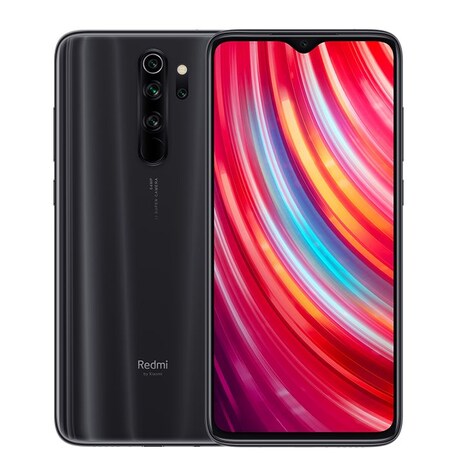 1/1
Xiaomi Redmi Note 8 Pro 6/64GB Dual Sim Szary
Xiaomi Redmi Note 8 Pro 6/64GB Ekran: 6,53" MediaTek Helio G90T (8 rdzeni, do 2.0 GHz) Pamięć wewnętrzna: 64GB Pamięć RAM: 6GB System: Andro ...
You must be logged in to add products to your wishlist.
Specifications
Specifications
Camera Resolution:

20.0MP or More

Connectivity:

4G

Contract:

Without Contract

Features:

Accelerometer

Lock Status:

Factory Unlocked

Memory Card Type:

MicroSD

Operating System:

Android

Processor:

Octa Core

Screen Size:

> 6

SIM Card Slot:

Dual SIM

Brand:

Xiaomi
Product description
Xiaomi Redmi Note 8 Pro 6/64GB

Ekran: 6,53"

MediaTek Helio G90T (8 rdzeni, do 2.0 GHz)

Pamięć wewnętrzna: 64GB

Pamięć RAM: 6GB

System: Android 9.0 Pie

Aparat: 20.0 Mpix - przód, 64.0 + 8.0 + 2.0 + 2.0 Mpix - tył

Bateria: Litowo-polimerowa 4500 mAh
Smartfon, który spodoba się wszystkim graczom
Xiaomi Redmi Note 8 Pro to aż 6 GB RAM-u i aparat 64 Mpix w atrakcyjnej cenie. Ekran z matrycą Full HD+ (2340 x 1080 px) robi niesamowite wrażenie - obraz jest wyświetlany na 91,4% powierzchni urządzenia. To będzie świetnym wybór dla ludzi, którzy szukają czegoś odpowiedniego do gier. Pierwszy raz w historii smartfonów Redmi układ opisywanego modelu jest chłodzony cieczą. Przekonaj się o tym, że warto zdecydować się na to urządzenie.
Poczwórny aparat fotograficzny z lampą
Aparat ma rozdzielczość 64 Mpix. Moduł składa się również z aparatu szerokokątnego (8 Mpix), aparatu makro (2 Mpix) oraz wspomagającego do wykrywania głębi (2 Mpix). Przedni aparat ma matrycę 20 Mpix. Lubisz robić selfie? Funkcja 3D Beautify podkreśli Twoje rysy twarzy i pokaże podgląd w czasie rzeczywistym. Dzięki aparatowi marko możesz uchwycić nawet największe szczegóły.
Doskonała specyfikacja
Xiaomi Redmi Note 8 Pro to świetnie wyposażony smartfon w dobrej cenie. Napędza go procesor MediaTek Helio G90T. Model ma również szereg modułów łączności, w tym NFC. Jego kolejnym plusem jest czytnik linii papilarnych. Dzięki niemu zawsze szybko odblokujesz swój telefon. Akumulator 4500 mAh pozwoli Ci na długie użytkowanie telefonu bez obaw o to, że szybko się rozładuje, kiedy wyjdziesz robić zdjęcia. Zaletą tego modelu jest również funkcja szybkiego ładowania.
Niesamowity design
Xiaomi Redmi Note 8 Pro może się pochwalić solidną konstrukcją z frontem i tyłem wykonanymi ze szkła Corning Gorilla Glass 5. Jego obudowa spełnia normę IP52. Cienki, zaokrąglony korpus sprawi, że ten telefon będzie świetnie wyglądał w Twojej dłoni. Ten design to połączenie sztuki z nowoczesną technologią. Postaw na Xiaomi Redmi Note 8 - smartfon inny niż wszystkie.
Procesor
MediaTek Helio G90T (8 rdzeni, do 2.0 GHz)
Układ graficzny

Mali-G76

Pamięć RAM

6 GB

Pamięć wbudowana

64 GB

Typ ekranu

IPS

Przekątna ekranu

6,53"

Rozdzielczość ekranu

2340 x 1080

Łączność

Bluetooth

Wi-Fi

LTE
NFC

System nawigacji satelitarnej
Złącza

Gniazdo kart nanoSIM - 2 szt.

Czytnik kart pamięci - 1 szt.

Wyjście słuchawkowe/głośnikowe - 1 szt.

USB Typ C - 1 szt.

Bateria

Litowo-polimerowa 4500 mAh

Zainstalowany system operacyjny

Android 9.0 Pie

Aparat

64.0 + 8.0 + 2.0 + 2.0 Mpix - tył

20.0 Mpix - przód

Lampa błyskowa

Wbudowana

Rozdzielczość nagrywania wideo

4K

Grubość

8,8 mm

Szerokość

76,4 mm

Wysokość

161,3 mm

Waga

199,8 g

Kolor

Szary

Dodatkowe informacje

Czujnik światła

Czujnik zbliżenia
Czytnik linii papilarnych

Dołączone akcesoria

Kabel USB

Ładowarka sieciowa

Gwarancja

12 miesięcy (gwarancja producenta)