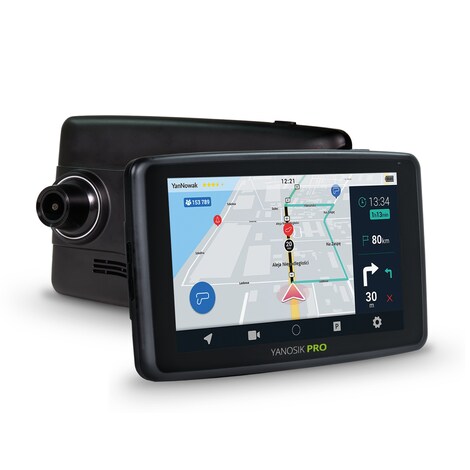 1/1
YANOSIK PRO ANTYRADAR KAMERA NAWIGACJA REJESTRATOR
Selected offer from:
YANOSIK PRO ANTYRADAR KAMERA NAWIGACJAW skład zestawu wchodzi:Urządzenie Yanosik Pro,USB A oraz wejściem video dla kamery cofania,Magnetyczny uchwyt ze złączem OTG,Ładowarka samochodowaŁadowarka sieciowaNaklejka Yanosik ...
Product description
YANOSIK PRO ANTYRADAR KAMERA NAWIGACJA
W skład zestawu wchodzi:
Urządzenie Yanosik Pro,
USB A oraz wejściem video dla kamery cofania,
Magnetyczny uchwyt ze złączem OTG,
Ładowarka samochodowa
Ładowarka sieciowa
Naklejka Yanosik Parking
Instrukcja obsługi po Polsku
Najpopularniejszy w Polsce komunikator drogowy online w najnowszej odsłonie. Yanosik PRO to nie tylko skuteczne narzędzie do informowania o zdarzeniach drogowych i nawigacja omijająca korki, które pozwoli dojechać do celu bezpiecznie i bez mandatów, ale także wideorejestrator samochodowy będący nieoceniony w sytuacjach spornych lub niebezpiecznych. Ponadto urządzenie to daje możliwość bezgotówkowego zakupu biletów parkingowych w strefach płatnego parkowania na terenie ponad 50 miast w Polsce.

UCHWYĆ KAŻDY MOMENT
Yanosik PRO z profesjonalną kamerą stanie się Twoim najlepszym "elektronicznym świadkiem" w sytuacjach spornych na drodze. Wyposażona w technologię OmniPixel3-HS™ kamera udokumentuje przebieg Twojej jazdy, nagrywając obrazy w jakości FullHD, niezależnie od pory dnia i nocy czy warunków atmosferycznych.
POCZUJ SIĘ BEZPIECZNIE
Dzięki systemowi ACR (Auto Crash Recorder) urządzenie automatycznie zarejestruje zdarzenie, gdy gwałtownie zahamujesz lub zderzysz się z innym użytkownikiem ruchu.

WYBIERAJ MĄDRZE
Postój w korku to ostatnia rzecz, o której marzysz wracając z pracy do domu. Siłą Yanosik PRO jest społeczność aktywnych kierowców, będących źródłem bieżących informacji o natężeniu ruchu w danym miejscu. Nawigacja posiada system SmartTraffic wskaże Ci zakorkowane ulice, jeszcze zanim zdecydujesz się na wybór określonej trasy. Po jej zakończeniu urządzenie podsumuje Twoją podróż – liczbę przejechanych kilometrów, czas, średnią prędkość, a także liczbę zdarzeń zgłoszonych za pomocą systemu Yanosik.

LEGALNIE MONITORUJ
Z Yanosikiem PRO nic nie umknie Twojej uwadze. Aktualne informacje o kontrolach prowadzonych przez patrole, lokalizacjach fotoradarów, pracach drogowych czy wypadkach. To najskuteczniejsze rozwiązanie w Polsce, któremu zaufało już ponad 6 000 000 kierowców.

Specyfikacja techniczna:
Wyświetlacz : 5'' IPS High Brightness 854x480
Pamięć operacyjna: 1 GB RAM + 8 GB FLASH
Sterowanie dotykowe poprzez wyświetlacz + klawisze fizyczne
Kamera: 4 Mpix, kąt widzenia 155.7˚, 1920x1080, do 30 klatek na sek.
Zainstalowane mapy: Polski
Profile tras dla samochodów osobowych
Wizualizacja mapy: 2D lub 3D
Dostępne języki nawigacji głosowej: polski
Planowanie trasy: Klasyczna lub z ominięciem korków (technologia Smart Traffic), możliwość omijania dróg płatnych, promów
Menu w języku polskim
Złącza: miniUSB, USB-A (OTG), 2.5 mm video-in jack, 3.5 mm audio jack, microSD, microSIM
Bluetooth
Funkcje dodatkowe: komunikator drogowy, akcelerometr, funkcja wideorejestrator z Auto Crash Recorder (automatyczny zapis przy wykryciu ostrego hamowania lub zderzenia), nawigacja omijająca korki, asystent autostradowy, odległości do najbliższych stacji benzynowych na trasie, możliwość płacenia za parkingi
Kolor obudowy: czarny
Wymiary (szer. x wys. x głęb.): 140.5 mm x 82.7 mm x 16.3 (33) mm
Waga: 183 g
Zasilanie: wbudowany akumulator Li-Ion 1100 mAh, samochodowe 12 V
Dodatkowe: w urządzeniu znajduje się karta SIM
Możliwość podłączenia kamery cofania oraz urządzenia Yanosik Connect pozwalającego na obrazowanie parametrów silnika na wyświetlaczu.
Do prawidłowego działania urządzenia niezbędny jest zakup pakietu transmisji danych.
More information
More information
Invoices
This seller provides invoices. To receive one, you can contact them once you place an order.
Earn 7.37 USD every time someone buys this product using your reflink.