The Witcher 3 and Elden Ring have quite a few things in common. They are both third-person perspective open-world games oriented largely towards melee combat. Both have rich setting lore to draw on, plenty of stories, big and small, to meddle in, and several endings to pursue.
And yet, despite the overt similarities, both games are very different. Let's dissect them a bit and compare what makes them tick, not just for "academic" purposes, but also to give you a clearer idea which game is probably more to your tastes.
Let's get into it!
The Witcher 3 vs. Elden Ring: a sword clash for the ages
Combat
Although both games are open-world, and one would be justified in assuming that the combat system would be similar in order to make the exploration smoother, this couldn't be further from the truth.
Despite its structure, Elden Ring is still firmly rooted in the Dark Souls legacy, which means that fights are hard-hitting and challenging until you figure out the kinks in the combat system and start learning how to turn the tables on your enemies.
Stamina management is essential, but even more important is being aware of attack patterns, hitboxes, and attack range, so that you know when to parry or how to dodge.
Learning all of this might take a while, especially when it comes to boss fights.
From skill threshold foes like Godric the Grafted, to community scourges like Malenia, FromSoftware's fondness for powerful, devastating, but learnable bosses shines in Elden Ring, and you'll most likely die at least a few times to each of them. Of course, as it's an FS game, death only costs you time and the unspent experience currency, so you can quickly get back into the fray for a Round 2, 3, 9…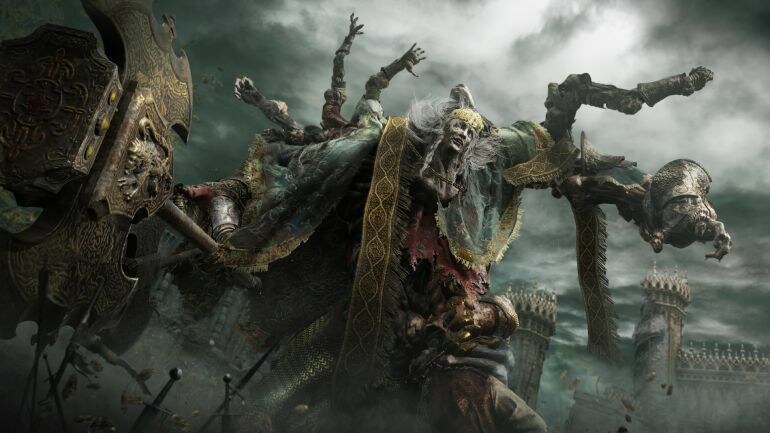 source: https://eldenring.fandom.com/
On the other side of the spectrum sits The Witcher 3, which mostly uses combat more as a punctuation of story and travel, rather than the direct focus. That's not to say the combat is bad! It's simply faster, smoother, and more forgiving, most of the time. While boss battles are a good challenge, particularly in the expansion DLCs, you probably won't hesitate for a moment before waltzing into a group of bandits to dispose of them with a lethal dance of swords and magic.
This can be tweaked, however, since TW3 uses difficulty options. If you want you can go the whole hog and set the game to the Death March difficulty, which makes even a chance encounter with a lowly drowner a much more threatening proposition. You could also go the other way, into a story difficulty, if you're in for the vibes only. This is the flexibility lacking from Elden Ring, which relies on different, less accessible methods of letting you make things easier for yourself.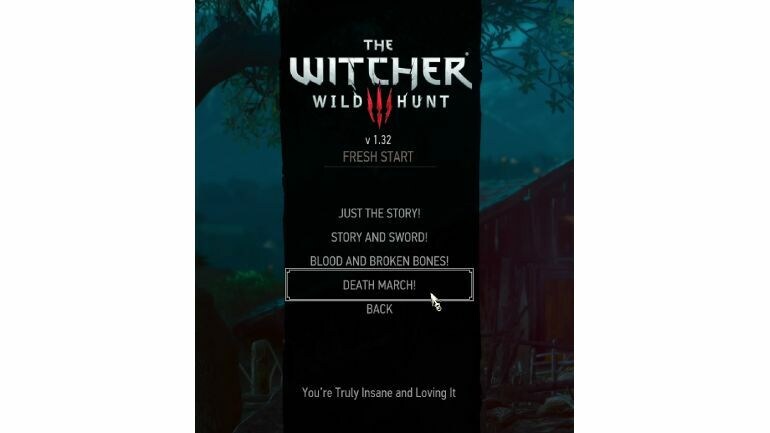 source: https://www.farazjafari.com/
Tools of war
A separate section must be devoted to the range of options available to you in each game.
The Witcher 3 has a fairly focused range of options, after all, you're playing a witcher no matter what, and they have a somewhat standardized gear. As a result, you have your two swords, steel and silver, a hand crossbow, a few bombs and traps for various monsters, and several quick-use magic spells called sings, ranging from crowd control and a magic flamethrower. Of course, you're not locked into the starting equipment, there are tons of different swords, a few crossbows, and an upgrade system for spells. You simply shouldn't expect to start using a bow or a war hammer midway through the game.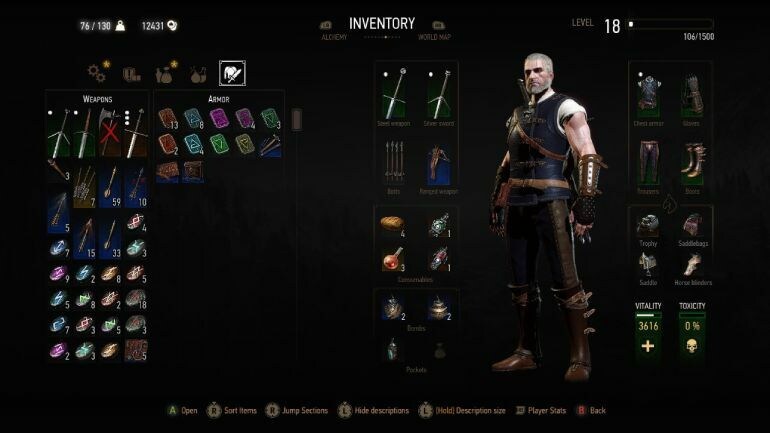 source: https://www.farazjafari.com/
Elden Ring goes in a completely different direction, and its arsenal has about 30 weapon categories, each weapon type with different traits and animations. There are swords of various sizes (including colossal), a few polearms, and even less obvious choices, like whips or clawed gauntlets. And that's before we consider unique weapons, which tend to have an extra quirk or two of their own.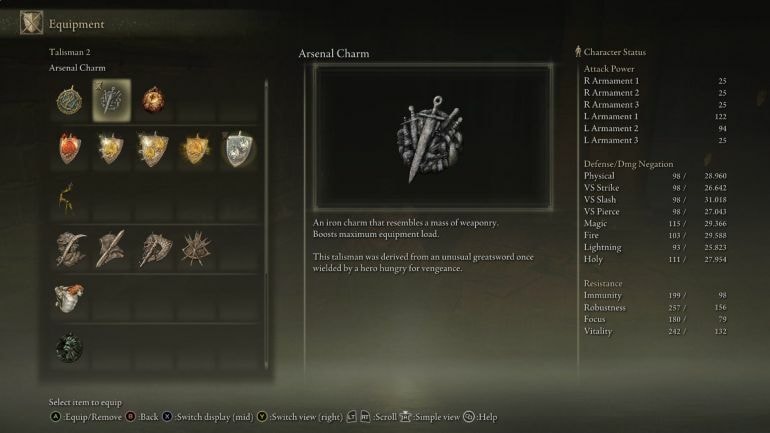 source: https://www.rockpapershotgun.com/
The story
The Witcher 3 is pretty straightforward when it comes to its story. Geralt, now fully cured of amnesia, begins by looking for his lost paramour, sorceress Yennefer, who in turn reveals to him that their adopted daughter, Ciri, has returned and is in danger from the titular Wild Hunt. This is the core plot of the game, but there are a few other momentous elements shaping the story.
The Nilfgaard empire is invading again, and the Northern Kingdoms are quite outclassed despite their fervent resistance. Mages are hounded by the inquisition-like Order of Eternal Fire, and Geralt's long-time ally and sometime lover Triss Merigold is caught in the crossfire. Internally, there are issues of succession and leadership of one of two kingdoms. It's a mess, and Geralt is, as usual, caught in the middle despite his hopes.
It's all presented through traditional cutscenes and cinematic interactive conversations, and outside of these grand storylines there are plenty of smaller ones, funny and tragic alike, for you to weigh in on. As expected in the genre, some choices will come back in your hour of need to aid you, or bite you in the backside, especially when it comes to the ending you get, influenced by your decisions throughout the game.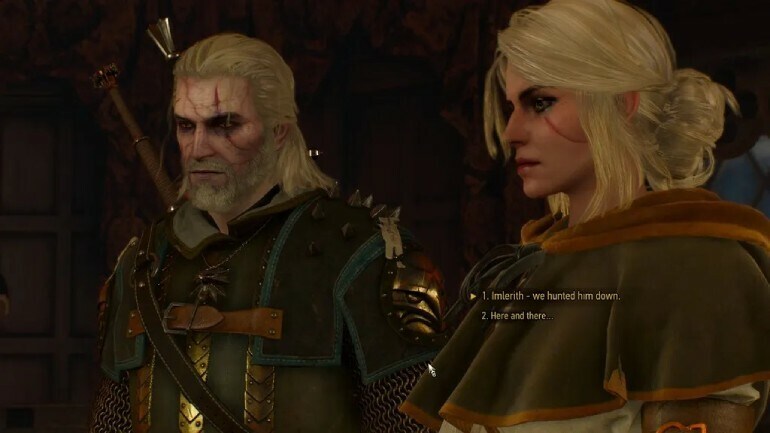 source: https://www.reddit.com/
Meanwhile, Elden Ring is a lot more circumspect about its storytelling. It has an epic tale about demigods, corruption, unworthy leaders, and personal tragedies augmented by mystical ailments, but it mostly wants the player to piece things together from enigmatic conversations and item descriptions delivering lofty lore. There cutscenes, but they rarely clear things up, and act more as scene-setters. Certain solutions are quite obscure, making a "perfect" playthrough something that might require a few attempts or a checklist pulled up on the second screen, but it's a journey worth going on, even though you're playing just a lowly hero returning from banishment to a realm torn apart.
The world
What makes The Witcher 3 and Elden Ring similar is their approach to the world structure. Both games feature a large open world map with plenty of unique locations with their own struggles and opportunities. Both games also provide you with a trusty horse right off the bat, and while The Witcher's Roach is magnificent, Torrent provides a very useful vertical mobility.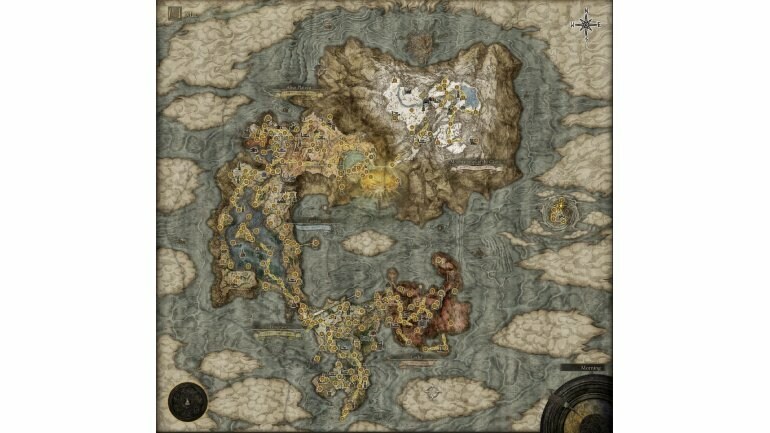 source: https://game8.co/
While the overall idea of the open world is similar, The Witcher 3 looks much more straightforward than ER, which is full of creepy and bizarre designs and characters and places. TW3's Velen or Skellige could fit in quite well in late-medieval Europe, but the Lands Between are unashamedly, and amazingly a dark fantasy place.
This also is reflected in the tone of each game. Elden Ring put all the points into Gravitas, and conversations tend to weigh heavily, even if they are on the more lighthearted side. The Witcher 3 is more natural, instead, deploying curses and colloquial language as appropriate, with a balanced diet of serious and funny moments. Don't worry, it's not MCU, humor doesn't undermine the stakes.
In terms of what you can do in this world, The Witcher 3 peppers the map with points of interest, which range from one-off activities like plopping a bomb into monster nests or saving merchants from bandits to fully-plotted side quests, a card minigame, and looking for lost schematics for witcher gear.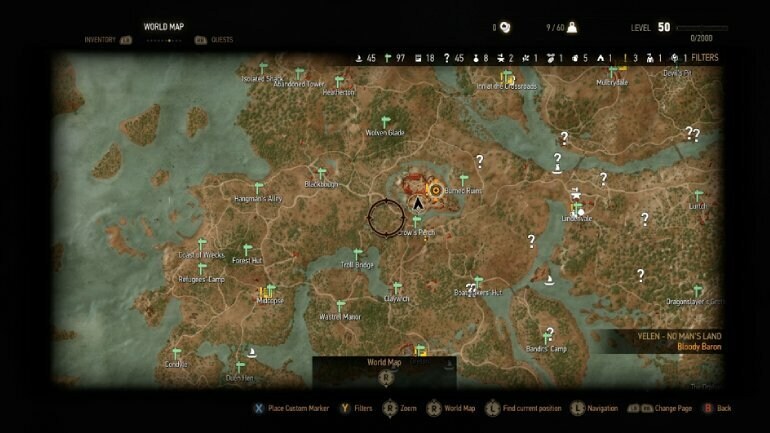 source: https://game8.co/
ER is lighter on map-clutter, but it offers a ton of optional dungeons and combat, and more than a few sidequests which rarely are what they seem on the surface and their reward might be great gear and psychological anguish alike, as it's very easy for nice NPCs to be crushed between corruption and ambition, if you aren't careful.
Both games look incredible, though, especially since TW3 received a next gen update bringing its graphics up to speed.
Progression
To briefly touch on progression, both games are effectively classless, with freeform, point-buy improvements, even though ER uses starting load-outs.
TW has a traditional model of collecting XP to hit the threshold for a new level and receive a skill point you can then spend on a perk. Sadly, they don't work on their own and you need to slot them into a limited number of sockets before you can use them in the game.
On the flipside, ER gives you levels for spending XP (called Runes) on your stats, making your character level a result rather than a source of your upgrades. However, it's not meaningless, as certain defensive attributes increase with each level up. Just be careful: if you hoard XP and die to an enemy you might lose it on respawn, especially if you don't go back to defeat that enemy and reclaim your runes. So it's a mixed blessing: dying isn't a game over, but it might feel like a setback anyway.
Touch grace and kill monsters
This concludes our quick look at the way The Witcher 3 and Elden Ring approach being open-world third-person perspective action RPGs set in dark fantasy worlds. In many ways, they are different from each other, despite top-level similarities, and each offer a different tone and gameplay experience, so it's ultimately up to you to decide. We can't only provide you with the keys to both doors.