World's Largest & Most Secure Marketplace for Digital Products
We are the largest global marketplace for digital products such as games, gift cards and software. We operate in both B2B and B2C channels. We guarantee security and transparency as all our sellers undergo strict business and AML verification. We ensure easy, safe and fast purchasing process as our clients' satisfaction is the top priority for us.
Why should you feel safe when buying at G2A.COM?

200+ payment methods
While shopping, you can pick from over 200 payment methods, including the most popular and secure ones, like PayPal, Skrill, PayU and many others, often popular regional ones.

Fraud prevention supported by AI
Our checkout process is completely safe, covered by a robust and professional Fraud Prevention team, supported by state-of-the-art AI technology used to prevent false or fraudulent transactions - we have been recognized for that at the CNP Awards ceremony by winning the title of Merchant Team of the Year!

Only verified sellers
All our sellers are registered business entities, who had to undergo a strict AML process, which required them sending us all business-related documents to make sure they are legitimate – no anonymous dealer can offer anything for sale via G2A!

Top anti-fraud solutions
Our security measures are so advanced and cutting-edge, we were even invited as a main speaker on a conference focused on ecommerce and anti-fraud solutions.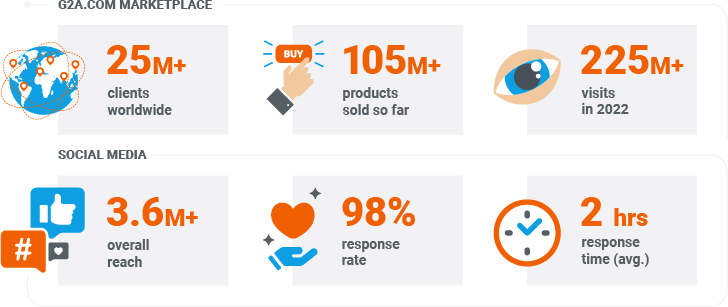 Key numbers
Over 25 million people from 180 countries worldwide have already made purchases at G2A.COM. All of them can choose from 75,000+ digital products offered by sellers from around the world. In addition to our internal security measures, sellers receive publicly visible ratings from users. We are very active on social media generating almost 4 million reach through our channels. We also maintain a fast response system and high quality customer service.


Read more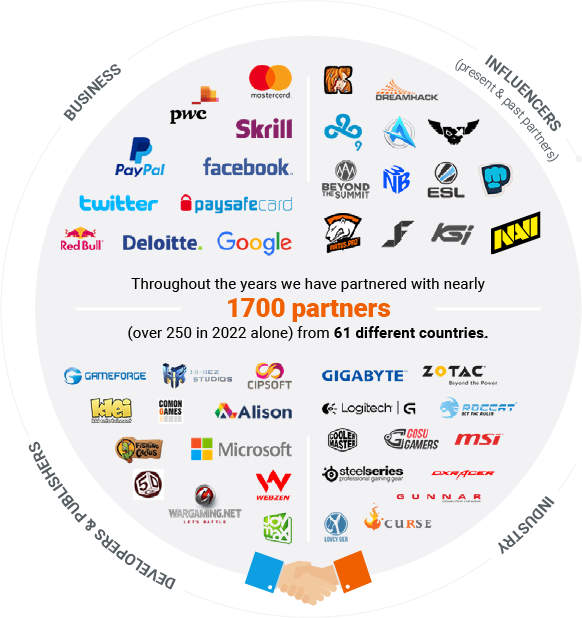 G2A Partners
We have been working with nearly 1600 different partners, including industry leaders (Microsoft, Google, PayPal), game developers and publishers (Wargaming, Gameforge), as well as influencers and esports teams (PewDiePie, NaVi, Virtus.pro, Natus Vincere). As a global company we have cooperated with partners from 61 countries!


Read more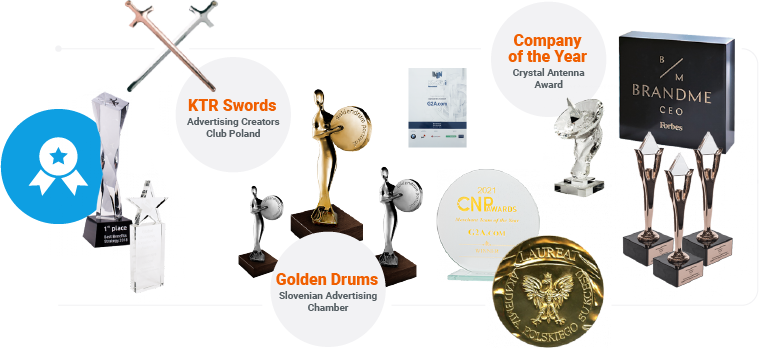 Awards and Recognition
We are often awarded by independent institutions. G2A were placed 8th in the ranking of Top10 Cross Border Marketplaces in Europe. We have won the Global eCommerce Awards 2021 in two categories. Our CEO, Bartosz Skwarczek, was a frequent writer for Forbes. He is also a member of the Forbes Business Council.


Read more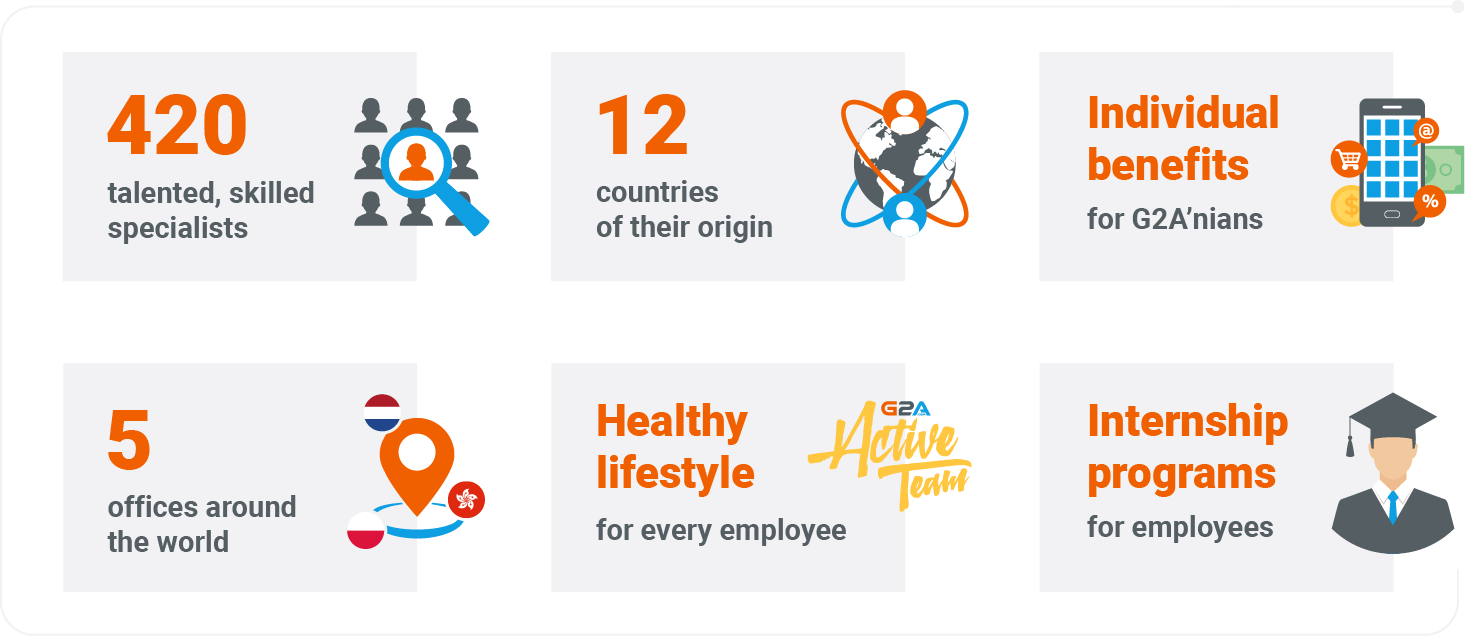 G2A Employees
Our employees are experts in their areas of responsibilities. We have over 400 talented and skilled specialists from 12 countries who can work from anywhere in the world. We attach great importance to keeping gender balance at all levels of the company.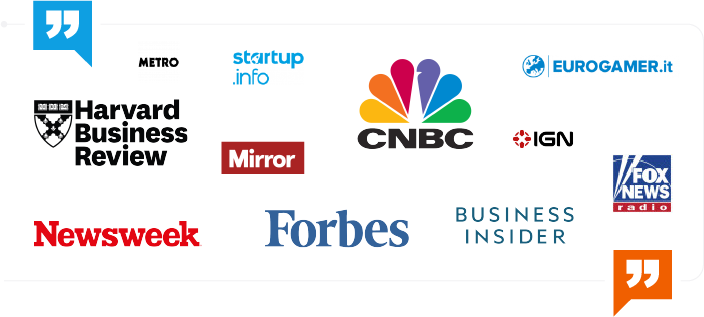 Media About Us
Due to our experience and expertise we are often of interest for journalists and the media. We are very open to talking with them and sharing both our knowledge and trend forecasts. We are not afraid of difficult questions and answer them all to keep maximum transparency.


Read more
G2A History
G2A's humble beginnings – the creation of the go2arena.pl online store
2010
G2A Goldmine – the launch of an affiliate program that gives many benefits, including financial ones, from a partnership with G2A
2013
G2A transforms into a marketplace (a sales platform for partners from all over the world), it is no longer an online store
The beginning of our cooperation with gaming influencers
2014
G2A becomes the No. 1 seller on eBay
G2A Direct – the launch of a support program for developers who want to sell their products on G2A and receive special sales and marketing benefits
G2A becomes the largest marketplace for gamers in the world
2015
G2A becomes the titular sponsor of the Convention and Exhibition Center of the Subcarpathian Voivodship – G2A Arena (we cooperate to this day)
The number of buyers on G2A.COM exceeds 10 million
The launch of G2A.COM mobile app
2016
G2A Plus – the launch of a subscription program for buyers that offers numerous benefits during purchases, such as discounts and special deals
2017
G2A API – the introduction of a new technology for business sellers that allows for a quick and simple import of the products on the platform
The annual number of visits on G2A.COM's website exceeds 300 million
2018
G2A is invited to the 12th edition of the Merchant Payment Ecosystem Conference in Berlin as a speaker and transaction security expert
The number of buyers on G2A.COM exceeds 20 million
2019
G2A is placed 8th on the list of TOP 100 marketplaces operating out of Europe
2020
G2A receives the "Merchant Team of the Year" award during CNP Awards 2021
Important milestone in October: 100 million products sold on our marketplace in total
G2A becomes the largest marketplace with digital products in the world
2021
The introduction of new products in the non-gaming category to G2A's offer, such as gift cards, subscriptions and online account top-ups to make our catalog all-digital
New business strategy – G2A: Gate 2 Adventure
The total social media reach exceeds 3.6 million
2022
</div>

In case you've missed anything
1

How does G2A.COM work?

G2A.COM is the world's leading marketplace with digital products: video games, software, gift cards and so on, anything based on a unique code or activation key. Here you can purchase tens of thousands of different products from hundreds of thousands of verified sellers. Check out our Fact Sheet if you want to learn more about G2A Marketplace.
2

Is G2A.COM safe?

Yes, it's perfectly safe to purchase products on G2A Marketplace. We use state-of-the-art security measures, employ strict KYC procedures and verify the sellers on our platform very thoroughly. Check out these links if you want to know more:
3

How can I sell products on G2A.COM?

It's simple: register on G2A Marketplace and complete a thorough, yet simple verification process. You will be guided through it step by step. Please note that you need to have a registered business in order to be able to sell products on our platform. These links will help you begin:
4

How can I start my career at G2A.COM?

Interested in working for our company? Fantastic! Click here to find out what the current job openings are. Can't wait to hear from you!
5

How can I contact G2A.COM's Support team?

All you need to do is use the contact form available here.

Need more information?
Go to Support Hub to learn more aobut selling on G2A.COM or request a call with our expert.
G2A.COM Limited 31/F, Tower Two, Times Square, 1 Matheson Street
Causeway Bay, Hong Kong
Incorporation number: 2088957
Business registration number: 63264201
Customer (support) services are granted by G2A PL Sp. z o.o.
Address:
G2A PL Sp. z o.o.
53 Emilii Plater Street
00-113 Warsaw
G2A.COM Direct BV - marketplace support
James Wattstraat 77 A 3,
1097DL Amsterdam
Use of this Web site constitutes acceptance of the Terms and Conditions and Privacy policy. All copyrights, trade marks, service marks belong to the corresponding owners.