Counter-Strike: Global Offensive Steam Key GLOBAL
Available from marketplace sellers
There are %d people looking at this product.
Counter-Strike: Global Offensive (CS:GO) for STEAM platform is a digital product – no box included.
Bear in mind that after buying CS:GO (PC) as a GIFT you will not be able to add it to your inventory.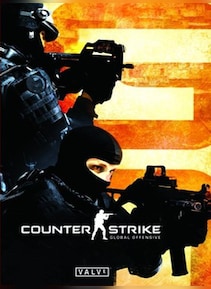 Language available:

Region:

GLOBAL

Platform:
Earn $2.16 if somebody buys this product using your Goldmine reflink. Find out more
Buy product from these sellers:
How does G2A Goldmine work?
Tell your friends about G2A's Goldmine – build a team and boost your earnings!

2

Watch your profit grow!

Just sit back and relax as your work brings profit now! Use the tips and tools we made for you to maximize the earning potential.

A job well done deserves a proper credit. And still, you have not been working hard to achieve it right? Choose your preferred payment option and receive the paycheck!
Product Description

Counter Strike: Global Offensive is a successor to classic tactical team-based first-person shooters Counter Strike: Source, and the first in line: Counter Strike. One of the most popular multiplayer shooters, and an e-sport hit with elite players and prominent tournaments.If you want to see what some of the most prominent gamers play, buy CS:GO and join the elites of gaming.

Gameplay unlike other shooters

Counter Strike: Global Offensive (PC) will make you unlearn what you have learned. Global Offensive is nothing like other first-person shooters. Here you have to be careful and play with your team, or your death will be imminent. Running and gunning will get you nowhere but six feet under. Pick your gear carefully, coordinate with your team and remember: respawns are a luxury!

A mesh of classic and fresh

Counter Strike GO has new maps and weapons as well as upgraded versions of the familiar classics from previous entries. Veterans will feel an instant familiarity, but still have some surprises waiting for them. Even classics like de_dust were rebalanced and new tweaks were introduced to make them open for new tactics.

New official game modes

Bomb and Hostage Scenario are as strong as ever, and now also offer casual matches for those who are still learning the ropes.There are also brand new official modes:

Arms Race - gain new weapons by killing enemies. Kill your way through the entire list and get a winning kill with a Golden Knife
Demolition - a curious middle-point between Arms Race and the Bomb Scenario. Gain new gear like in Arms Race and fight through the rounds to complete the objective
Guardian and Co-op Strike - CS GO PC exclusive game modes. Team up with a friend and fight again AI-controlled enemies in objective- and story-based scenarios.

And finally there is the Deathmatch, where the highest score wins and points depend on the weapon used to kill your enemies.

Visuals better than ever

Each team has seven factions selected at deployment, each with a visually distinct uniform. With CS GO skins the customization can go even further, allowing your soldier to stand out from others in the way you want.The maps underwent a general visual lifting as well, all in the name of greater fidelity and sometimes even more balanced gameplay for either team.

Key features

14 factions - divided between two teams. Play as such iconic units like SWAT, SAS or SEALs against threats from around the world
Over twenty official maps - a mix of new options and classic map rotation
Dozens of weapons - in Global Offensive both Terrorists and Counter-Terrorists have a broad arsenal of weapons drawn from several categories, including rifles, shotguns, and submachine guns
Round-based core modes - earn cash by playing well and spend it on new gear between rounds. The better you play, the better gear you get

CS GO PC

is the ultimate Counter Strike experience, with two unique modes and the best support.

Requirements

System Requirements:

Windows XP / Vista / 7

Processor:

Intel Core 2 Duo E6600 / AMD Phenom X3 8750

Memory:

2 GB RAM

Graphics:

256 MB VRAM - GeForce 8600

HDD:

7.6 GB HD

Other:

Internet connection

Age and content rating
Frequently bought with this item