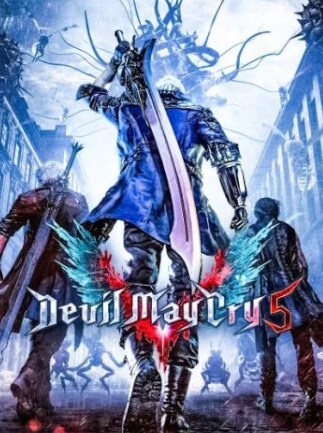 1/1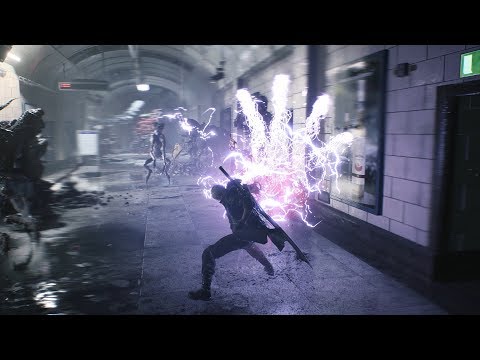 Devil May Cry 5 Standard Edition Steam Key GLOBAL
The legendary silver-haired demon hunter is back! Devil May Cry 5 was developed by Capcom for PC, PlayStation 4 and Xbox One. It is the fifth instalment of the hack'n'slash action saga, sequel to the fourth instalment st ...
Czytaj więcej
Oferta od sprzedawcy
Informacje zwrotne na temat sprzedaży (ostatnie 12 miesięcy)
---
Ten sprzedawca nie wystawia faktur.
Gwarancja zwrotu pieniędzy
dla produktów cyfrowych dostarczanych przez sprzedawców
Oferty natychmiastowej dostawy

G_rush

Świetny sprzedawca

100%

Pozytywne opinie

1711

Informacje zwrotne na temat sprzedaży (ostatnie 12 miesięcy)

---

Ten sprzedawca otrzymał wyjątkowo wysokie oceny od kupujących za doskonałą obsługę klienta.

---

Ten sprzedawca nie wystawia faktur.

0

Gamersuniverse

Świetny sprzedawca

100%

Pozytywne opinie

108136

Informacje zwrotne na temat sprzedaży (ostatnie 12 miesięcy)

---

Ten sprzedawca otrzymał wyjątkowo wysokie oceny od kupujących za doskonałą obsługę klienta.

---

Ten sprzedawca nie wystawia faktur.

0

Informacje zwrotne na temat sprzedaży (ostatnie 12 miesięcy)

---

Ten sprzedawca nie wystawia faktur.

0

Superbkeys

Świetny sprzedawca

100%

Pozytywne opinie

5738

Informacje zwrotne na temat sprzedaży (ostatnie 12 miesięcy)

---

Ten sprzedawca otrzymał wyjątkowo wysokie oceny od kupujących za doskonałą obsługę klienta.

---

Ten sprzedawca nie wystawia faktur.

0

Lancce

Świetny sprzedawca

100%

Pozytywne opinie

2277

Informacje zwrotne na temat sprzedaży (ostatnie 12 miesięcy)

---

Ten sprzedawca otrzymał wyjątkowo wysokie oceny od kupujących za doskonałą obsługę klienta.

---

Ten sprzedawca nie wystawia faktur.

0

Gamesdivision

Świetny sprzedawca

100%

Pozytywne opinie

1554

Informacje zwrotne na temat sprzedaży (ostatnie 12 miesięcy)

---

Ten sprzedawca otrzymał wyjątkowo wysokie oceny od kupujących za doskonałą obsługę klienta.

---

Ten sprzedawca nie wystawia faktur.

0

Informacje zwrotne na temat sprzedaży (ostatnie 12 miesięcy)

---

Ten sprzedawca nie wystawia faktur.

0

Pokaż 4 więcej ofert

WARNING! This product is region locked and CAN'T be activated in: Japan.

The legendary silver-haired demon hunter is back! Devil May Cry 5 was developed by Capcom for PC, PlayStation 4 and Xbox One. It is the fifth instalment of the hack'n'slash action saga, sequel to the fourth instalment starring Nero and Dante.

The Devil May Cry series has always been about the legacy of the Legendary Dark Knight Sparda, and DMC 5 takes it up a couple notches. Dante is back, of course, cooler and more dangerous than ever. He has never been more motivated to join the fight. Nero, now without his demonic arm, finds some closure, and several awesome cyberdemonic prosthetic arms to beat demons' into submission. And then there's V, a mysterious stranger who delegates summoned demonic manifestations to do most of the fighting for him.

We cannot forget about the supporting cast: both Lady and Trish return from earlier games in the franchise to help Dante dispose of demons. There's also Nico, Nero's mechanic and a brilliant engineer, supplying Nero with new arms she develops. A granddaughter of the gunsmith who made Dante's Ebony and Ivory, and daughter of a certain antagonistic scientist from a past game, she has a strong connection to both protagonists.

Gameplay

Enjoy ridiculously spectacular battles, explore many breath-taking locations, swiftly dodge devastating attacks, and defeat powerful enemies. Game features impressive graphics, fast-paced action presented at 60 fps, a large number of special effects, and numerous enemies all of which may occur on the screen at the same time. Slaughter powerful evil demons and fight them in the most creative way you can think of.




In Devil May Cry 5 Dante keeps his ability to switch between combat styles on the fly, and it's going to be integral to you combos, just like a bunch of new moves Nero can access thanks to his prosthetic arms. If you don't feel like getting up close and personal, V needs to keep his distance until it's time to deal the finishing blow. His three demons will take care of the hard parts.

More weapons than you can handle

If you like setting up loadouts, then you'll have a good time in Devil May Cry 5. Dante alone gains and arsenal of weapons, such as an upgraded version of the classic Cerberus nunchucks, or a new, talkative, set of combat boots and gauntlets, the former of which bring more flips and kicks!

Nero on the other hand in addition to his fuel-powered sword Red Queen gets to equip prosthetic Devil Breakers, each of which has unique abilities. You can even choose the order in which they appear, to make weaving complex combos easier. Can you master all the weapons with all the Styles and create mad combos?

The story

Meet one of the main protagonists of the series, Nero, a demon hunter. The demonic invasion begins with a demonic tree that starts growing in Red Grave City. This infernal raid attracts the attention of an ally of Dante, young Nero who is now without his demonic arm, the source of his power. Enter Red Grave City to face the final onslaught of demons. Equip new and classic weapons to face new threats and prepare yourself for an unforgettable experience.

Poniżej znajdują się minimalne i zalecane specyfikacje systemowe produktu Devil May Cry 5 Standard Edition Steam Key GLOBAL. Ze względu na potencjalne zmiany programistyczne, minimalne wymagania systemowe produktu Devil May Cry 5 Standard Edition Steam Key GLOBAL mogą z czasem ulec zmianie.

English

French

Italian

German

Spanish

Portugese-Brasil

Polish

Russian

Chinese

Japanese

Korean
Payment methods:
and 200+ more