Tom Clancy's The Division UPLAY CD-KEY GLOBAL
Available from marketplace sellers
There are %d people looking at this product.
Warning! Tom Clancy's The Division CANNOT be activated in following countries: Armenia, Azerbaijan, Belarus, Ukraine, Georgia, Kazakhstan, Republic of Moldova, Tajikistan, Uzbekistan, Russian Federation, Isle of Man, Jersey, South Georgia and the South Sandwich Islands, Great Britain, Guernsey, Bangladesh, Bhutan, Brunei Darussalam, Cambodia, Hong Kong, Indonesia, Republic of Korea, Lao People's Democratic Republic, Macau, Malaysia, Mongolia, Myanmar, Nepal, Philippines, Singapore, Taiwan, Thailand, Vietnam, India.
Tom Clancy's The Division (PC) for Uplay platform is a digital product – no box included. The price applies to a digital version of the product.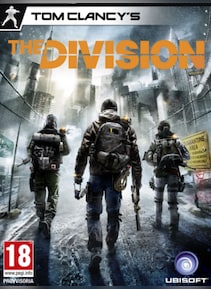 Language available:

Region:

GLOBAL

Platform:
Earn $0.03 if somebody buys this product using your Goldmine reflink. Find out more
Buy product from these sellers:
How does G2A Goldmine work?
Tell your friends about G2A's Goldmine – build a team and boost your earnings!

2

Watch your profit grow!

Just sit back and relax as your work brings profit now! Use the tips and tools we made for you to maximize the earning potential.

A job well done deserves a proper credit. And still, you have not been working hard to achieve it right? Choose your preferred payment option and receive the paycheck!
Product Description

Tom Clancy's The Division is an multiplayer third-person shooter with a robust cover system set in an urban landscape of New York's most famous part.

Set on Manhattan, largely abandoned due to an unprecedented biological strike which unleashed a deadly virus on the population. Only a secret cell of operatives has the backing and the skill to bring back the order and fight back against people who would use the chaos for their own gains.

Disease-ridden Manhattan

On a Black Friday a smallpox virus got transmitted across New York on banknotes. As the chaos spread, Manhattan was placed under a quarantine to contain the epidemic. As an emergency response, the government activates sleeper cells planted in the city by the Strategic Homeland Division. Gather personnel capable of running your base of operations and investigate the source of infection.

Intense and tactical gameplay

Tom Clancy's The Division is not a shooter for impatient gamers. The enemies are tough, so you have to stay in cover and outflank them whenever possible. Team-up with other players to tackle missions too hard for just one person, or to venture into the Dark Zone, a place where rules are thrown out the window and the loot is better than anyone else. If that is not enough, the dynamic weather and day-night cycle changes the circumstances of your fights and enemy behavior. Stay flexible or be dead.

The Dark Zone

When you feel comfortably powerful and well-equipped go to the quarantined Dark Zone, where other players fight to get the best weapons available in the game. Just remember never to fully trust anyone, especially when you have already signaled for extraction. The Dark Zone is a no holds barred PvP experience where you never know what to expect. Are you tough enough to get away with both your life and your loot?

Robust character progression

Your character is defined by three core stats: Firearms, Stamina, and Electronics, each of which influences a different aspect of the Division agent's effectiveness on the field. Gain experience and resources as you play to upgrade your character and your base of operations, which provides you with ammo, special perks and abilities, and finally a safe place amidst the chaos of the city.

Large armory

The Division has five (six including sidearms) weapon classes, five weapon grades ranging from Worn to Superior. And that's just the weapons. The Division's armory also has armor and gear to further customize your operative, and weapon mods on top of that. Emphasize your best traits or compensate for lacking skills with proper mods and make your agent not only one of a kind, but also the best of a kind.

Key features

Open World – travers the New York City and save it from destruction. Complete numerous main and side quests, gather loot, improve your skills, and cooperate with other players. All of this on a well-recreated New Your City streets.
The Strategic Homeland Division – become the agent of the Division, restore order and save what remains of the New York City.
The Division Agent – use your smart watch which connects you to the Net and see all the activated agents – coordinate your efforts to complete mission. Use high-tech equipment and a variety or armaments to restore peace. The Pulse feature might be useful as it highlights enemies that are close to you. Take advantage of Riot shields to cover from enemy fire, or sticky bombs which stick to a target or surface and is exploded remotely.

Gain experience and improve your skills and abilities.

The Base of Operations- it is a place where you receive missions. The base consists of 3 wings – Medical wing (where you investigate the source of the virus), security wing (find out about gangs which overtook the districts of New York) and technical wing (solve the mystery connected with disappearing of the first wave of agents).
Weapons – modify your weapons by adding various attachments with determined quality (from common to legendary). If you gun allows modifications feel free to enhance it with a silencer, optics or extended magazines. Choose between 6 weapon types and take three with you including: a side arm, primary weapon and secondary weapon.
Equipment – unlock powerful armors, weapons and gadgets to gain advantage over your enemies. Search for vendors who are located at their respective stations. Interact with them to buy and sell items.
Factions - encounter many factions like the Rikers (former convicts from Rikers Island), the Cleaners (former blue collar workers who believe that the only way to stop the crisis is to burn everything down, including people who still live in the city) or the Rioters (unorganized criminals who simply rob and kill)
Multiplayer – the game offers a possibility to play alone, but some missions might be too difficult and will require forming a team. The team can be formed by your friends or, if not possible, with the use of a matchmaking system. Cooperation may prove vital to success as you can later on exchange loot. Still, if you want to compete with other players, the developers also provide PVP option.

Minimal requirements

Recommended requirements

System Requirements:

Windows 7 / 8.1 / 10 (64-bit only)

Processor:

Intel Core i5-2400 / AMD FX-6100

Memory:

6 GB RAM

Graphics:

2 GB VRAM - NVIDIA GeForce GTX 560 / AMD Radeon HD 7770

HDD:

40 GB HD

Platform:

PC

System Requirements:

Windows 7 / 8.1 / 10 (64-bit only)

Processor:

Intel Core i7-3770 / AMD FX-8350

Memory:

8 GB RAM

Graphics:

NVIDIA GeForce GTX 970 / AMD Radeon R9 290

HDD:

40 GB HD

Platform:

PC

Age and content rating

Other

Uplay

Key has to be activated after an installation on Uplay platform. Then game is assinged to your Uplay account.

Key Type

This product is available as a CD key carried out via digital means - no shipping fees apply.
Frequently bought with this item