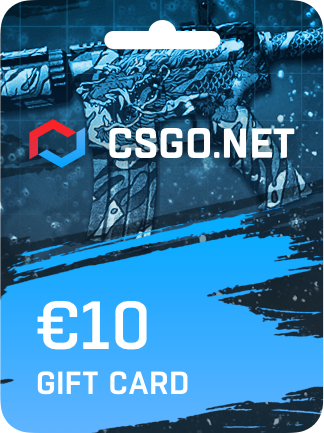 1/1




CSGO.net Gift Card 10 EUR
CSGO.net is one of the most popular websites letting you open cases for Counter-Strike: Global Offensive. For a fee its users can engage in several activities allowing them to open cases with CS:GO skins. In addition to ...
Read More
Offer from seller
Topseller2021
94%
Positive feedback
4658
Sales feedback (last 12 months)
---
This seller has received exceptionally high ratings from buyers for outstanding customer service.
---
This seller does not issue invoices.
Money Back Guarantee
for digital products provided by sellers
Activation guide:

1. Go to CSGO.net

2. In your profile Press "add funds".

3. Enter your gift card code in field "I have promocode!" and click add funds.

No expiration date.

CSGO.net is one of the most popular websites letting you open cases for Counter-Strike: Global Offensive. For a fee its users can engage in several activities allowing them to open cases with CS:GO skins. In addition to just opening the cases, they can play a game of Scratchcards, and win skins if they uncover matching items on a grid, or even try their luck in battles. A user willing to take a little risk can pick a case to be opened and challenge another user. The fighter whose case yields the more valuable drops takes the prize!

With this CSGO.net gift card you can top up your e-wallet in a quick and safe manner, or even give it to your friend. A €10 voucher is enough to let you open quite a few cases and see what's inside. If you don't like what you get, you can always sell it to the site at Steam prices.

English
Payment methods:
and 200+ more