Torment: Tides of Numenera Day One Edition Steam Key EUROPE
Available from marketplace sellers
There are %d people looking at this product.
NOTE: Day One Edition includes the following items:
Torment: Tides of Numenera Base Game
Digital Copy of the Traveler's Guide
DLC activation:
Go to "got code?" section and log in or sign up
Enter your code and click "Redeem"
Go to you collection section and download the content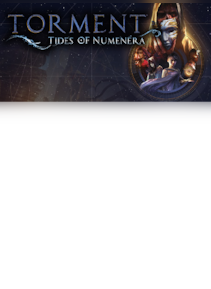 Language available:

Region:

EUROPE

Platform:
Buy product from these sellers:
How does G2A Goldmine work?
Tell your friends about G2A's Goldmine – build a team and boost your earnings!

2

Watch your profit grow!

Just sit back and relax as your work brings profit now! Use the tips and tools we made for you to maximize the earning potential.

A job well done deserves a proper credit. And still, you have not been working hard to achieve it right? Choose your preferred payment option and receive the paycheck!
Product Description

You are born falling from orbit, a new mind in a body once occupied by the Changing God, a being who has cheated death for millennia. If you survive, your journey through the Ninth World will only get stranger… and deadlier.

With a host of strange companions – whose motives and goals may help or harm you – you must escape an ancient, unstoppable creature called the Sorrow and answer the question that defines your existence: What does one life matter?

Torment: Tides of Numenera is the thematic successor to Planescape: Torment, one of the most critically acclaimed and beloved role-playing games of all time. Torment: Tides of Numenera is a single-player, isometric, narrative-driven role-playing game set in Monte Cook's Numenera universe, and brought to you by the creative team behind Planescape: Torment and the award-winning Wasteland 2.

Key features



A Deep, Thematically Satisfying Story. The philosophical underpinnings of Torment drive the game, both mechanically and narratively. Your words, choices, and actions are your primary weapons.


A World Unlike Any Other. Journey across the Ninth World, a fantastic, original setting, with awe-inspiring visuals, offbeat and unpredictable items to use in and out of battle, and stunning feats of magic. Powered by technology used in the award-winning Pillars of Eternity by Obsidian Entertainment, the Numenera setting by Monte Cook provides endless wonders and impossibly imaginative locations for you to explore.


A Rich, Personal Narrative. Thoughtful and character-driven, the story is epic in feel but deeply personal in substance, with nontraditional characters and companions whose motivations and desires shape their actions throughout the game.


Reactivity, Replayability, and the Tides. Your choices matter, and morality in the Ninth World is not a simple matter of "right" and "wrong". You will decide the fates of those around you, and characters will react to your decisions and reputation. The result is a deeply replayable experience that arises naturally from your actions throughout the game.


A New Take on Combat. With the Crisis system, combat is more than just bashing your enemies. Plan your way through hand-crafted set-pieces which combine battles with environmental puzzles, social interaction, stealth, and more.



Minimal requirements

Recommended requirements

System Requirements:

Windows 7 64Bit

Processor:

Intel Core i3

Memory:

4 GB

Graphics:

NVIDIA GeForce GTX 460

HDD:

20 GB

System Requirements:

Windows 10 64Bit

Processor:

Intel i5 series or AMD Equivalent

Memory:

8 GB

Graphics:

NVIDIA GeForce GTX 560

HDD:

20 GB

Age and content rating