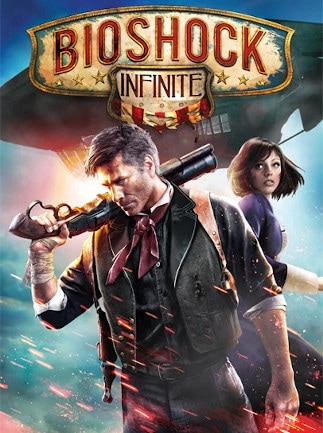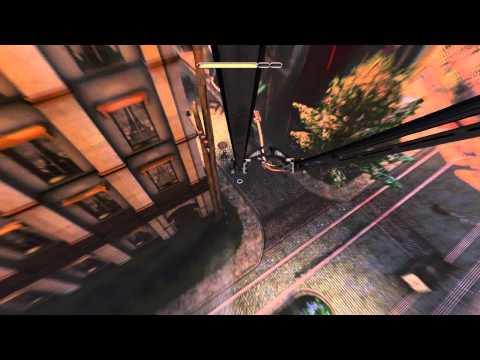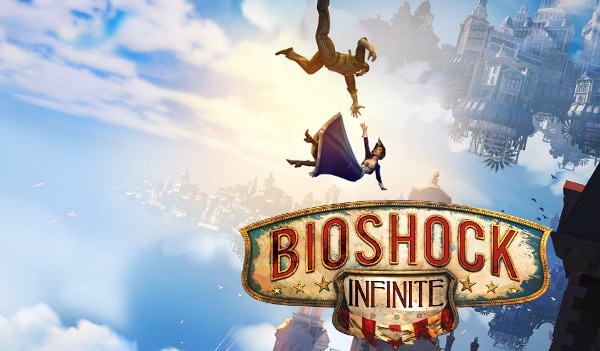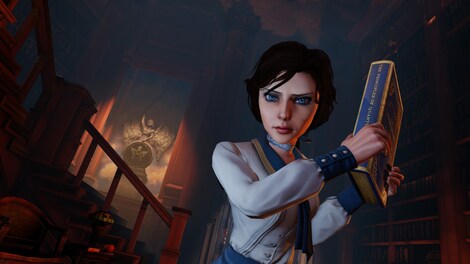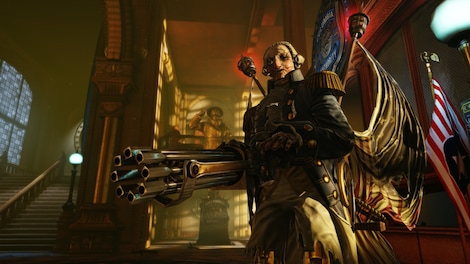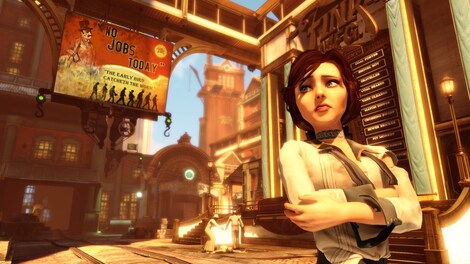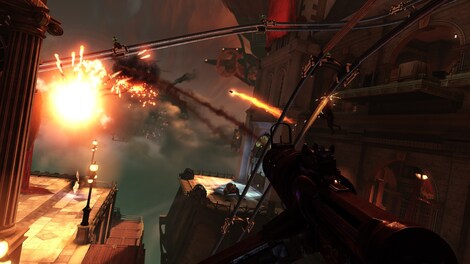 1/9
GLOBAL version
Bioshock Infinite (PC) - Steam Key - GLOBAL
Bioshock: Infinite is the third installment of the Bioshock series, developed by Irrational Games. The game takes the player to the sky city of Columbia on a mission to find a mysterious girl.
Buy it in a bundle, pay less: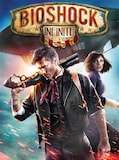 Bioshock Infinite (PC) - Steam Key - GLOBAL
GLOBAL
Offer from: Kgamestrade
Product description
Gameplay features include thrilling first-person shooter combat gameplay, use of various supernatural powers, and more. Bioshock: Infinite received with critical acclaim from both players and critics.
Bioshock: Infinite
BioShock Infinite is a first-person shooter action game developed by Irrational Games and published by 2K. The game is the third installment of the Bioshock series and the first one set outside the underwater city of Rapture. In Infinite, the player controls the character of Booker DeWitt, a former Pinkerton-turned-private eye, who is tasked with bringing in a mysterious girl, Elizabeth, in return for squaring away his multiple gambling debts. Traveling to the sky city of Columbia, Booker finds out that his mission might be a little more complicated than he initially thought. The game received widespread acclaim for its gameplay, as well as complex characters and story.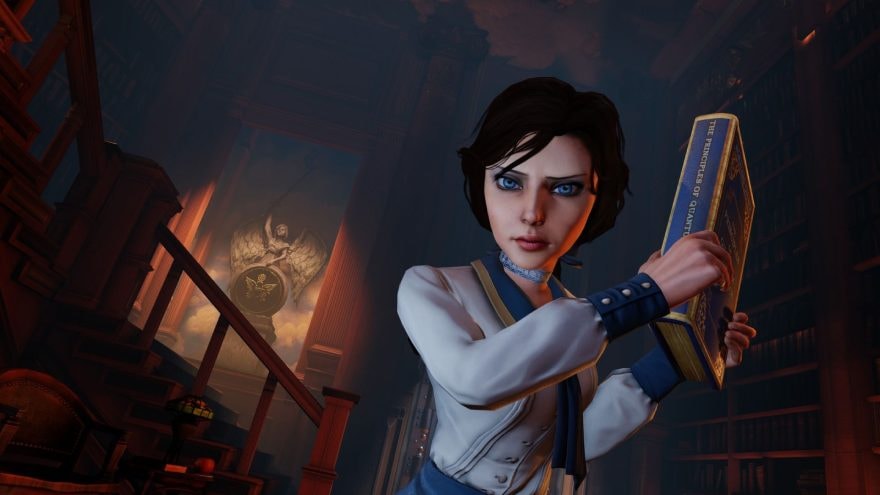 Bring us the girl and wipe away the debt!
The gameplay of Infinite follows many of the same beats as the previous installments of the Bioshock series. The player controls the character of Booker in a semi-open environment of Columbia, exploring narrow streets and open squares in search of useful items. The game introduces a system of sky rails, which can be used to travel from one point to the other quickly and to gain an advantage in combat. The system of plasmids, granting player's unique abilities, is replaced with Vigors, with the difference being in name only.
The core fighting mechanics involve using various types of weapons, like machine guns, shotguns, grenade launchers, and Vigors, as mentioned earlier. By using the latter, the player gains access to various abilities, such as shooting fire from their palms, summoning a murder of crows, or possessing enemies and machines, turning them against their allies.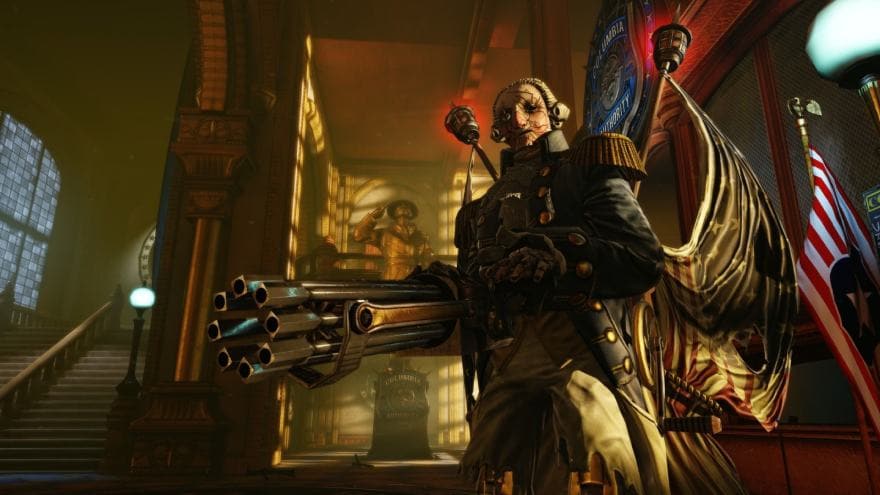 Will the circle be unbroken?
In 1912, Booker DeWitt, a veteran of Wounded Knee massacre and an ex-Pinkerton-turned-private eye, is hired to find a girl named Elizabeth, hidden somewhere in the sky city of Columbia. For carrying out the job, he is promised that all his debts, amassed through heavy gambling addiction, will be wiped away. What initially seems like a simple job quickly turns sideways, as Booker gets involved in Columbia's internal struggle between the city's religious establishment, led by charismatic Father Comstock and lower-class revolution of Daisy Fitzroy and her Vox Populi movement. As Booker searches the city for the girl, he finds out that there is more to her than he thought, with mentions of her strange time and space-warping abilities and terrifying monster guarding her.
Reception
Bioshock: Infinite was met with universal critical acclaim and quickly became a cult-classic among the fans. Reviews praised the titles frenetic combat gameplay, combined melee and weapon play, as well as the use of various abilities granted by the Vigors. The plot of the game was also considered one of the game's strongest points, with particular praise going to Troy Baker and Courtnee Draper. They portrayed the characters of Booker and Elizabeth with subtlety and compassion. The title was nominated to various awards, winning among others the Spike VGX 2013 award for the Best Shooter.
Key features
An excellent continuation of Bioshock series traditions.
A brand-new setting of Columbia, based around the themes of American Exceptionalism.
A thrilling and complex story, featuring an excellent voice cast performaces
A combination of melee and weapons combat.
Use supernatural enhancers, Vigors, to overwhelm enemies.
Release date: 2013-03-25
System requirements
System requirements
Below are the minimum and recommended system specifications for Bioshock Infinite (PC) - Steam Key - GLOBAL. Due to potential programming changes, the minimum system requirements for Bioshock Infinite (PC) - Steam Key - GLOBAL may change over time.
Minimal requirements
Processor

2.4 GHz - Core 2 Duo E4600 / Athlon 64 X2 Dual Core 5200+

Graphics

GeForce GT 340 / Radeon HD 3800

Memory

2 GB RAM

Disk space

20 GB HD

System

Windows Vista Service Pack 2
Recommended requirements
Processor

2.4 GHz - Core 2 Quad Q6600 / Athlon II X4 610e

Graphics

GeForce GTX 560 / Radeon HD 6950

Memory

4 GB RAM

Disk space

20 GB HD

System

Windows 7 64Bit
Languages
Languages
Portugese-Brasil, German, Spanish, French, Italian, Japanese, Korean, Polish, English
Age restrictions
Age restrictions


This product contains elements of