Torment: Tides of Numenera STEAM CD-KEY GLOBAL
Available from marketplace sellers
There are %d people looking at this product.
Torment: Tides of Numenera (PC) for Steam platform is a digital product – no box included. The price applies to a digital version of the product.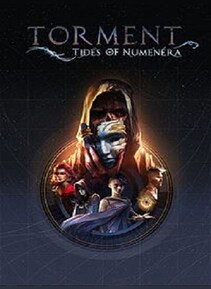 Language available:

Region:

GLOBAL

Platform:
Buy product from these sellers:
How does G2A Goldmine work?
Tell your friends about G2A's Goldmine – build a team and boost your earnings!

2

Watch your profit grow!

Just sit back and relax as your work brings profit now! Use the tips and tools we made for you to maximize the earning potential.

A job well done deserves a proper credit. And still, you have not been working hard to achieve it right? Choose your preferred payment option and receive the paycheck!
Product Description

The worthy thematic and structural successor to 1999's cult classic Planescape: Torment has finally arrived. Torment: Tides of Numenera (PC) by inXile Entertainment is a narrative-heavy, flexible in its storyteling, compelling tribute to one of the greatest RPGs of all time: Planescape: Torment.

Bizarre world

The setting of Torment: Tides of Numenera is taken straight from the pen-and-paper rulebooks for Monte Cook's Numenera system. Nanotechnology can look like spells, power cores from ancient robots might as well be magic crystals, and mutations made much of the wildlife little different from monsters. The Ninth World is Earth in a billion years, but don't expect to see many familiar sights: even the ground is mostly made up of nanomachines.

Gripping story

You start the game falling from orbit and then things start getting crazy. You are the Last Castoff, an artificially grown body which until very recently held the consciousness of an ancient scientist, who has been jumping bodies for centuries. And yet it still isn't the weirdest part. Learn your place in the world, uncover the mysteries of the past, and answer one vital question: what does one life matter?

Eccentric companions

A journey is only as good as your company. Torment: Tides of Numenera has a suitably weird cast to complement the bizarre world. A girl holding a god in her pocket. A scholar surrounded by the visages of her version in infinite realities. A gruff man with living tattoos covering his arms. Treat them properly and many will surprise you in ways you wouldn't expect. But be careful: you can only travel with a handful, and not all will want to come back after you send them away for a while.

Mindscapes and memories

Torment: Tides of Numenera doesn't end on the physical world. You can scan others' thoughts, discovering their hidden agendas. Enter your own psyche to solve riddles and challenges stopping you from realizing the full potential of your body and mind. You can even experience the memories of others like you thanks to weird science. Wage wars for your soul, trade feelings and memories to unfeeling beings, and more. In Tides of Numenera your character is more than what can be seen with normal eyes. What mysteries are beyond the flesh and bone of the Last Castoff's body? It is up to you to find out.

No morality, only motivations

The titular Tides are more than just a vague morality. They describe what is important to the Castoffs and what impact they make on the world. Are you inquisitive and guided by reason? Or maybe your passions get the better of you, but you always work towards helping others? Whatever your decisions are, they will be reflected in the Tides inside you. Tides don't care about good and evil, or about consequences. Only your motivations and desires matter. And the world just has to adapt.

Key features

Torment: Tides of Numenera brings back the weirdness and existential questions that made Planescape: Torment a cult classic. Basking in Clarke's Third Law, T:ToN is a complex and reactive role-playing game worth the attention of every lover of good, engaging stories.

Torment: Tides of Numenera features

Uniquely bizarre - fountains of fish, nanotechnological spells and more. Tides of Numenera is as far from generic as possible
Existential questions - discover the worth of one life, change the past and find out what is your purpose in the world
Turn-based Crises - you don't have to kill anyone unless you want to. Even mid-battle you can convince others to stop fighting
Crazy party - glowing adventurers, albinotic immortal assassins and more. The last Castoff is weird, but definitely not the weirdest
Treat for readers - Torment: Tides of Numenera doesn't shy away from lengthy texts. Superb writing and reactive story make it worth the effort.

Minimal requirements

Recommended requirements

System Requirements:

Windows XP/Vista/7/8/8.1/10 (64 bit)

Processor:

Intel Core 2 Duo or AMD equivalent

Memory:

4 GB RAM

Graphics:

NVIDIA GeForce GTX 260 or Radeon HD 4850 (512 MB VRAM)

HDD:

30 GB available space

Platform:

PC

System Requirements:

Windows 7/8/8.1/10 (64 bit)

Processor:

Intel i5 series or AMD equivalent

Memory:

8 GB RAM

Graphics:

NVIDIA GeForce GTX 460 or Radeon HD 5770 (1 GB VRAM)

HDD:

30 GB available space

Platform:

PC

Other

Steam

Steam - Game can be activated on Steam, enables you to play on official Steam servers and your game will be kept updated with the latest patches via the Steam platform.

Key Type

This product is available as a CD key carried out via digital means - no shipping fees apply.