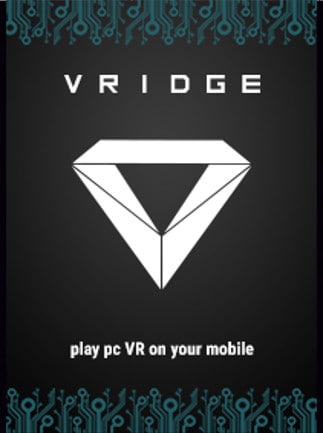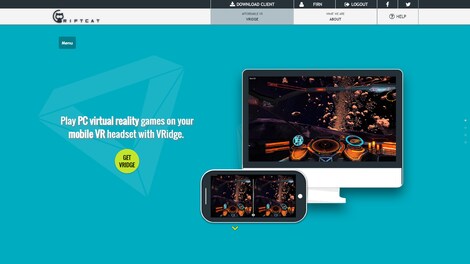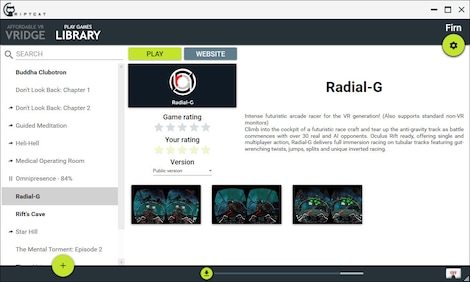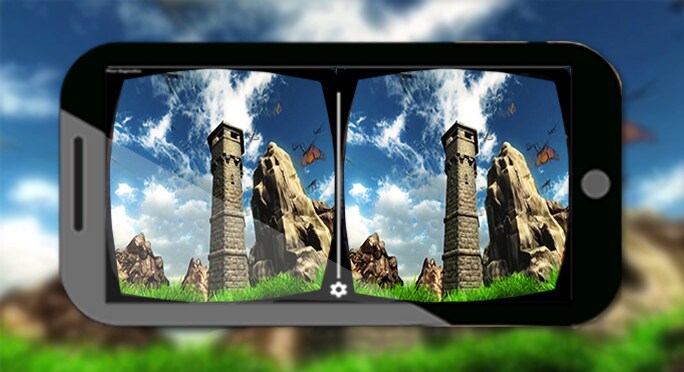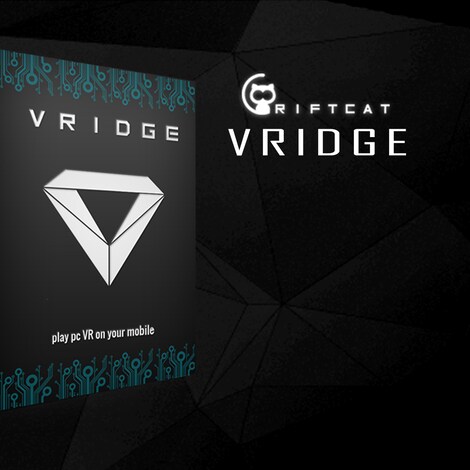 1/6
GLOBAL version
VRidge Full Version Activation Key GLOBAL
Turn your smartphone into a virtual reality device and enjoy affordable VR experience. Use Google Cardboard to emulate the VR and control the game you are playing on the computer with your mobile device.
Product description
VRidge is a virtual reality software developed by Riftcat. It can turn your smartphone into a virtual reality device that can be used to play HTC Vive and Oculus Rift games without the need to actually purchase an expensive dedicated VR headset. The full version of the software allows you to enjoy the experience for an unlimited amount of time, as opposed to the free demo that offers only up to 10 minutes of VR gameplay per session.
VRidge – How Does it Work?
VRidge is a software that makes your computer think your mobile device is actually an HTC Vive virtual reality headset. This allows you to play your favorite computer games in VR without need to spend a lot of money on the real VR headset. This is a great way to experience the VR at the entry-level, before deciding to go for a professional but more expensive solution.
 All you need is the VRidge software and something to turn your mobile device into a real VR headset – the Google Cardboard, for example.
Games Supported by VRidge
Because VRidge turns your mobile device into an HTC Vive headset, you can easily play any game supported by HTC Vive. Additionally, you can also play any game supported by other popular VR headsets, such as SteamVR, Oculus Rift, Gear VR, and Daydream View, to name a few.
VRidge Software – Full Version Benefits
The VRidge software comes in two versions, free and paid. There are no differences between the two, except for the playtime allowed in one session – the free version has a limit of 10 minutes of playtime per session, while owners of the full version may enjoy an unlimited playtime. This allows you to try the fully working software before deciding to purchase it.
Key features
Turn your smartphone into a VR device and play your favorite PC games in an entirely new way
Play all games that are compatible with popular VR headsets, such as SteamVR, Oculus Rift, HTC Vive, and more
Enjoy the affordable VR solution as long and as often as you want, thanks to the unlimited playtime
This product is used to activate the full version of the
VRidge
software.
In order to redeem your key, go to 
https://riftcat.com/redeem
Gyroscope is
required
for head-tracking. You will need 3rd party tracking solution (FreeTrack) if your device doesn't have gyroscope.
*Incompatible smartphones: Asus Zenfone 2 (or other Intel-based phones), Galaxy S4 (some variants), Huawei Honor 4C and P8 Lite (possibly more Kirin chipset phones). Above devices may have problems with smooth decoding. We will attempt to bring compatibility to these devices in the near future.
System requirements
System requirements
Below are the minimum and recommended system specifications for VRidge Full Version Activation Key GLOBAL. Due to potential programming changes, the minimum system requirements for VRidge Full Version Activation Key GLOBAL may change over time.
Minimal requirements
Processor

i5-2500 equivalent or greater

Graphics

NVidia GeForce GTX 650 or greater with NVENC support or AMD Radeon 7750 or greater with VCE 1.0+ support

Memory

4 GB RAM

System

Windows 8.1 (AMD) or Windows 7 (NVidia)

Other

Android 5.0+ smartphone* / Connection 2.4GHz WiFi router or USB 2.0 cable / 5GHz WiFi router or USB 3.0 cable
Recommended requirements
Processor

i5-4590 equivalent or greater

Graphics

NVidia GeForce GTX 970 or greater with NVENC support or AMD Radeon 290 or greater with VCE 1.0+ support

Memory

8 GB RAM

System

Windows 10